Press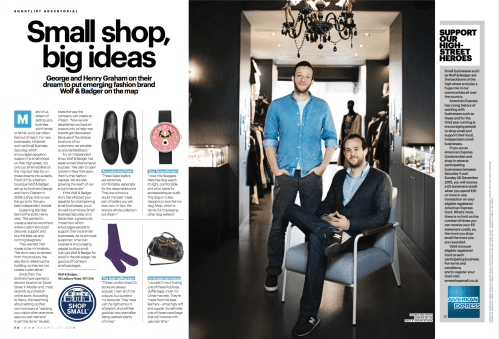 ShortList
December 2015
Many of us dream of us dream of setting up a business with friends or family, but it can often feel out of reach. For new businesses, initiatives such as Small Business Saturday, which encourages people to support the small shops on their high street, not only put small retailers on the map but help to turn these dreams into a reality. Proof of this is fashion boutique Wolf & Badger, set up by brothers George and Henry Graham in 2009, a shop that is now the go-to for the very best independent brands.
Explaining the idea behind the store, Henry says, "We wanted to create a retail environment where customers could discover, support and buy the best up-and-coming designers."
They wanted their stores to be minimalistic. "We don't want to distract from the products. We also like to reference the building, so they are not cookie-cutter either."
Since then, the brothers have opened a second location on Dover Street in Mayfair and, most recently, launched an online store. According to Henry, the best thing about setting up their own company is "realising your vision when everyone says you are mad and it can't be done." He also loves the way the company can create an impact. "Now we are established we have an opportunity to help new brands get discovered. Because of the diverse locations of our customers, we are able to help provide feedback."
For an independent shop, Wolf & Badger has experienced phenomenal success. "We plan to open a store in New York soon, then further fashion capitals. We are also growing the reach of our e-commerce site."
If the Wolf & Badger story has whetted your appetite for championing small businesses, you'd do well to embrace Small Business Saturday on 5 December, a grassroots movement which encourages people to support their local small businesses. As its principal supporter, American Express is encouraging people to shop small. Just visit Wolf & Badger for proof in the old adage that good stuff comes in small packages.