Press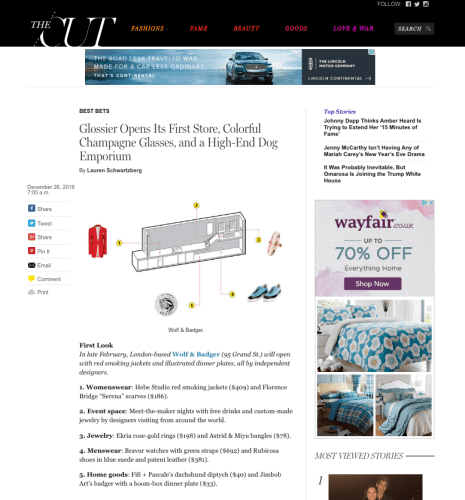 New York magazine
January 2017
First Look
In late February, London-based Wolf & Badger (95 Grand St.) will open with red smoking jackets and illustrated dinner plates, all by independent designers.
1. Womenswear: Hebe Studio red smoking jackets ($409) and Florence Bridge "Serena" scarves ($186).
2. Event space: Meet-the-maker nights with free drinks and custom-made jewelry by designers visiting from around the world.
3. Jewelry: Ekria rose-gold rings ($198) and Astrid & Miyu bangles ($78).
4. Menswear: Bravur watches with green straps ($692) and Rubirosa shoes in blue suede and patent leather ($381).
5. Home goods: Fifi + Pascale's dachshund diptych ($40) and Jimbob Art's badger with a boom-box dinner plate ($33).