Press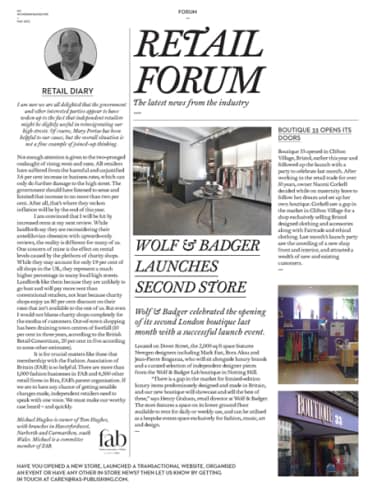 WWB
July 2012
WOLF & BADGER LAUNCHES SECOND STORE
Wolf & Badger celebrated the opening of its second London boutique last month with a successful launch event.
Located on Dover Street, the 2,000 sq ft space features Newgen designers including Mark Fast, Bora Aksu and Jean-Pierre Braganza, who will sit alongside luxury brands and a curated selection of independent designer pieces from the Wolf & Badger Lab boutique in Notting Hill. "There is a gap in the market for limited-edition luxury items predominately designed and made in Britain, and our new boutique will showcase and sell the best of these," says Henry Graham, retail director at Wolf & Badger.
The store features a space on its lower ground floor available to rent for daily or weekly use, and can be utilised as a bespoke events space exclusively for fashion, music, art and design.