Artist-designer Ali Miller's unique homeware collection combines the nostalgic and whimsical with the contemporary and luxurious. Drawing on her background in Fine Art and inspired by her family history and childhood memories, Ali Miller's designs mix intricate collage with surreal British humour. Her quintessentially British homeware collections featured on the BBC's flagship show "Sherlock", her tea sets are popular with customers around the world. All her pieces are carefully crafted from the finest materials and designed and decorated in the UK, making them the perfect addition to your home. We sat down with Ali to find out more about her brand.
How did your brand begin?
As a child growing up with severe dyslexia I found solace in my art. It was my true passion and escapism. So it came as no surprise that I went to art school. During my college years I worked in window design at Selfridges and Fortnum & Mason; this led to me experiment with firing designs on to china and creating my first fine bone china tea set. In the following years I exhibited in London, Paris and New York. My first major breakthrough was when John Jones invited me to exhibit in their space. My collection sold out and I instantly knew there was a demand for Ali Miller London.
I've worked with many luxury brands like Paul Smith, Liberty's, Selfridges and also historic institutions including the National Portrait Gallery, the Tate and of course now online with Wolf & Badger.  
A number of my designs were selected for the BBC's Sherlock Holmes, starring Benedict Cumberbatch. It's a fact that Sherlock only drank his tea from the best of British China! This had a major impact – literally selling out overnight. Fans of the show still love and buy my work, Home Sweet Home, Hampstead Heath and Alice continue to be among our best selling designs.
I also create bespoke collections and have supplied tea sets to the Sketch Restaurant in Mayfair, The Grove (a luxury hotel in Hertfordshire) and The Athenaeum 5-star hotel in Mayfair. These collections are used as the centre of unique afternoon tea experiences.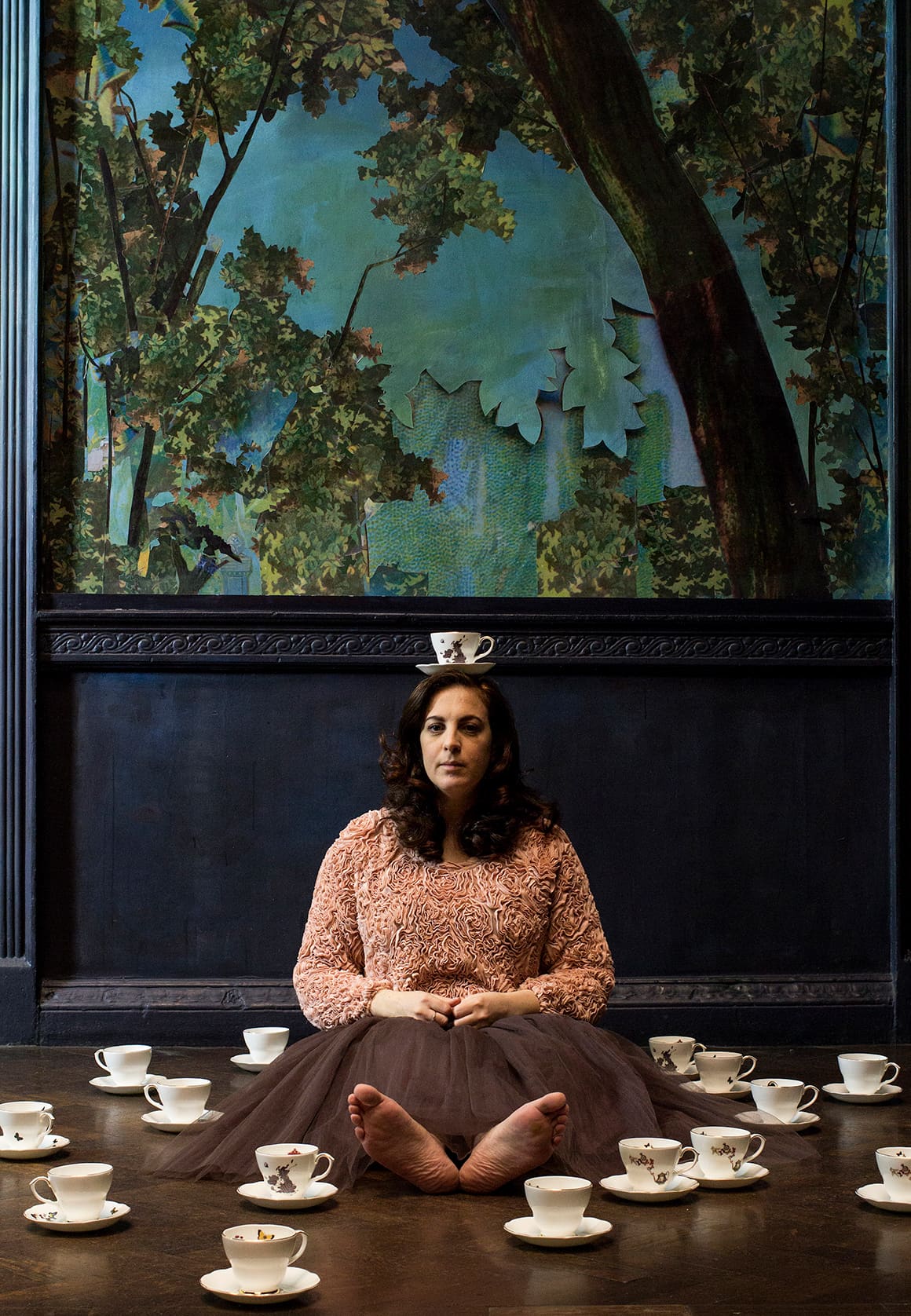 Have you always been interested in design? 
Growing up with dyslexia gave me a different perspective on life. I found it easier to express myself through my artwork and so found great solace in design. Having a more visual outlook on life I become a keen enthusiast for art and craftsmanship.   
How would you describe your aesthetic? 
Ali Miller London is quintessentially British. We're a luxury homeware brand with a unique, quirky edge. We juxtapose vintage and urban culture to portray significant stories with tongue in cheek humour.
What have been the highest and lowest points on your journey so far?
One of my highest points would be selling my bespoke pieces at Paul Smith - No.9 Albemarle Street, Mayfair. The store was purposefully created to showcase a varied selection of original and unique antiques, objects, art and curiosities sourced from around the world.  I have always admired Paul Smith's journey and feel his brand reflects a similar quintessentially British humour.
My lowest points have been on the business side. In one example to pre-empt the customer market I very overzealously bought tea towels with the expectation of selling hundreds, in the end we initially sold very few! I love the creative side, but to manage the business I've had to learn a lot. It's not something that comes naturally to me.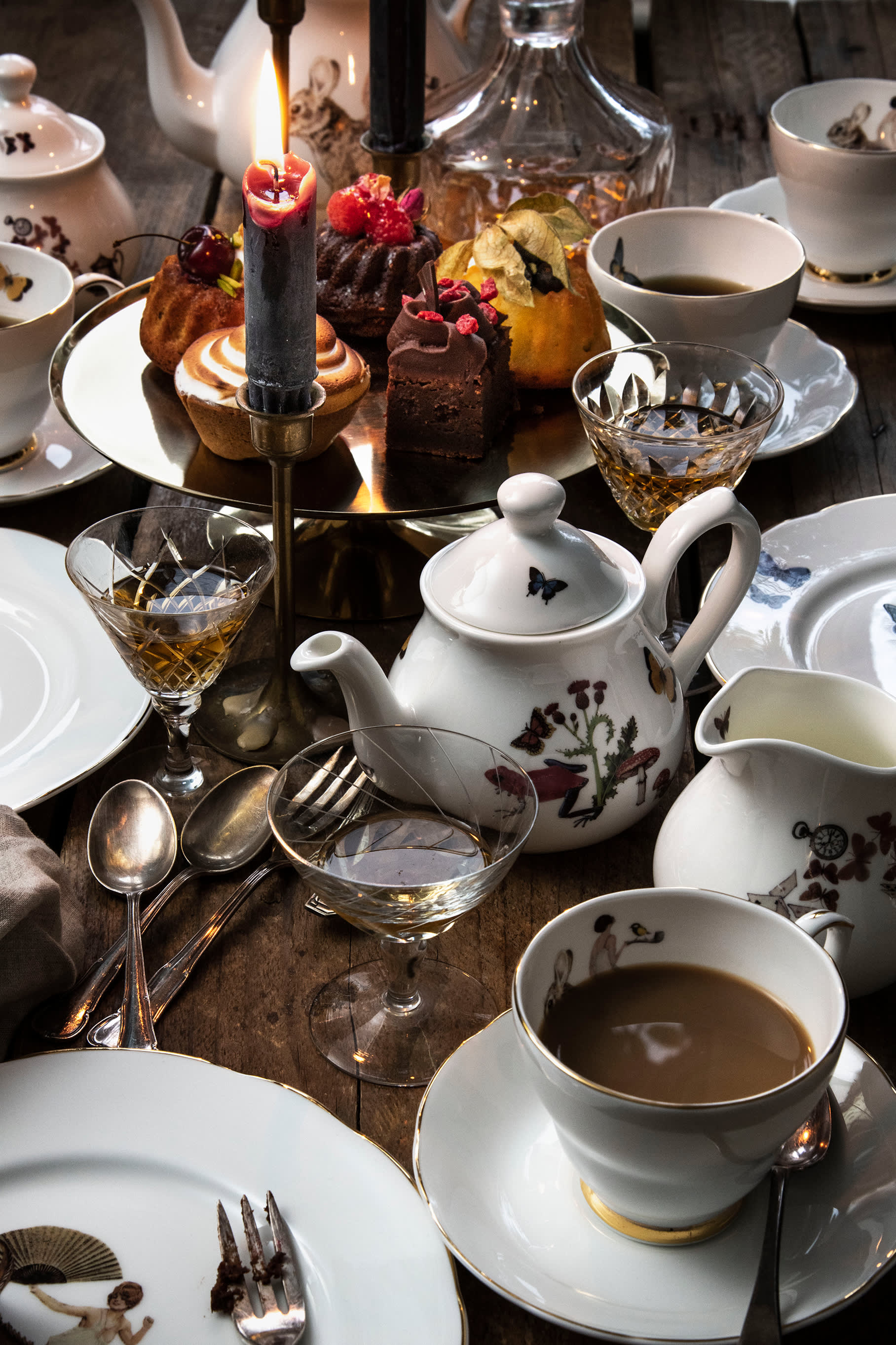 What do you love most about your job?
I love the diversity of the role, becoming a business woman as well as an artist.
What are the morals you run your brand by? 
We strive to get the best quality materials here in the UK where possible.  Furthermore, my products are centered around food and drink, my designs are influenced by my own personal family experiences. I would like to think my brand works toward bringing families, people and communities together.
How would you describe your customer base?
My products are for the discerning consumer.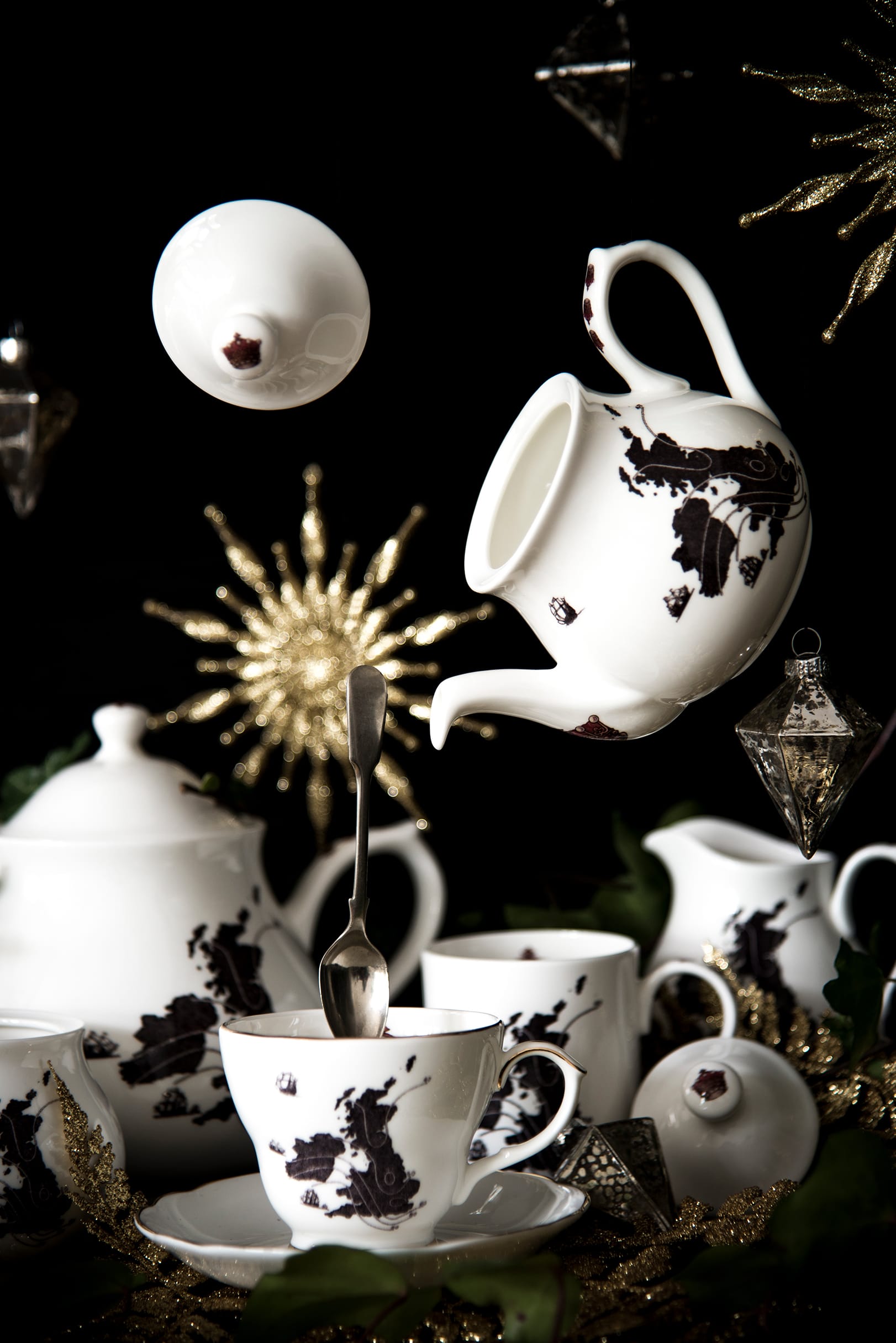 Do you ever struggle to stay inspired?
Sometimes I am disheartened on how hard it can be to get established as a small business, but never uninspired.
What's your favourite interior trend at the moment? 
I'm loving that 'crittall' style windows and doors have made a comeback.   
Can you tell us about your favourite piece from your collection?
My favourite design is 'By Your Side'.  For me it's a personal story of a family member being very sick and the family coming together to be 'By Their Side' as they sadly pass away.
The image has black and white butterflies which represent the soul and the spirit. There is a light bulb at his head which represents that his brain was still functioning and a man by his head cleaning as the family cared for him.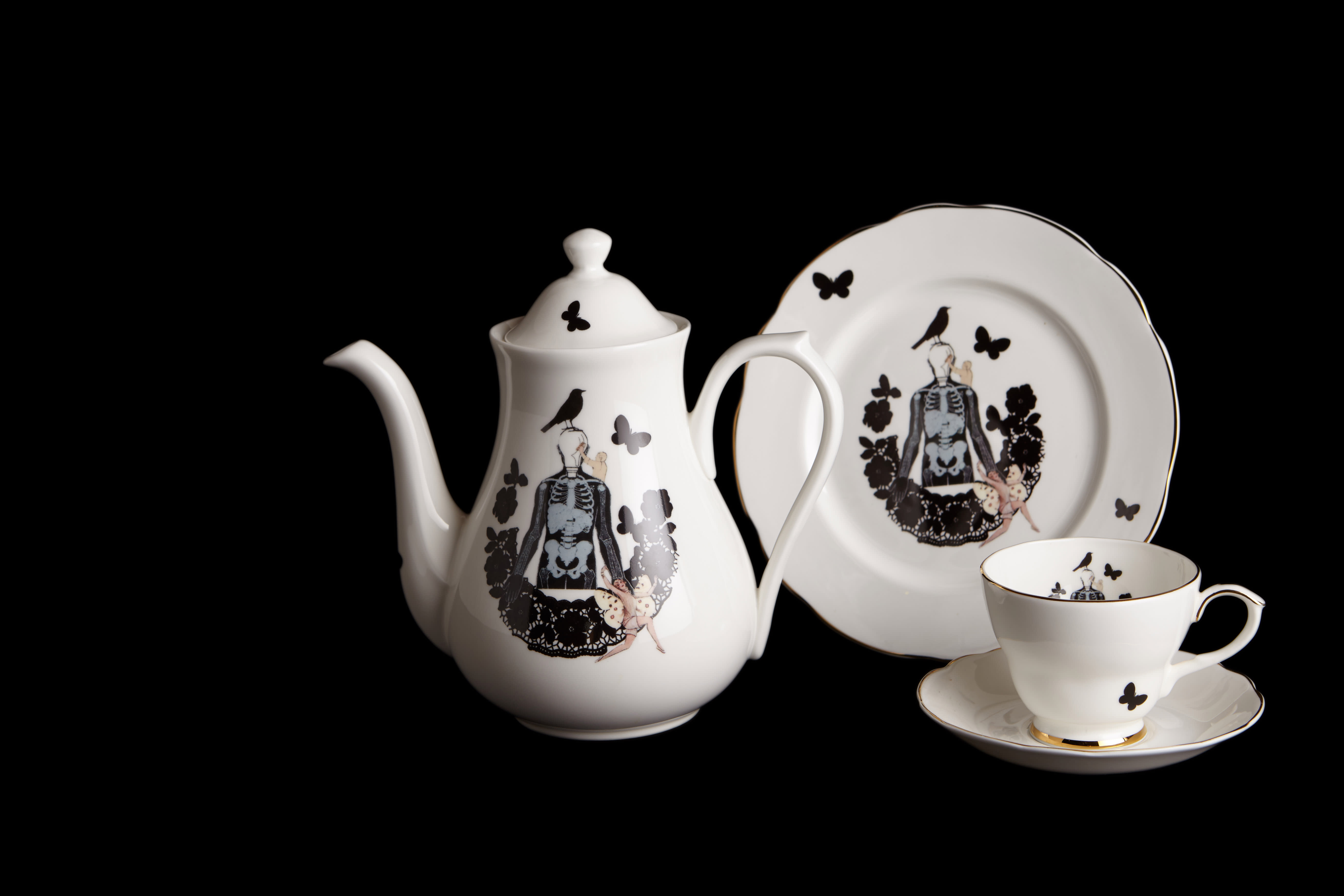 What is the most important thing you've learned on your journey?
Keep going…
Is there another designer whose work you particularly admire? 
I've always taken inspiration from artists like Frida Kahlo, Joseph Cornell, Rene Magritte and so on.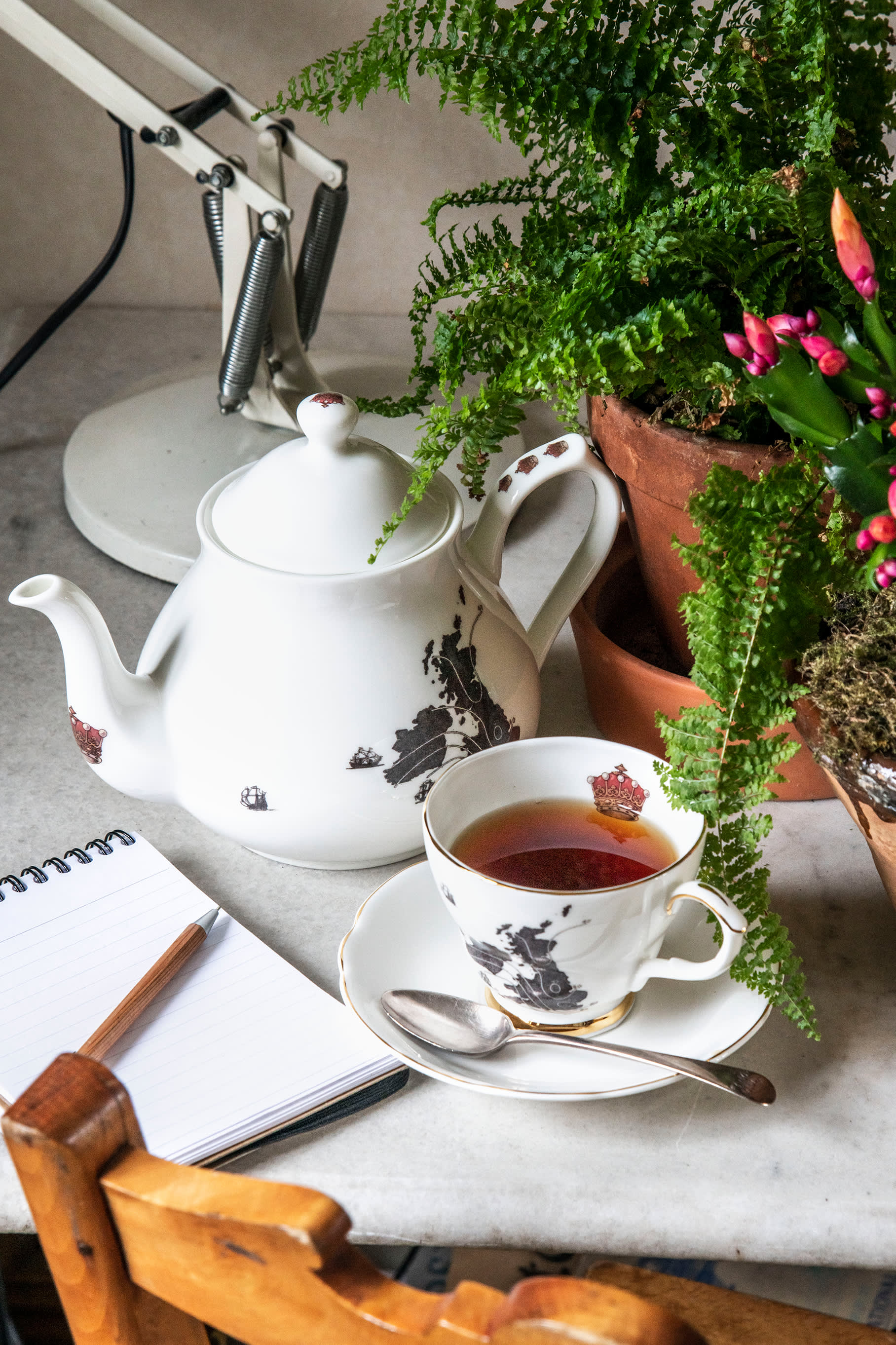 What's the best piece of advice you've ever been given? 
Don't take no for an answer.
What drew you to Wolf & Badger?
Their unique, individual and quirky style.
Where do you see the brand in 5 years? 
I've just launched new gift boxes which I hope will be the perfect pick for gifting. They come with either a teapot, milk jug and sugar pot in a box, or a teapot, two tea cups and two saucers. All the boxes are made in the UK and are 100% recyclable and eco-friendly – which is really important to me. I also have some new designs coming out in the new year with a more 'gentlemanly' feel!  As well as working on a few more collaborations.