Pink Piglet Collection, founded by Millie Carr offers unusual, ahead of the curve earrings for the wondrous mind. Influenced by fine art, travel and artisanal craftwork. Millie's collection provides people with a timeless aesthetic. ​Based on the brand ethos of timeless jewels, these are the pieces that should be in your day-to-day jewellery box to stand out amongst the crowd. We sat down with Millie to learn more about her brand.
How did Pink Piglet begin?
I like to think my creativity is somehow different and equaled by my passionate entrepreneurial drive. Pink Piglet Collection offers unique, timeless and luxurious earrings. I wanted to create a successful British brand and that today means creating a visual identity. To build loyalty with the people surrounding myself and my company and of course stay true to my vision. Pink Piglet Collection is what it is because of love and appreciation that people out there have given it. I'd done a lot of work experience at luxury PR companies for jewellery and fashion throughout my education however it wasn't until my last year at university that my passion really started to take off, following a trip to Udaipur, India. The country was different to what I knew; from the people I met, their fashion, work and the knowledge they gave me. I knew that I wanted to start up my own jewellery line and give it a go for myself. Worst case scenario, it fails; so I thought, why not see what happens. My mission is to sell luxurious pieces that tell a story and champion local production. The exploration of the relationship between design, fashion and these jewels is the ethos that has driven the brand since its inception in 2017.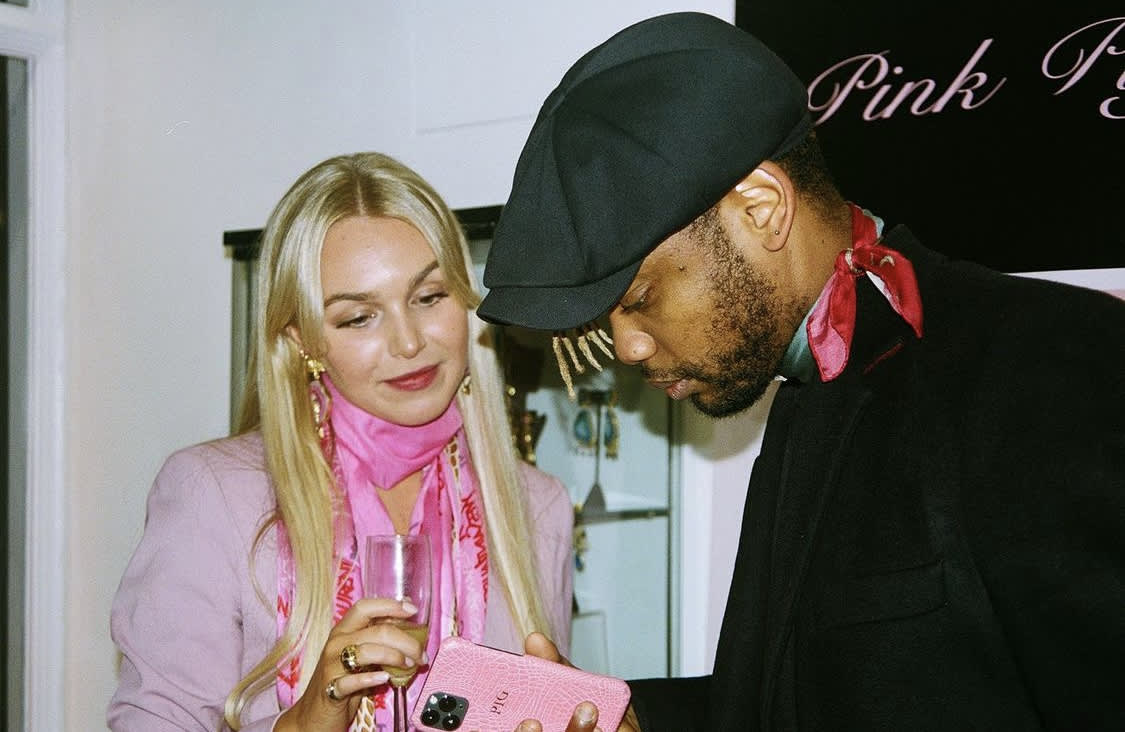 Have you always been interested in fashion?
Ever since I can remember I've been interested in fashion, jewellery and dressing up! My mum had her own fashion business when I was really young, I was always interested and loved the glamorous side - she actually still has all the paper clippings which is really special and this has always been inspiring!
What have been the highest and lowest points on your journey so far?
Low point : I still think of my company as a start up in a way, 3 years is very much a baby in the fashion world. A lot of people I know in the industry have waited 5-7 years at least until they feel they're really going somewhere! This last year has been very challenging, as for everyone, with Covid-19. My team hasn't been able to access the studio in Jaipur. The virus has been extremely bad out there, our production team had to come to a complete stand still, a lot like the rest of the world during this global pandemic. Semi precious stones couldn't be sourced for our latest designs which is the main focus of my earrings.
Highest points: New York Fashion Week, at Christie's Rockefeller building in 2019. A really fun pop up in Harvey Nichols in October 2020. Rihanna's stylist reached out to me to feature my earrings for the Savage Fenty Spring 2021 Campaign. Another really cool moment I felt proud of was Emma Corrin wearing my earrings for a press release of The Crown. That was exciting!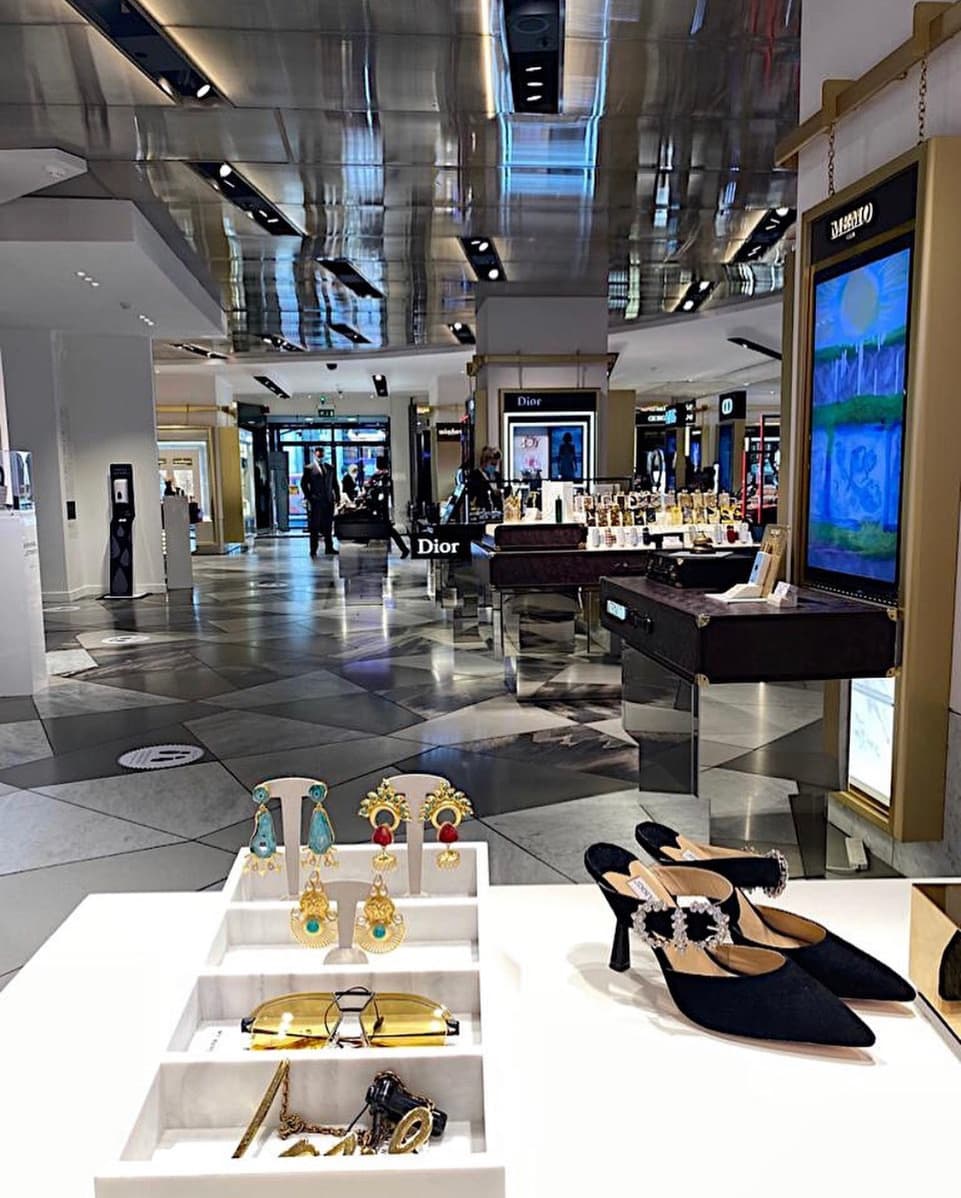 What was the inspiration behind your latest collection?
Honesty, I am drawn to and inspired by everything that is simply beautiful. This for me means bright colours, raw beauty and nature. As semi-precious stones are bright, unique and natural. Each stone is different and this is the main focus in my designs. However, originally I was inspired by Indian artwork and its rich culture. This has carried me through the last 3 years and still inspires me for each collection. There is such a range of inspiration for jewellery in India, with the rich colours found in semi-precious stones and the superb craftsmanship. 
I am also a big believer in crystal healing. My earrings consist of a variety of gemstones such as Agate (protection, creativity and harmony), Chalcedony (emotional balance and generosity), Jade (Balance, luck and health),  Druzy (positive self-love, the earrings I am wearing now), Jasper (grounding and stability) and Quartz (meditation, energy and clarity). Gem-stones have been believed to hold metaphysical properties. They alter our moods and remedy a spectrum of ailments for thousands of years. 
Do you ever struggle to stay inspired?
I am continuously inspired and thinking about new concepts and designs. My latest new venture will be exploring silver jewellery. I am very much a golden girl myself, but I am aware that a lot of my customers have asked for a silver production line for quite a while now. They ask, I deliver. The challenge however is identifying the right semi-precious stones to bring my creativity to life! This also has to coincide with the appropriate price point for consumers. 
How would you describe your customer base?
I've found that my earrings are relatable to everyone, from a combination of young professionals who want to purchase their first pair of special earrings to more mature women looking for a not-too-expensive gold piece. To me, a Pink Piglet customer represents someone who is willing to experiment with their own style in an unconventional way.
Is there anyone you would love to see wearing your designs?
Hmm… Angelina Jolie! She is the most beautiful woman and I have been mesmerized by her forever. On a serious note, there isn't actually anyone in particular. I have one of my favourite quotes here by Dalai Lama 'We are all visitors on the planet. We are only here for one hundred years at the very most. During that period, we must try to do something good, something useful, with our lives. If you contribute to other people's happiness, you will find the true meaning of life.' I believe that a piece of jewellery is not just some ordinary thing that we wear, it's our personality, attitude, a lot more that a girl carries. I would love to see all women channeling Pink Piglet to offer modern women confidence and individuality, regardless of age to feel inspired through my beautifully-crafted jewels and to be treasured and worn with love.
Do you have a mentor?
I don't have a particular mentor. I appreciate the support my family have given me from the very beginning. They gave me the power to start this dream of mine and to make it come true. I started my company while keeping my degree afloat in 2017, it wasn't the easiest thing. They support me a lot, especially my mum. Additionally, there are many entrepreneurs and business leaders I've met along the way who have shaped the way I build my own business. I would consider all these individuals to be my mentors. 
What are the morals you run your brand by?
- Transparency in sourcing and communication 
- Quality in my materials and crafts production
- Accessible in design and in pricing
- Positive outcome for everyone working start to finish and of course customer satisfaction
If you could only wear one piece from your collection, what would it be and why?
Most definitely the Calla Lilly earrings – they are so unusual and a true statement piece. The bigger the earring, the better!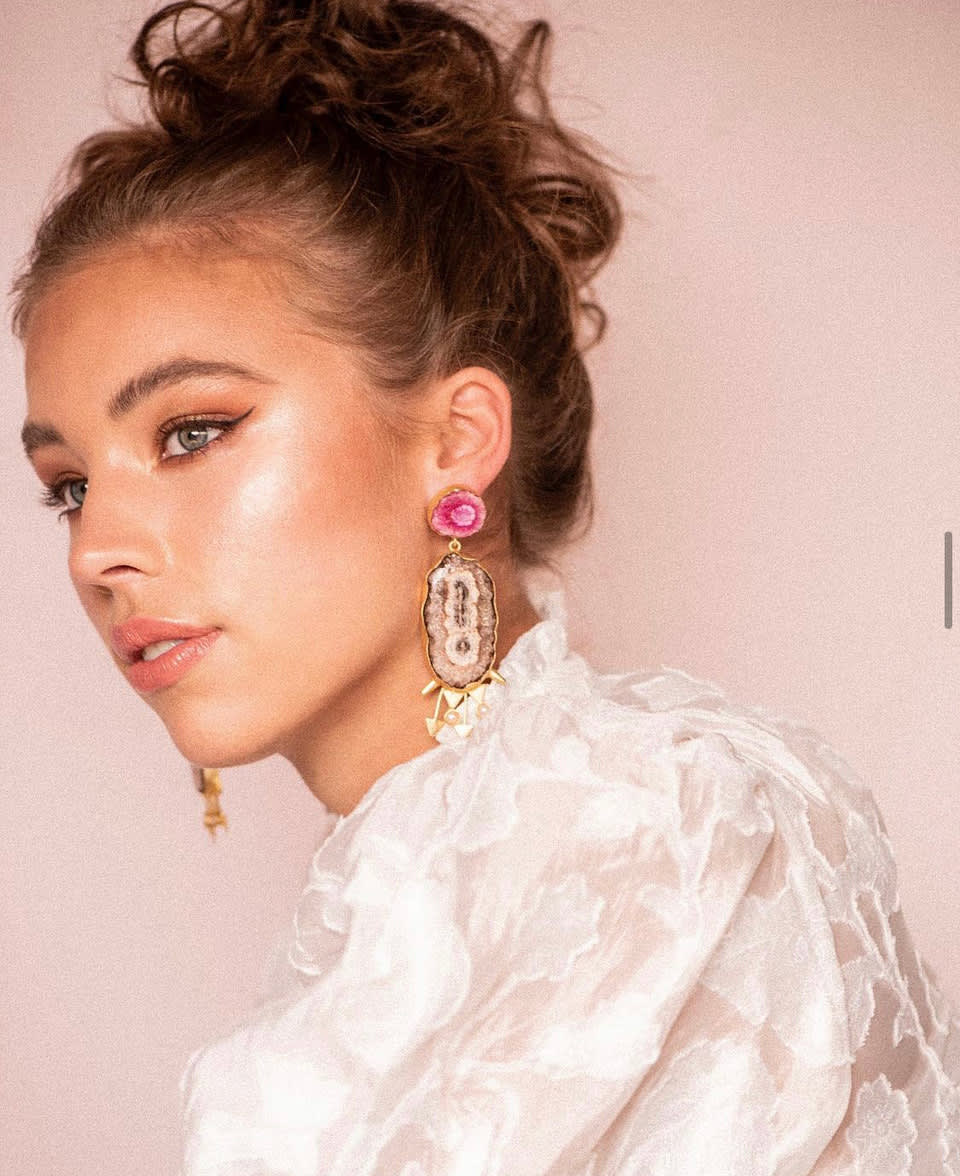 What's the best piece of advice you've ever been given? 
A luxury brand does not need an entire new collection every 6 months. The pieces last and are admired. They are art. You should not feel pressured, just create and release when ready. 
What drew you to Wolf & Badger?
I love the opportunity we are given by W&B as independent designers. They enable designers to showcase creative work on a widely acclaimed global platform.
Where do you see the brand in 5 years? 
In 5 years, I see continued growth and expansion for Pink Piglet. Ofcourse, for my brand to keep growing alongside W&B! I'd like to grow my partnerships with both domestic and international fashion-forward retailers. I also see continued growth online via our own e-commerce website and partnerships with fashion-forward e-tailers.