Alex Carro is a premium skincare brand using only natural ingredients in order to provide perfectly pragmatic and mixable products. No chemicals or fillers are added, and their five products compose a functional skincare collection suitable for all skin types. We spent five minutes with the brand to understand the story behind the skincare. 
How did Alex Carro begin?
I grew up in London, and I worked for a long time in museum and exhibition design. I suppose it combined my creative side with my nerdy fascination for research and obsessive archiving. I'd done an aromatherapy course while at uni, and at home I catalogued essential oils and plant and herb extracts like a museum archivist would. All my life I had wanted to relocate to Spain - I spent my childhood summers at my grandmother's place in Galicia - and finally I left London for Barcelona to dive full-time into aromatherapy and essential oils. What had always been a hobby - mixing my own bespoke cosmetics at home using all natural ingredients - turned into launching my own brand. I'm still experimenting and creating, but now I have an amazing team working with me and we are growing in a way that's really exciting.
You could say it all began with the aromatherapy course I did at uni, but the process really started when I was mixing my own cosmetics in my kitchen in Kennington, London. I couldn't find anything on the market that met my needs. I wanted a face oil that was all natural, and that gave my skin the kind of nutrient kick that left it looking and feeling refreshed. After much experimentation, I came up with what is now our star product - our natural Balancing Face Oil. I started gifting it to friends and family, and they couldn't get enough. Soon I was trying to keep up with demand, and I realised I could turn this into something more than just a hobby. Developing my collection of premium essential oils and plant extracts into more products was a natural evolution. The rest, as they say, is history.
Have you always been interested in the beauty industry?
I don't know if I've always been interested in the industry as such, but I have always been passionate about the impact that natural plant extracts and essential oils can have on skin. It's a bit like with food. Taking care of the things we consume and put on our skin, being mindful about where things come from and how they are made… I suppose I was always conscious of the amount of chemicals and fillers out there in products, and interested in doing things differently.
How did you begin to develop your products?
I've always had a geeky side. I love researching and sourcing ingredients, experimenting and finding out how and why things work the way they do. I have always used essential oils, and product development comes from a combination of high-tech - researching symbiotic effects on skin of various oils and extracts - and low-tech - trying things out on myself and friends and family and tweaking formulas to make them individual. That's how our products became mixable. It was by developing them to be multi-use, unisex and really for everyone, no matter their skin type or their changing surroundings.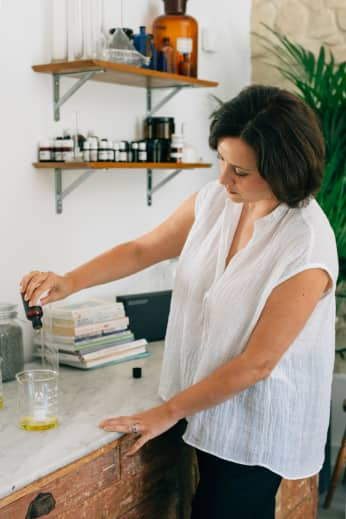 What have been the highest and lowest points on your journey so far?
The highest point has probably been seeing the recognition start. Getting feedback from retailers and customers on our products and how well they worked for them. Having customers come from word-of-mouth is such a fantastic feeling because even though you have faith in your products, real world affirmation gives you a special kind of buzz. Our cleanser winning an award this year was wonderful, and having retailers I really respect come on board with us feels like real confirmation that we are doing something right. The lowest point might have been saying goodbye to an early incarnation of the brand. Finding the right people and getting the kind of design I had always wanted took time. When I restarted the brand with a new visual identity that felt right, it felt like a wonderful new beginning. I think you have to have those false starts to get to where you really want to go.
How would you describe your customer base?
I've always had a pretty clear idea about who our products are for. We don't do a lot of marketing, preferring to let our products speak for themselves, and it seems they find their way into the hands of a discerning bunch. We tend to connect with people who are looking for quality. They care a lot about what goes into their products, and they want results. I think they also care about design, and get the whole less is more thing, visually. I get a lot of feedback from people who say they love how pragmatic our products are - people who travel a lot and appreciate versatility, mixability and blending. Also, a lot of couples share our products. They are made to be unisex but women tend to buy them, only to have them 'stolen' by their other half.
What do you do when you are feeling uninspired?
I'm lucky enough to live in Barcelona, a Mediterranean city that's really connected to nature. I spend a lot of time out of the city in our old farmhouse in the mountains, where I have my home lab. Whenever I need some inspiration, whether it's for our product development or the brand direction in general, a walk in the forest always does the trick. The smells and textures of plants and wild herbs reminds me of why I started all this in the first place. The other day I was in Formentera, a really wild unspoiled island, where purple flowering thyme was growing wild all over the place. That smell set my mind working on fragrances and ideas for our next products…
What is your evening skincare routine?
I'm big on evening skincare. I think a lot of people will exfoliate, tone and moisturise in the morning as it helps them wake up, but it's the evening ritual that really cleanses and repairs skin after a day of wear and tear. I usually start with a gentle exfoliation, mixing our cleanser and exfoliating powder to really smooth and polish my skin, and then gently massaging our Balancing Face Oil into my face and neck. It's really relaxing, because the oils have aroma therapeutic values as well as skincare ones. It absorbs quickly, but slowly releases nourishment so you wake up with really soft, smooth skin.
What's different about your products?
In a word, mixability. A lot of products now use great natural ingredients, and ours are only the best essential oils and plant and herb extracts. But what people consistently praise us for is how pragmatic and flexible our products are. We developed them to be suitable for all skin types, and then mixable depending on what's happening to your skin. You can mix them to make additional products to care for damaged skin, or to have a lush ritual when you have extra time. Our capsule collection of five products can be increased to ten simply by mixing them at the point of use. The idea is that you really don't need anything else. We wanted to create core ingredients - skincare fundamentals I call them - that are versatile and multiuse, so they really do meet all your skincare needs.
Why is using natural/organic ingredients in your products so important to you?
I'm a bit obsessed with essential oils. They are so potent, so powerful. If we choose food based on it's real nutritional value, why wouldn't we do the same with skincare? There are so many cheap and cheerful products on the market, which is essentially junk food for skin. I wanted to make products that only contain active botanical ingredients. No synthetics, no cheap fillers. Everything we put into our products does something. Nothing is decorative, and nothing is damaging. I think that's the future of skincare.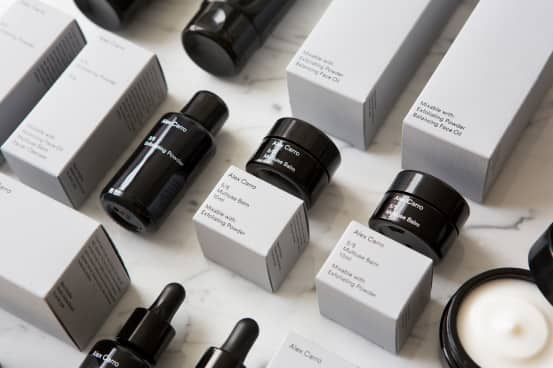 What is your go to product from your range?
Everything is good, obviously. I would say that wouldn't I? But our star product is our Balancing Face Oil, that's where it all started. The formula has barely changed in two decades. It's just a fantastic powerhouse of goodness. Rose Oil and geranium oils, evening primrose and argan, Japanese rice bran… all fantastic ingredients that give your skin an intense boost. More than 10 essential oils and plant and herb extracts packed into one little bottle. It's the product that goes everywhere with me. It's suitable for everyone, and it has an instant impact. It kind of ticks every box for me; super good for your skin's health, gives you a gorgeous no make-up glow, and smells incredible, making it a relaxing massage therapy with benefits!
Do you have a mentor?
I do. I have been working with a couple of fantastic people from very different walks of life who have extensive beauty and/or business experience. I am very lucky to have benefit from the generosity and kindness of people on my journey so far.
Is there another brand whose work you particularly admire?
I really admire brands like Celine, Le Labo, and Acne Studios – brands that go beyond the realm of what they are selling to create their own universe that criss-crosses art, architecture, contemporary culture. Brands that are happy to go against the grain, those that stand for great craftsmanship, quality and design.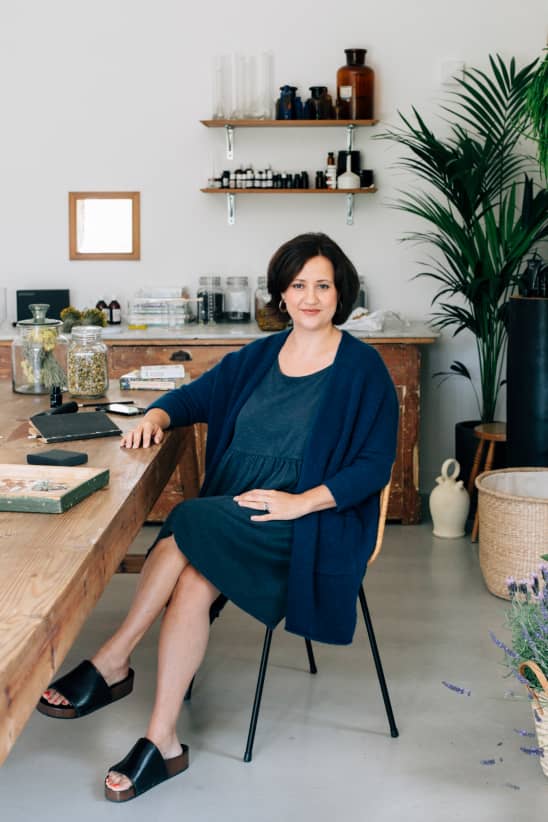 What drew you to Wolf & Badger?
Ever since I studied history of art, I've been interested in how curating works. I think W&B represents a really smart curatorial process; knowing your audience, selecting brands that your customers will love, and still being able to surprise them and show them something knew, using the trust you've gained to help them develop their tastes. For us as a brand, collaborating with retailers in a peer group including such great brands, from the tiny to the fairly well established, is important in terms of our identity.
What's next for your brand?
We are growing in a really organic way. We aren't in a rush, and we don't want to compromise in terms of our collaborations with retailers. We are developing new products and testing them, making sure we arrive at products we are happy will compliment our existing range. We're working with customer feedback, and developing really productive relationships with stores and websites we love. Our next step is expanding our availability and growing our client base. Maybe it's the Mediterranean culture… when we cook we use the best ingredients, and we go slowly, savouring the smells and tastes, maybe with a glass or two of wine. We're cooking with gas, as they say, but enjoying every step.