Carlo Zini is well known as one of the world's greatest bijoux designers. Zini's work represents the perfect mix between long tradition, high craftsmanship and typical Italian creativity. We caught up with Alberto to hear more about his story. 
How did Carlo Zini begin? 
I started my career in 1976 when, under my name, I signed my first pieces. During the fabulous 80's my production, which originally had a romantic flavour, became more and more creative and ironic: big dimensions, wide use of rhinestones, polish, gems, crystals and coloured resins. Soon, my work had had remarkable success among beautiful women and celebrities, and my pieces began to be present in worldwide jet-set locations. Today, my work continues to be displayed in beautiful places and boutiques like Wolf & Badger, where customers can see and buy my collections, inspired by nature, different species of flowers, animals, marine life, deco, history and astronomy. I was born in 1950 in Milan, Italy. From a very young age I loved to handle and assemble my mother's jewels. At 13 I learned the first rudiments of jewellery-making and at 16 I created my first mini collection which caught the attention of an important laboratory in the centre of Milan. Ten years of fundamental experience later, I opened my laboratory at Ripa di Porta Ticinese 27, Milan, Italy.
Have you always been interested in fashion? 
I have always looked at fashion with interest, but above all my creativity pushed me to begin 'playing' with stones and crystals, and translating my inspiration to beautiful bijoux/jewels.
What have been the highest and lowest points on your journey so far?
 In my career I've had ups and downs. During the amazing 80's and 90's I had a lot of success and my works were loved by the most beautiful women on the planet, from Capri, to St. Tropez, Beverly Hills to Gstaad. At the beginning of the 21st century the growth of minimalism (the exact contrary of my ideas and creations) seemed to push my work aside, but luckily in recent years it seems that the typical Italian creativity is making a big comeback!
What was the inspiration behind your latest collection? 
My passions are my first source of inspiration. Architecture, movies and antique books are so important to me when developing new products. Every occasion can be used to create new ideas. In general there isn't a fixed method; I create the most when I am relaxed and when my curiosity meets my interests.
How would you describe your customer base? 
In general my customers are women that love to travel, but above all they have the knowledge to understand the culture behind my jewellery and bijoux references of style, themes and materials.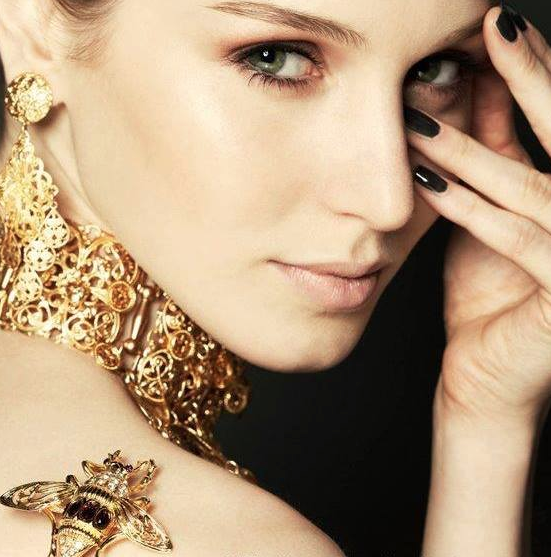 Is there anyone you would love to see wearing your designs? 
My pieces were loved by celebrities such as Liz Taylor, Tina Turner, Liza Minelli. I also like that many millenials appreciate my themes and works. As for the artists of the past, I would have loved if Hedy Lamarr wore my pieces because she was so beautiful!
What are the morals you run your brand by?
All our pieces are made in Italy, primarily in Milan. The work is 100% artisanal (some of the artisans that help me have been here from the beginning). Materials used include top quality resins, and Swarovski crystals constructed from non-allergenic rhodium.
Do you have a mentor?
My mentor is my companion and life partner, Marco. My hyperbolic creativity meets perfectly with his concreteness.
If you could only wear one piece from your collection, what would it be and why?
I don't have a favourite piece in my collection but I can say that I love the brighter items which are eccentric, but adapted to reality and good taste.
What's the biggest style mistake you've ever made?
I may have made many style mistakes but I have always followed my aim and ideas.
 Is there another designer whose work you particularly admire?
I love Cartier. No words, their work is amazing.
What's the best piece of advice you've ever been given? 
I have had many people giving me advice during the years, some good, some not so! The most important thing is to always have someone that gives you advice, because it is key to always be learning.
What drew you to Wolf & Badger?
Wolf & Badger provide a great platform for independent labels that have good ideas and beautiful products, like us! We wanted to be at Wolf & Badger, and we are sure the collaboration will last for a long time!
Where do you see the brand in 5 years?
In the next five years, I hope to see our brand in the most beautiful boutiques around the world! In some areas we are already there. E-commerce is also so important, and we want to improve our sales in this field!