LORE Of Shangri-La is a collaboration between Lesley Chan and Ann O' Toole, owner and artist at East London institution and creative hub, Shangri-La Tattoo Parlour. We spent 5 minutes with the pair to get a glimpse inside their world.
How did LORE Of Shangri-La begin?
It dawned upon me, as a tattooer, that the designs I drew would disperse into the world with their new owner. I desired the idea of permanence on an inanimate object; amalgamating aesthetic with function.
We met through a mutual friend and together we founded LORE. Both Ann and I are loyal to craft, producing in the UK, with a 'hands on' approach to every detail. Ann is a designer based in London with many years of experience designing within the British fashion industry, she is brilliant in pattern cutting and design.
We launched LORE of Shangri-La in 2014 with a great party at Shangri-La Tattoo Parlour in Dalston. Our debut launch of Scarves: Range 1: MYTH I, MYTH II and MYTH III comprising of 14 Scarves are all hand dyed and tasseled. Paul Smith bought our range and housed the pieces in Mayfair and Paris. I had experience drawing a range for Christopher Kane S/S 2010 and loved it so much wishing to extend with more ambition than using skin as a canvas. Consequently, our direction, grows from scarves to ritual based home pieces and clothing. These pieces shall be released soon…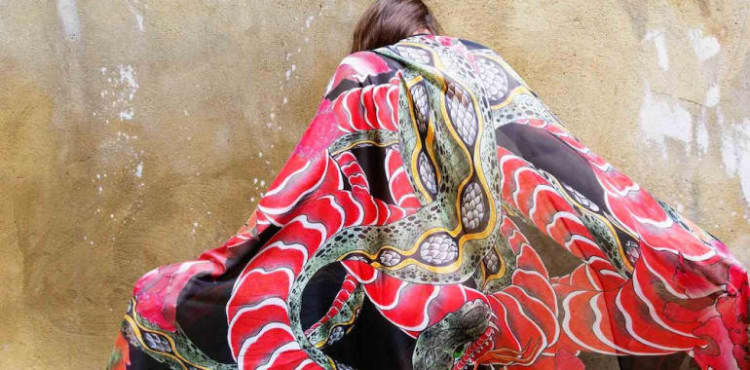 Have you always been interested in fashion?
We both love visual expression, both overt and allegorical. Ann was influenced by post-punk, ad hoc. Making most of her own clothing with a great leaning towards a raw aesthetic. One of my previous professions is a qualified hairdresser, winning awards, in competitions for freestyle events. I would marry together vintage with street. Fashion is a reflection and hence a consequence of environment, political and social. Yes, fashion has been a life interest.
What have been the highest and lowest points on your journey so far?
The lowest point so far on this journey was discovering just how much money monopolizes the fashion industry. The highest point is always meeting new people, learning new skills and that our product is loved.
What was the inspiration behind your latest collection?
Inspiration for our latest range is called SOLACE which is based upon Asian myth. We are working on bringing out a wallpaper called the 'The Great Sparrow'. During the Cultural Revolution, Mao Zedong had all sparrows culled so they would not eat the rice. Our Sparrow design is a tribute to this and also to raise awareness, as these birds are necessary in our eco-system.
In addition to this, most of the designs have been tattooed on my lovely clients whom I appreciate dearly.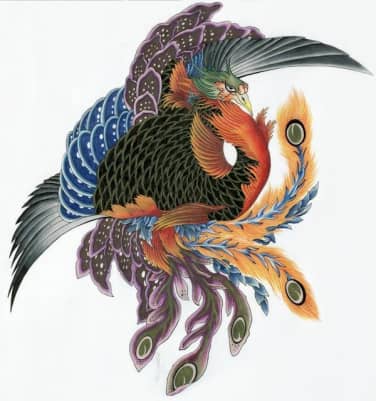 Do you ever struggle to stay inspired?
Never, we both get very excited with ideas.
Where is your go-to meeting spot?
Southbank Centre. They allow us to sprawl our world out and they support us. We conduct the meetings respectfully.
Is there anyone you would love to see wearing your designs?
Noel Fielding, FlorenceWelch and Bjork.
What are the morals you run your brand by?
Morals and ethics are very important to us. We adore hand craft and tend to the finer details of our collection with as much care as possible. 
Do you have a mentor?
Our mentors are our friends who are successful and ethical business creatives.
Is there another designer whose work you particularly admire?
Inbar Spectre, she made my wedding dress. I also love Alexander McQueen.
What's the best piece of advice you've ever been given?
'Keep on truck'n' is the best advice we have been given, it is our mantra.
What drew you to Wolf & Badger?
What drew us to you is that you as a company provide us, new designers, a space to grow and have a platform to be able to grow! You are very open with ideas and listen as a company.
Where do you see the brand in 5 years?
We aim to be international. Working and collaborating with new people and ideas. We will be renowned for our ethos, quality and attention to detail. Providing a financial sustainability for our company to implement all the above and provide for our local community.