ELLEƧD is the fashion forward brainchild of friends Flora Mascolo and Meriem Semlali-Broby. In mid 2014, they saw a gap in the market for a brand that focused solely on luxury leather clothes for women. ELLEƧD's mission is to create confident clothing of a very high quality, that's timeless and exudes sex appeal.
The founders both share an interesting back-story that led them to begin this journey: Flora grew up in Paris and in her 20's she moved to the US after marrying Guy Mascolo (Toni&Guy; global hairdressing empire). Surrounded by a creative atmosphere, Flora knew she wanted to make something special and unique just for women; using the inspiration of cultures she discovered from travelling the world. In 2011 Flora moved to London where she met Meriem. Meriem grew up in exotic Marrakech and moved to Paris for university. After studying, she landed a job working for a prestigious real estate investment management company. Four years later she relocated to London for work and to join her husband, Danish architect and designer Max Broby. Influenced by the imaginative mind of her husband, Meriem too wanted to create something distinctive and empowering for women.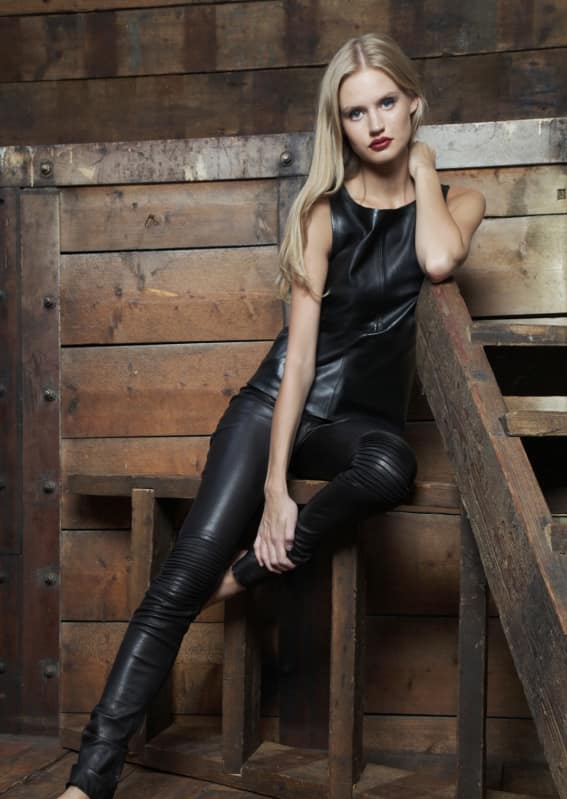 Have you always been interested in fashion?
F: When I was little I used to save my pocket money and buy fashion magazines: I was completely mesmerised by the colours and the creativity of the designers.
M: I was always fascinated by fashion but my interest in it flourished when I lived in Paris.
What have been the highest and lowest points on your journey so far?
M: There is always a great fear when you are doing something new for the first time. This adventure is already 1 years old and we are enjoying every moment. We are currently stocked in 6 stores across Europe.
What was the inspiration behind your latest collection?
F: This is our second collection; we learnt a lot from our first one, our bestsellers are the stretch leather trousers, which is our signature piece. We try to take a lot of direction from the trousers and make a variety of colours and designs. In the current collection we have introduced a lot of suede pieces because of the soft texture and current trends.
Do you ever struggle to stay inspired?
M: We're always inspired. The women who wear ELLESD are the ones that inspire us. We always have our eyes open to what's happening; we get inspiration from people on the street and from what we see on our travels. We use different cultures as inspiration and the Internet is a valuable source, we always want to create more.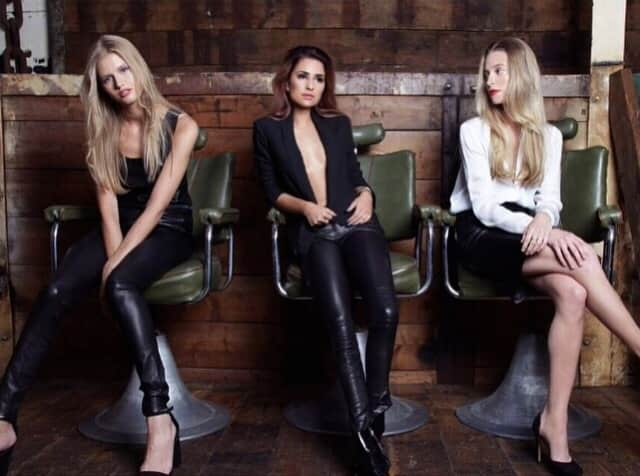 Where is your go-to meeting spot?
F: Our office is based in Chelsea, which is a beautiful place to be. We often hold our meetings in cafés just to have a change of scenery. On warmer days we like to go the terrace of Bluebird on Kings Road.
How would you describe your customer base?
M: All ages love the brand as we have a lot of classic pieces as well as some trendy designs for younger people too.
Is there anyone you would love to see wearing your designs?
F: We would love to see Angelina Jolie wearing our brand. Leather looks great on her; she's rock, sexy and elegant all at the same time.
What are the morals you run your brand by?
M: At ELLESD we are very ethical when it comes to how our products are sourced and believe in Fair Trade. We stand for quality, exquisite detailing, timeless design and comfort.
What apps keep you connected?
M: Apps like Elle, Vogue, Net-a-Porter  and Instagram keep us connected to what's happening in the fashion world.
If you could only wear one piece from your collection, what would it be and why?
M: The one piece I would choose is the "Flora" pants because they are sexy, comfortable and have amazing detail around the knee.
F: I would choose the suede jacket because of the soft texture and you can dress it up or down.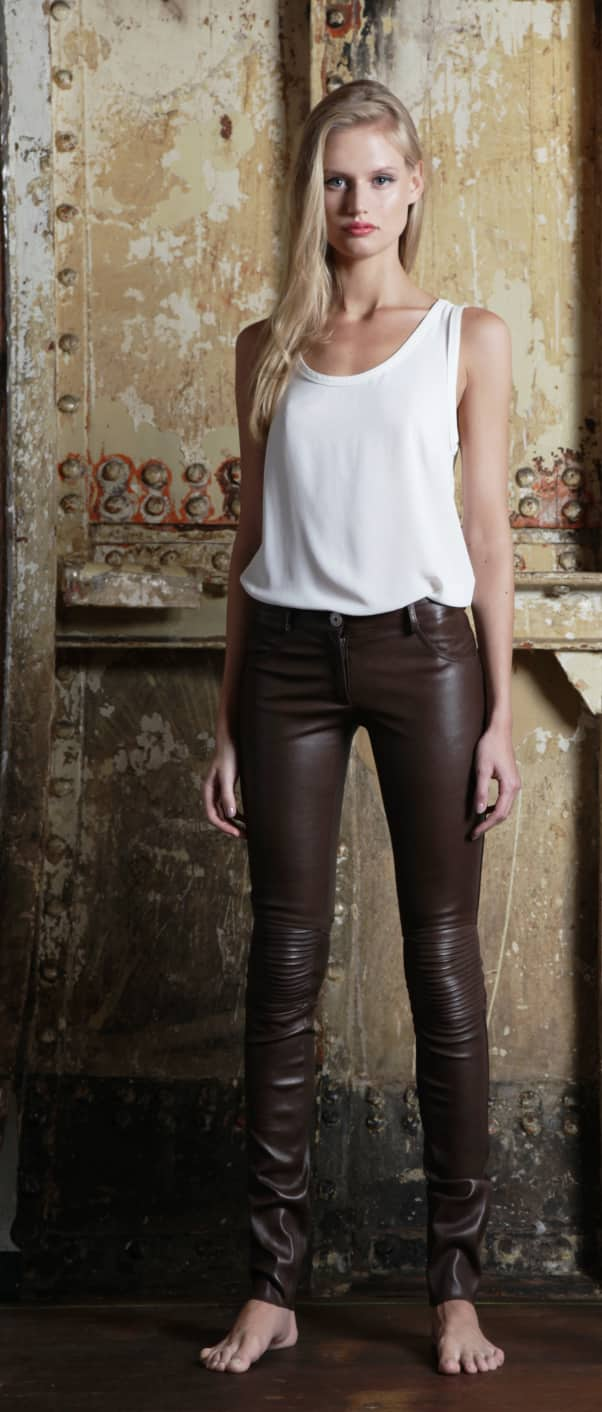 Is there another designer whose work you particularly admire?
F: We really admire Alexander McQueen for his uniqueness and Matthew Williamson; his designs are beautiful and imaginative.
What's the best piece of advice you've ever been given?
F: Nothing is impossible and to always follow your dreams.
M: There are a lot of rules in business but it's always very important to follow your gut instinct.
What drew you to Wolf & Badger?
M: Wolf & Badger has really unique and original brands that really inspire the imagination. The locations of the shops are perfect, as well as the professionalism of the W&B team.
Where do you see the brand in 5 years?
F: We hope to expand the brand globally. It's a very exciting time!!