Intua Jewellery is an Istanbul based fine jewellery brand. They specialise in elegant and modern designs with diamonds, gems & hand painted enamel. At Intua, the goal is to create fine jewellery which connects with the soul of modern life. We spent 5 minutes with the designer Sezgi, to get a closer look inside the brand. 
How did Intua Jewellery begin?
I've always found it difficult to find unique presents for family members and close friends. I've always adored jewellery, but after a while everything started looking the same and so I decided to make jewellery myself. People seemed to love the pieces I made, so I said to myself, "Why not take things to the next level?"
Previously I worked at a number of voluntary organisations and the United Nations in Istanbul. Following this I got to travel a lot in my role as a director for an international exposition company. Having studied and worked abroad, I've had the pleasure of experiencing many different cultures, which allowed me to see how different people choose to wear and combine jewellery. I try to contribute part of our profit to voluntary organisations, especially those that work to empower women (for example, with training and by helping them to open businesses). My husband is an editor at an international news company and a writer, and together we make a great team.
Have you always been interested in fashion?
I've always worshipped fashion, jewellery in particular. I love reading and watching anything about fashion, but I am a workaholic and I used to feel guilty about spending all my free time on it – now I don't!
What have been the highest and lowest points on your journey so far?
The highest point was making our first sale soon after starting up the business. It confirmed that we have something to offer. The lowest point was 4 months after opening when we sent some collections to The Four Seasons Hangzhou for the first time and they were stuck at the Chinese border for 4 weeks because of Chinese New Year.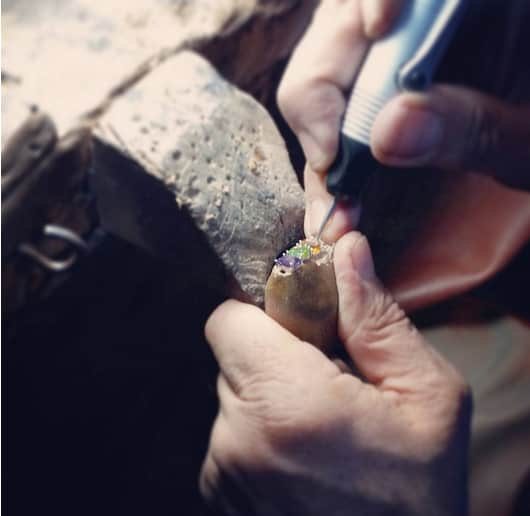 What was the inspiration behind your latest collection?
Vibrant colours and the desire to create a collection which can match the simplest or the most eye-catching outfit.
Do you ever struggle to stay inspired?
Not really. Other things can be challenging at times but new ideas always come easily. I think the reason is because we are able to draw on so much history here in Turkey. Right now we're focusing on designs inspired by the ancient civilizations of Anatolia such as the Hittites.
Where is your go-to meeting spot?
Sark Kahvesi (Orient Café) in the Grand Bazaar in Istanbul. They serve ordinary Turkish coffee and tea, but the design and atmosphere of the place is great. Although the Grand Bazaar is centuries old and the cafe was only opened in the last 100 years, it still captures the spirit of its surroundings.
How would you describe your customer base?
We want to reach as many people as possibles, so in that sense we don't have a specific customer base. However, we often favour classic designs with a modern spin. So we attract women who like that concept and who also want to purchase gold pieces that have been hand crafted using traditional techniques.
Is there anyone you would love to see wearing your designs?
Beyoncé and Lea Seydoux.
What are the morals you run your brand by?
Always treat customers like they are permanent part of your brand. Ethical manufacturing – making sure skilled employees are properly rewarded.
Do you have a mentor?
Our mentor is Master Artin, who is an antique diamond setter at the Grand Bazaar. He has been a huge help since we started by giving us so much advice about the technical side of things. He is an excellent teacher also – his son used to work alongside him but now works as a diamond setter at Tiffany & Co in New York.
What apps keep you sane?
Instagram and Gmail. Gmail because I am in contact with our stockists day and night – America in the evening and China in the early morning.
If you could only wear one piece from your collection, what would it be and why?
Our light blue and white topaz bangle because they match everything. Nowadays I love wearing our lotus hand chain because it's the perfect accessory for summer.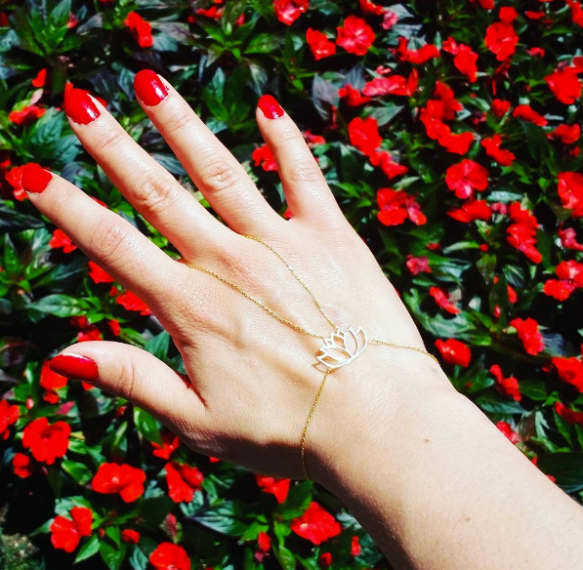 What's the biggest style mistake you've ever made?
I don't believe in style mistakes. You can learn something from every style and I've experimented with several.
Is there another designer whose work you particularly admire?
Mansur Gavriel, the colours!
What's the best piece of advice you've ever been given?
Act like you are Tiffany & Co. Meaning that even if you are doing something simple, take as much care as you would if you were making a diamond necklace.
What drew you to Wolf & Badger?
It's our first stockist in the UK and offers good marketing support for independent brands.
Where do you see the brand in 5 years?
With our own boutique in London, stocked in 6 continents, fully sponsoring projects for gender equality & female empowerment.