Jennifer Rothwell collections consist of innovative design and luxurious fabrics paired with high quality finishing. The collection is for women who want something different and unique, yet elegant and timeless. Jennifer designs for the sophisticated woman that doesn't follow trends. All pieces are produced locally in her Studio in Dublin, Ireland. We spent five minutes with Jennifer to learn more about her passion for prints!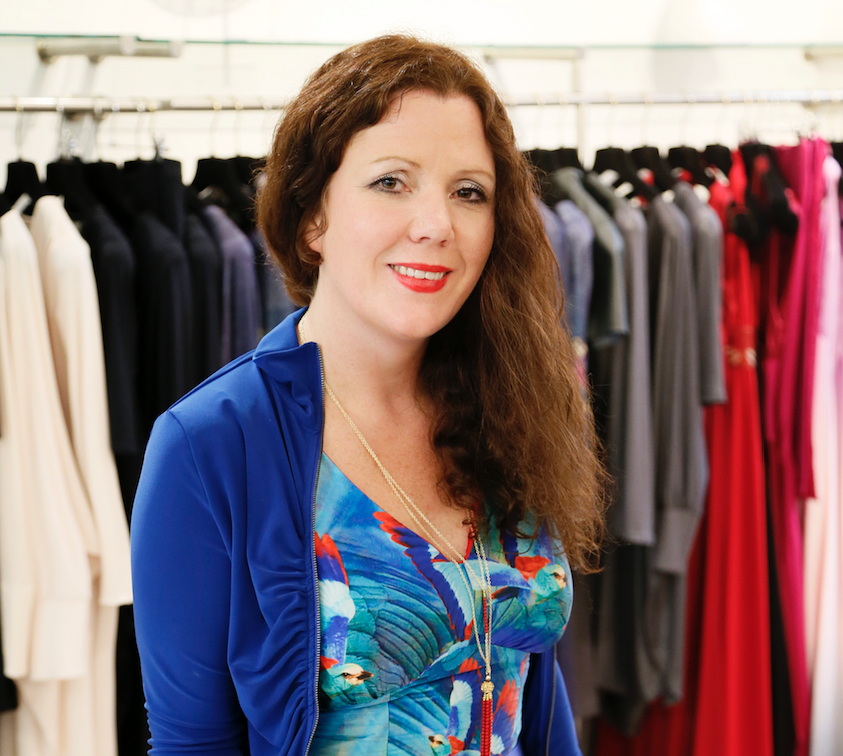 How did Jennifer Rothwell begin? 
I was born in New York and raised in Dublin. I graduated with honours from the National College of Art and Design. I am highly experienced and know the A-Z of the fashion industry as I gained vast experience as the Director of Design and Production for many high-profile New York fashion design companies. I accredit my most valuable experience to Norma Kamali where I worked for several years. I later went on to work and gain further experience with Katayone Adeli, Calvin Klein, Language and Yigal Azrouel, working at Director level in each company. In 2006, I took the brave move of deciding to return back to Ireland and I established my fashion label, and just 7 months later won the Brown Thomas Designer Award at Dublin Fashion Week in 2007. I started on my career path studying fashion design at the National College of Art and Design. While in fashion college I worked in retail, and went to New York each summer to work in the fashion industry to gain experience. After college, I emigrated to New York and worked there for 10 years. While in the New York fashion industry I gained vast experience as the director of design and production for many high-profile designers. My goal, however, was always to create my own fashion brand, so after I acquired the experience needed I took the brave step to go for it! I had originally decided to start my own label in the US, but because of family reasons I returned to Ireland and I have been home ever since.
Have you always been interested in fashion?
Yes, I have always loved art and design!  I remember making a pair of pink elasticated trousers for my Barbie doll when I was 8 years old! My main passion and love is textiles, print and fabric! I believe fashion is art, wearable art!
What have been the highest and lowest points on your journey so far?
My highest point would have to be when the National Museum of Ireland acquired three of my printed designs for their Contemporary Design Collection, which was a great endorsement of my work. My lowest point would have to be having to survive the recession. Keeping costs to the bare minimum and continuing to keep sampling and moving forward when consumer spending had been so drastically reduced. I had to evolve and reinvent my brand to fit the new market. Due to this I went from designing evening gowns to developing my own prints, which in time turned out to be hugely positive as prints are now my brands unique selling point.
What was the inspiration behind your latest collection?
My latest collection is my active wear collection which features my unique crane bird print. The crane print is inspired by Dublin's bloom festival and my love of birds and Japanese influences. I feel inspired by Japanese designs as I like to use the modern approaches, as well as the traditional elements that Japanese designs bring with it. The collection has stunning contrasts and superb compositions which are the hallmarks of Japanese design. I merged traditional patterns with contemporary design to create the pattern for this collection.
Do you ever struggle to stay inspired?
No, I am inspired by the world I live in and influences of the past. I have always loved colour, art and history. I am particularly inspired by past Celtic heritage and culture. I want to reignite the Celtic Revival (also known as the Celtic Twilight) of the 19th and 20th centuries in the 21st century. To celebrate Irish artists, folklore, legends and traditions through fashion in a modern and contemporary way, which the National Museum of Ireland acknowledged in 2016 by purchasing 3 of my prints for their collections.  
Where is your go-to meeting spot?
One of my favourite places would be Hugh Lane Gallery where I can visit the fabulous stained glass works by Harry Clarke, who is the inspiration and focus of some of my favourite collection prints, such as my stained glass print that was worn at the Oscars. The Madeline print that was purchased by the National Museum of Ireland.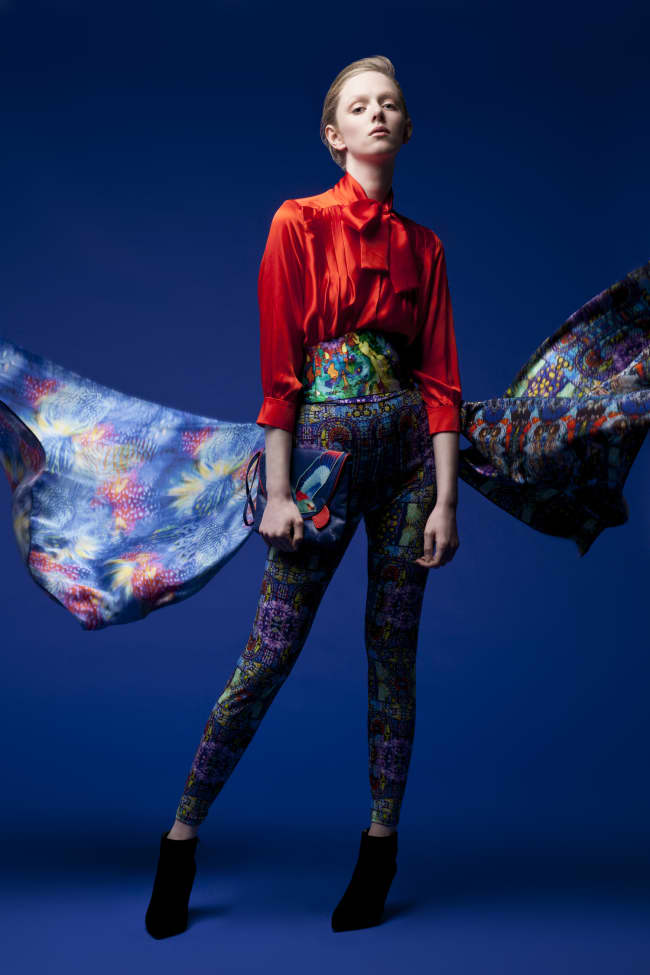 How would you describe your customer base?
The typical Jennifer Rothwell customer is a client who loves colour, good design and appreciates high quality. Someone who does not follow trends and buys their garments as investments. Timeless pieces to pass on to the next generation. They are often fellow artists, designers and musicians that I really love. For example, Enya would be one of our high-profile customers. Harry Clarke's grandchildren and niece are also loyal customers and supporters. I am extremely honoured and proud of his fabulous connection. I believe that I am helping to introduce a new generation to Harry's amazing work, and in return Harry is helping me!
Is there anyone you would love to see wearing your designs?
I would love to see Florence Welch from the band Florence and the Machine to wear my clothes. She has been my muse for several years! I love her music, sense of style and greatly admire her as a person. Florence loves poetry and books so I am sure she would love my prints. I am trying to bring back the Celtic revival and would really love if she could be a part of this initiative and lend her support by wearing some of my designs!
What are the morals you run your brand by?
Jennifer Rothwell's garments are made of innovative colourful designs, luxurious fabrics paired with high quality garment finishing.  'Once you have worked for the Couture end of the industry where great design and top quality finished garments are produced and the norm, you in turn expect nothing less of your own collection.  I am a perfectionist and I want my garments to look great inside and out! I pride myself that my designs are digitally printed and produced locally. As my garments are printed and manufactured close to the studio the carbon footprint of the garments is greatly reduced.  I believe local manufacturing is extremely important to me as it is good for the environment, our carbon footprint and also that it helps give back to the local communities. I also believe local production rewards customers with a better product. The result being better attention to detail, a garment designed with love, and designs that are unique and special as these pieces are not mass produced. I also love here at Jennifer Rothwell we don't not waste anything or help burden landfills.  Over the last ten years I kept every scrap of printed fabrics as my heart would not allow me to throw them out, and now we are making amazing unique bowties out of them which fills my heart with great joy!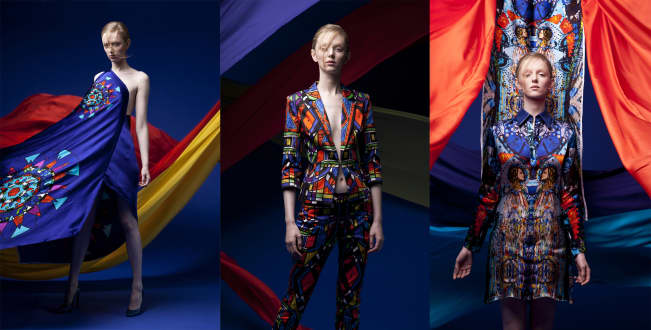 Do you have a mentor?
I myself am a mentor for the Design Craft Council of Ireland and Local Enterprise Board in County Dublin, as I love to share my knowledge and experiences. Every mentor needs a mentor. I do have one, which is important as he helps to reinforce my focus.  
If you could wear one piece from your collection, what would it be and why?
In my new upcoming collection, I have this wonderful St. Patricks print inspired by the amazing artist Harry Clarke. Recently I made a bespoke three-quarter length St. Patricks dress for a client but on my wish list would be a long version of this dress in particular because it is simply amazing.
What's the biggest style mistake you've ever made?
For my confirmation, I wore a man's black suit with white flecks with black lace gloves and shades. I wanted to stand out and be different from the other girls who were wearing old fashioned skirts and jackets. I thought I looked cool, I definitely was different but I did however get rid of all the photographs so no one could see my fashion disaster.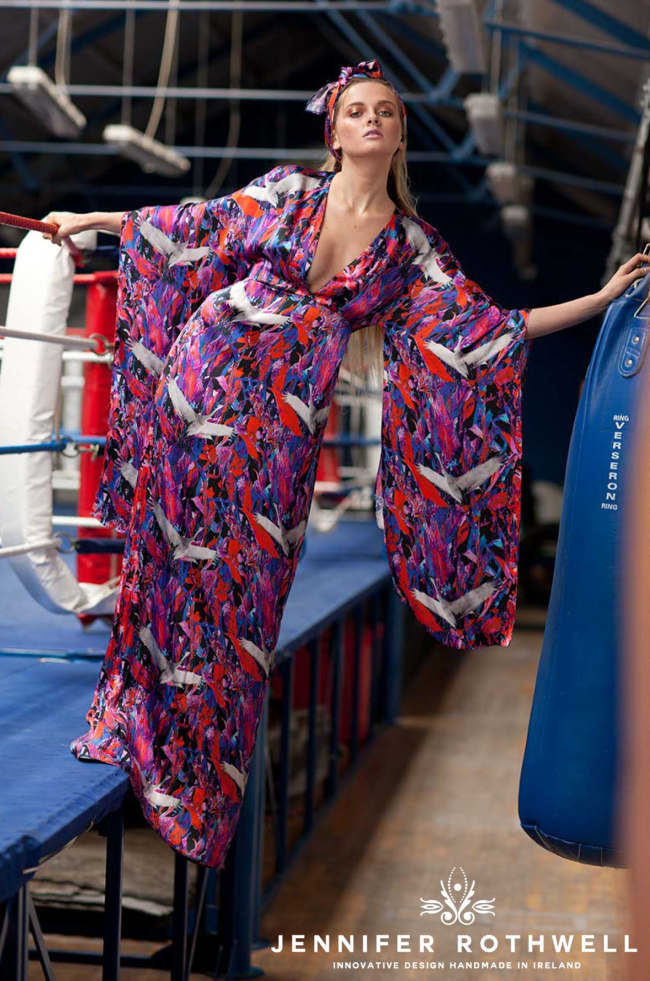 Is there another designer whose work you particularly admire?
I don't just admire one designer in particular, however I do like Dolce & Gabbana as I admire their design, attention to detail and how well all their garments are made. I do prefer independent designers, and when travelling I love to visit the boutiques of independent designers.
What's the best piece of advice you've ever been given?
I have been given some great advice over the years, but what always stood out to me would be that life isn't an easy journey, but you have to dust yourself off and pick yourself up after each set back, get up again and keep going when people are telling you to quit. Believe in yourself because hard work will finally pay off.  Enjoy the journey and be open to learning every step of the way!
What drew you to Wolf and Badger?
I really love their ethos and I think Wolf and Badger is a perfect fit for my brand. I also really appreciate that they want to promote designers and help get them out there.
Where do you see yourself in five years?
I see Jennifer Rothwell as global brand which is renowned for colourful digital prints, good design and high quality! A global brand that helps reignite the Celtic revival to a new generation once again!