Joyce and Nim is a Milan based accessories brand founded by Designers Yael Joyce Vantu and Nimrod Or. We spent 5 minutes with the duo to get a closer look inside the world of Joyce and Nim...
How did your career begin?
We both got our Bachelor's degree in Industrial design from Bezalel Academy of Art and Design and this is also where we've met. I (Yael) had my own design studio which I worked in for three years designing events and spaces. I am currently interning within Roberto Cavalli's shoe department in Florence. After graduating in 2012, Nimrod worked in small scales product design studios and later specialised within the traditional textile industry. Je now works in a product design studio in Milan.
We moved to Milan in 2015, for Yael's masters degree in luxury accessories. In the summer after she finished we started thinking about creating our small brand of made-in-Italy silk accessories that we would design together. As a couple, we had some concerns on working together but it turned out it comes pretty natural to us, each of us took a natural place in the studio – Nimrod doing the 3D graphics, whereas I am responsible for the colour choices and styling. But we actually do a little bit of everything together.
Have you always been interested in fashion?
Well, not really. I (Yael) was always interested in fashion, but more as a hobby. I used to have a fashion blog with my sister for 5 years but never took it too seriously. It was only after finishing my degree in industrial design that I realised I was more interested in doing fashion, and having won a scholarship for a master's degree in Marangoni, it seemed like the right thing for me to do. Nimrod was never very interested in fashion, but I think that living and working in Milan (and living with me under the same roof) makes it difficult to ignore it.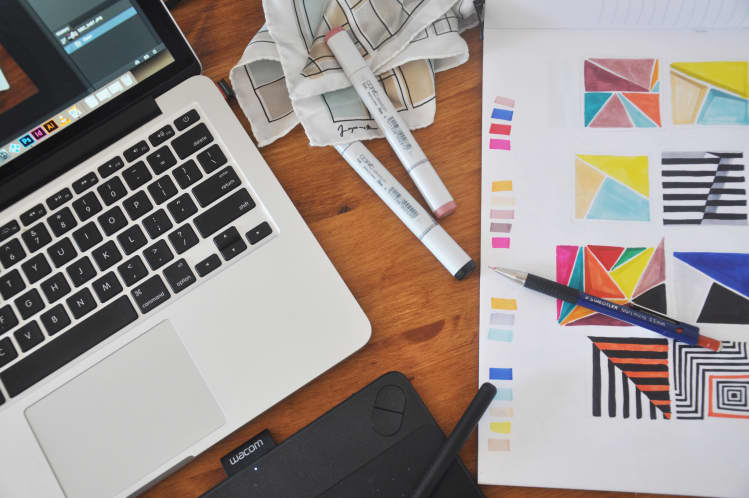 What have been the highest and lowest points on your journey so far?
Having your own business can sometimes be overwhelming, but also very satisfying as it grows. We have a lot of challenges learning everything as we go but it is super interesting and fun to do.
What was the inspiration behind your latest collection?
We moved to Milan a few months before starting our brand and quickly fell in love with the city. People here in Italy keep saying Milan is grey and ugly, but we completely disagree, just walking through the streets of Milan can inspire a new scarf! Our background as industrial designers, we believe, brings a different perspective to our prints. Our prints and patterns are created using a unique combination of 3D – and conventional print softwares and the result is a colourful mix that we believe represents us well.
Do you ever struggle to stay inspired?
As designers we always seek for new inspiration. If we feel uninspired then simply taking a walk on the streets of Milan, going on a ride to the beach or visiting an old church can give us new ideas.
How would you describe your customer base?
We love to imagine that our scarves can fit anyone at any age, we even had a guy buying a silk scarf for his pet dog.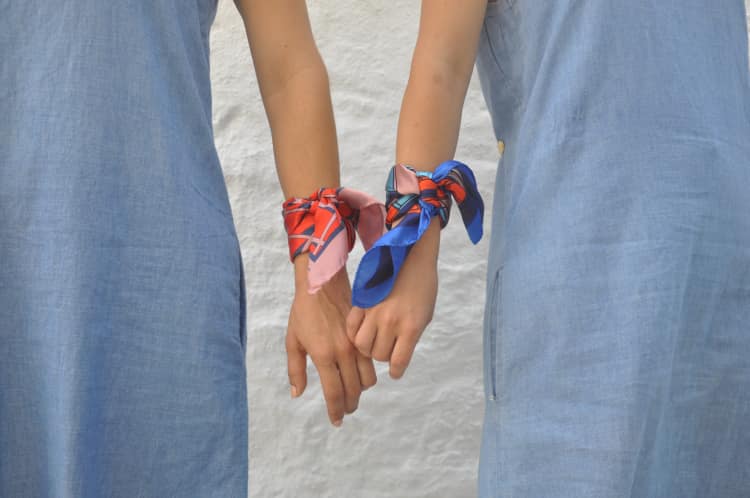 Is there anyone you would love to see wearing your designs?
Oh that's a great question, I absolutely love Leandra Medine from Man Repeller. We are meant to be best friends, she just doesn't know it yet…
What are the morals you run your brand by?
We are an all Made-in-Italy brand. Our scarves, envelopes and prints are all made here in Italy by Italian professionals. We only work with materials of the highest quality. 
What apps keep you sane?
Well we are actually so busy, working at Roberto Cavalli, means I go back and forth from Milan to Florence every day (nuts, I know), and the only time I sit still is on the train where I pass my time listening to podcasts.
If you could only wear one piece from your collection, what would it be and why?
That's easy, because I actually wear the Blue Rooms silk bandana all the time (well, when it goes well with what I wear). The bandanas are super easy to combine with almost any outfit, I love it.
What's the biggest style mistake you've ever made?
Until the age of 11, my mum used to cut our hair... Very short, nd she wasn't very good at it! (Sorry Mum, you are good at so many other things...) 
What drew you to Wolf & Badger?
Nimrod first visited W&B while on a trip to London. It was just what we were looking for, a cool and young selection of designers we really loved. Since then we knew this is where we needed to be.
Where do you see the brand in 5 years?
Now that we are selling in stores around Europe and in New York we would love to spread to Australia and to the far east too.