MAHI Leather create vintage style, leather luggage for the urban traveller. We spent 5 minutes with the founders, Camilla and Jamie to get a closer look inside the brand they created.
How did MAHI Leather begin?

I co-founded MAHI Leather with my partner Jamie in 2014 after searching for and failing to find an affordable but high quality leather weekend bag. The first step of developing the brand was our name and logo. MAHI is named after the Mahi River in India, which is why our logo features a water droplet and the river's coordinates 22 72. We donate $1.50 of every bag sold to UK charity FRANK Water, which has helped over 300,000 people in India gain access to clean water since 2005. To date we have donated $7439 which has provided 113 families in India with individual rainwater harvesting systems, delivering safe water to 510 people in their own homes.

Although Jamie's career began in finance, over the last 7 years we've both worked within the Digital Marketing industry. Our first joint project was an online nightwear brand selling kimono style dressing gowns, and it was during this period that we both learnt more about branding, product development and the digital marketing side of e-commerce. Today, MAHI is a small team of five, working from our studio in Stamford, Lincolnshire.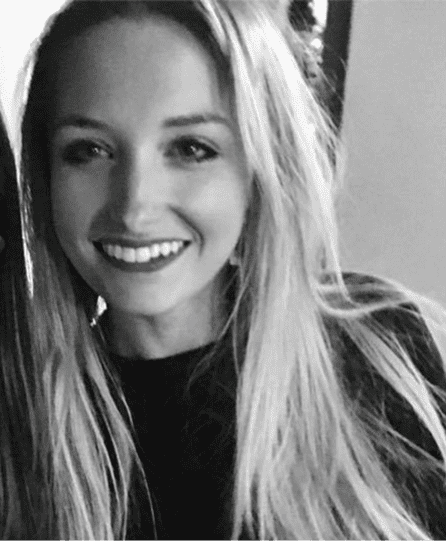 Have you always been interested in fashion?
Our main passion is travel, so I suppose you could say that MAHI is a product of that rather than an interest in fashion but it's certainly something that we have inevitably become more interested in. I can't walk down the street anymore without checking out everyone's bags!
What have been the highest and lowest points on your journey so far?
The first time someone tagged us in an Instagram post when they'd received their bag felt amazing. Seeing our designs in cities and countries we've never been to is definitely a high point. We've fortunately not had too many low points on our journey but when we first started out the long hours were certainly a shock to the system.     
What was the inspiration behind your latest collection?
We've focused a lot more on the finer details with our latest collection. We've recently redesigned our internal labels and are using more contrasting threads and two-tone leather details.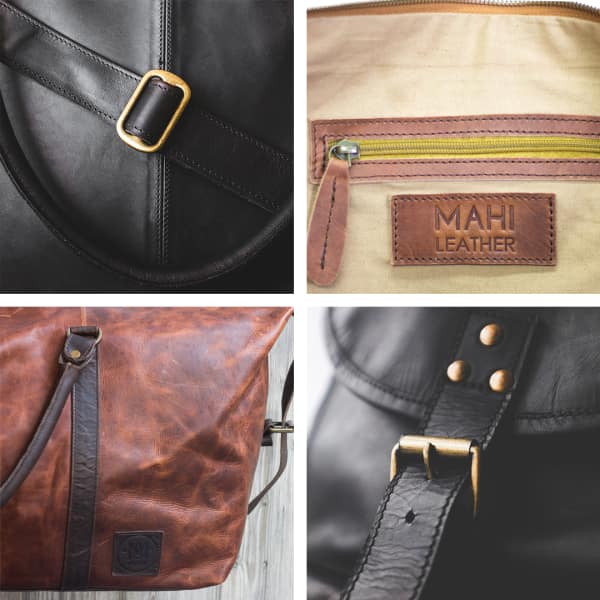 Do you ever struggle to stay inspired?
Never. In fact we struggle to get all our ideas out because we have so many - which can sometimes be a curse in itself!
Where is your go-to meeting spot?
We love Dishoom at Kings Cross for a creative lunch or meet up – especially since we discovered they serve water bottles from our partner charity, FRANK Water.
How would you describe your customer base?
We're lucky to get tagged in quite a few photos by happy customers with their MAHI's and it's great to see our designs are attracting such a broad customer base. Because the majority of our collection is unisex, and we strive for a timeless look, our customers can be anybody from the classic gentlemen to the hipster college student.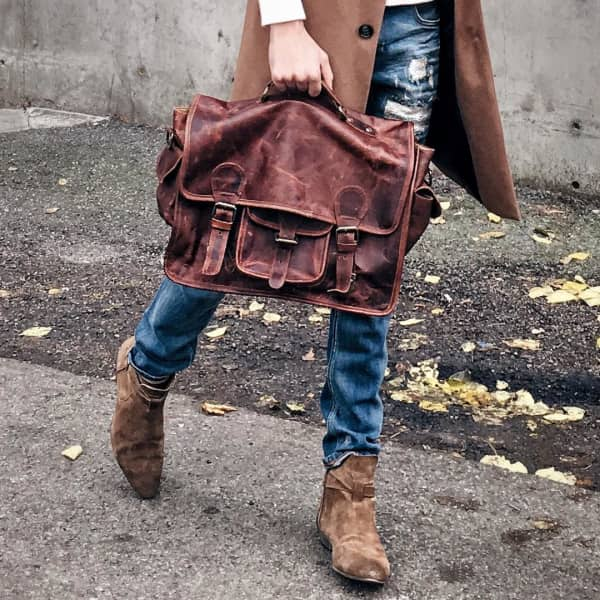 Is there anyone you would love to see wearing your designs?
We love seeing anybody wearing our designs, but of course it would be a huge compliment to see Idris Elba or Benedict Cumberbatch strolling down the street with a MAHI!
What are the morals you run your brand by?
From the beginning, we set out to make a difference to clean water projects and sanitation across India. Having access to clean water is a basic human right, but the reality is that 783 million people lack access to safe water worldwide.
Do you have a mentor?
No but we both listen to podcasts from authorities within our industry.
What apps keep you sane?
Instagram, Pinterest and Fancy are great for creative inspiration, especially for lifestyle shots and flatlays. Apart from that we're both serial podcast listeners.
If you could only wear one piece from your collection, what would it be and why?
The Columbus weekend bag in vintage brown leather is my go to bag for weekends away. It's a timeless staple rather than a fashion statement, so it's easy to pair with outfits.
What's the biggest style mistake you've ever made?

Investing in passing trends rather than timeless pieces. There are some items that will never go out of fashion, and these are definitely worth prioritising.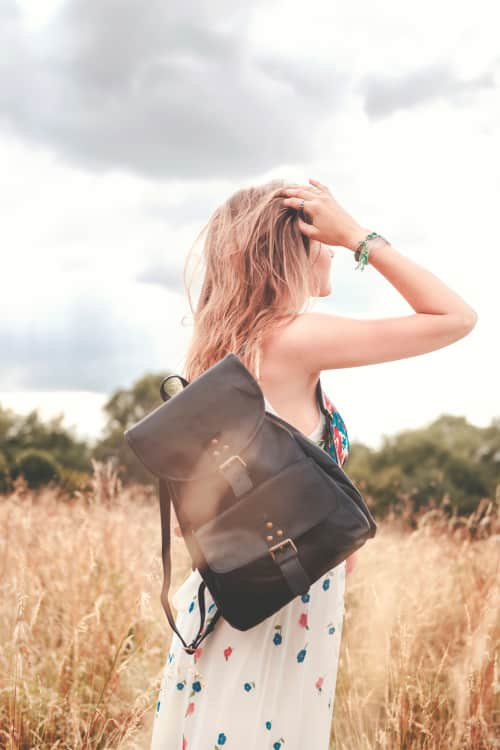 Is there another designer whose work you particularly admire?
I love individual pieces from designers so it's difficult to choose just one!
What's the best piece of advice you've ever been given?
Don't reinvent the wheel, improve it.
What drew you to Wolf & Badger?
When we lived in Maida Vale, we used to visit the branch in Notting Hill. I loved the idea of MAHI being part of a curated collection of independent labels.
Where do you see the brand in 5 years?
Continuing to do what we love and giving back along the way! In 5 years time we'd love to be the go to brand for affordable but high quality leather luggage and accessories.