Ri Noor is a unique jewellery brand with the modern woman in mind. With inspirations ranging from family to Jaipur's history of jewellery making, the brand is unmistakably individual. We spent five minutes with Ri Noor to learn more about the journey behind the jewels. 
How did Ri Noor begin?
The first step in the formation of the company was coming up with the name. When my son was born, having a happy and fulfilling life suddenly became paramount which inspired me to take the plunge to follow my passion. His name is the inspiration for the brand's name -  Ri comes from the first two letter of my son's name and Noor means light. The use of light is metaphorical to me and is also relevant to the diamonds and gemstones, whose light reflecting qualities bring the pieces alive.
My entire career before starting Ri Noor was in the Energy Trading industry. However, my interest in jewellery began when I was in college. I always had a passion for jewellery and gemstones and, to foster my interest, my mother introduced me to a gemmologist, whom I worked with and learned from while finishing my undergraduate degree but then stopped when I went on to attend grad school. It was the foundation which I built on over twenty years. Through my side work in jewellery, I developed a love for gemstones and found a special interest in working with the lesser known gemstones so that I could make unique and fun pieces that were wearable through daily activities and special occasions, but also were at price points that allowed me to acquire numerous pieces.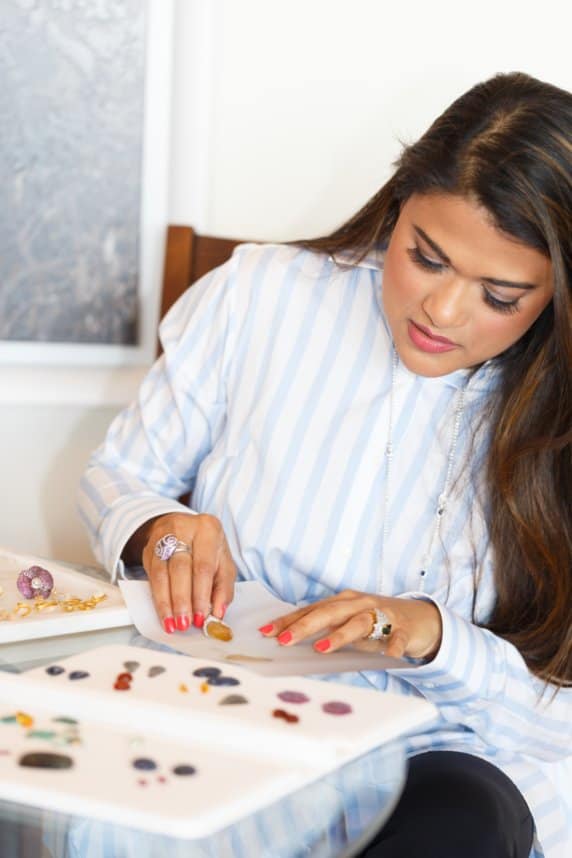 Have you always been interested in fashion?
I have always been interested in fashion and design in general. I grew up seeing fine jewellery (it did not have to be very expensive) worn in everyday life and special occasions. The passion for designing jewellery came from my travels with my parents and learning about gems and jewellery techniques unique to the various places we visited. A few of my favourite examples include old Portuguese and Goan filigree gold jewellery – which is very hard to replicate now - Polki, diamond slices, carved gems and beads from Rajasthan, beautiful Blue Sapphires and Moonstones from Sri Lanka – these were later used in one of my favourite pieces I have designed -  a cocktail ring with a beautiful centre Moonstone, Diamonds and blue Sapphires. 
What have been the highest and lowest points on your journey so far?
In the first couple of months of starting the business, I encountered a low point when I approached two sales leads for partnership opportunities and got no response. I was very confident I had the right product but the lack of interest made me question my decision to start the business. I then decided that I needed to pause, build the brand and create a better product (not inventory) but rather everything Ri Noor had to offer – including our website. The early rejection was a blessing in disguise since it made Ri Noor significantly better.
My highest point was when a repeat Ri Noor customer wore three Ri Noor pieces on her 25th wedding anniversary celebration and took the time to email me a picture. She looked beautiful and all the pieces worked perfectly together.
What was the inspiration behind your latest collection?
While my design aesthetic is mostly contemporary, I have always been drawn to Jaipur's rich history of jewellery making and gem cutting from the days of the Royals. I wanted to combine the old-world heritage with modern design and so my latest collection (coming soon) includes a few pieces of carved gemstones, some old rose cut diamonds and a mix of historical and contemporary styles.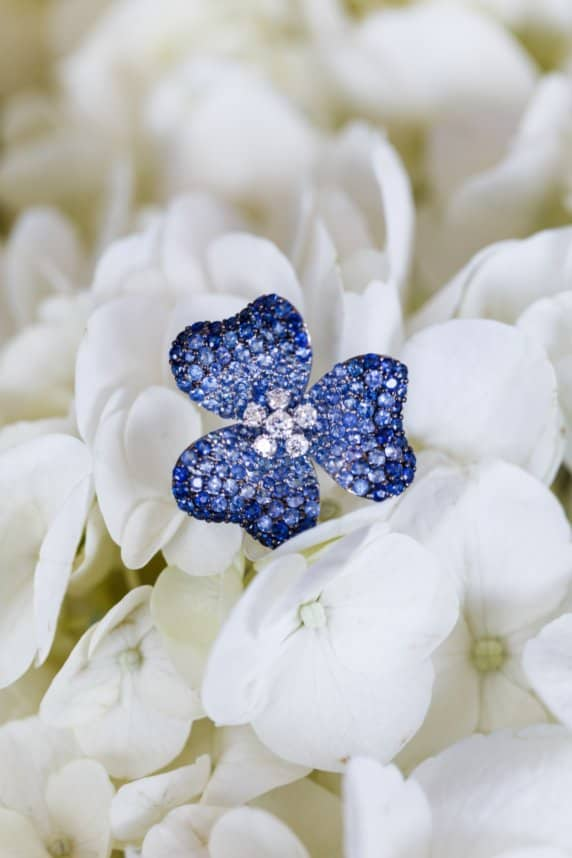 Do you ever struggle to stay inspired?
I think of jewellery design all the time – it's a real problem and I need to find ways to turn off sometimes. The struggle really is not the inspiration, but finding that right combination of precious and semi-precious materials that allow me to make the pieces both impactful and attainable. I can just as easily design pieces that are in the tens of thousands of dollars but that does not represent Ri Noor in terms of wearability.
Where is your go-to meeting spot?
I live fairly close to the water and so rather than a specific spot, I like meeting anywhere where I can be looking at the water (when feasible).
How would you describe your customer base?
I was once told by someone while attending a formal, that women there wait for their husbands to buy them jewellery. While I think it is wonderful receiving jewellery from a spouse or loved one, to me the Ri Noor customer represents fashion conscious ladies who love to accessorise and make decisions for jewellery buying just like any other wardrobe must have. While Ri Noor does have fine jewellery with precious stones and metals, our price points allow the buyer to make spur of the moment decisions and grow their own collection of unique and fashionable fine jewellery. 
Is there anyone you would love to see wearing your designs?
To me, it is not about any specific person wearing Ri Noor, but about the ability of any woman to incorporate Ri Noor into her daily life. I want to see women feeling empowered with Ri Noor and wearing the jewellery not only for special occasions.
What are the morals you run your brand by?
Giving my best to Ri Noor customers in an optimal combination of impactful (precious) pieces and price.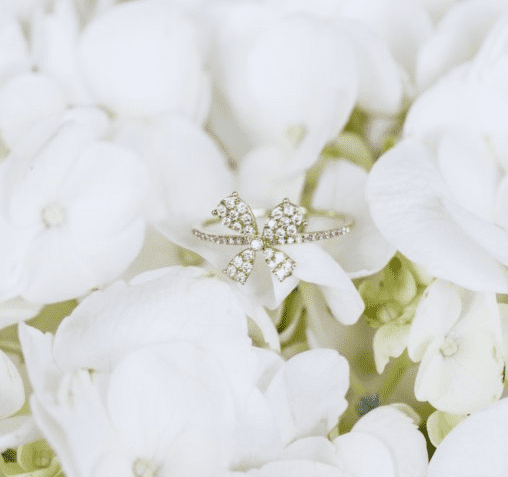 Do you have a mentor?
I meet a lot of entrepreneurs and women in leadership through my work. I am always in awe at the struggles and perseverance – a common denominator for their success. All of them are a constant source of inspiration for me and help keep me energised. I consider a lot of them mentors.
What apps keep you sane?
I use WhatsApp a lot in communication with the factories where the jewellery is being made. We exchange pictures through all the stages of making any given piece. It allows us to tweak the pieces in real time to ensure they meet my vision. I use Instagram a lot as well.
If you could only wear one piece from your collection, what would it be and why?
I love cocktail rings! They can be worn through a work day to evening events seamlessly. I love the fancy yellow diamond ring – the mixed yellow diamonds are so brilliant and just light up when worn and work with so many different outfits – including a t shirt and jeans. https://www.wolfandbadger.com/us/fancy-yellow-diamond-ring/
 (If I get a second choice) - I also love the diamond slice pendants – they allow for an edgy twist on the classic solitaire look and are a fraction of the cost of a full cut diamond solitaire of its size. https://www.wolfandbadger.com/us/diamond-slice-necklace/
What's the biggest style mistake you've ever made?
Wearing too much jewellery all at once! I now have a "one big piece" rule. So for example, if I wear a large cocktail ring, I will just wear simple studs in my ear and probably nothing else.
Is there another designer whose work you particularly admire?
There are a lot of designers I admire, but I am particularly fascinated by the work of Wallace Chan, whose jewellery is nothing less than wearable art. Of note is his use of not only precious gemstones but a lot of semi-precious stones and unique materials such as titanium.
What's the best piece of advice you've ever been given?
I was struggling with a major life decision, when my father (who loves horses) told me – "don't be a non-starter horse (there is such a thing in horse racing), just start the race and you can always reassess or halt." This applies to so many aspects of life, especially when one is considering leaving a cushy job to become an entrepreneur.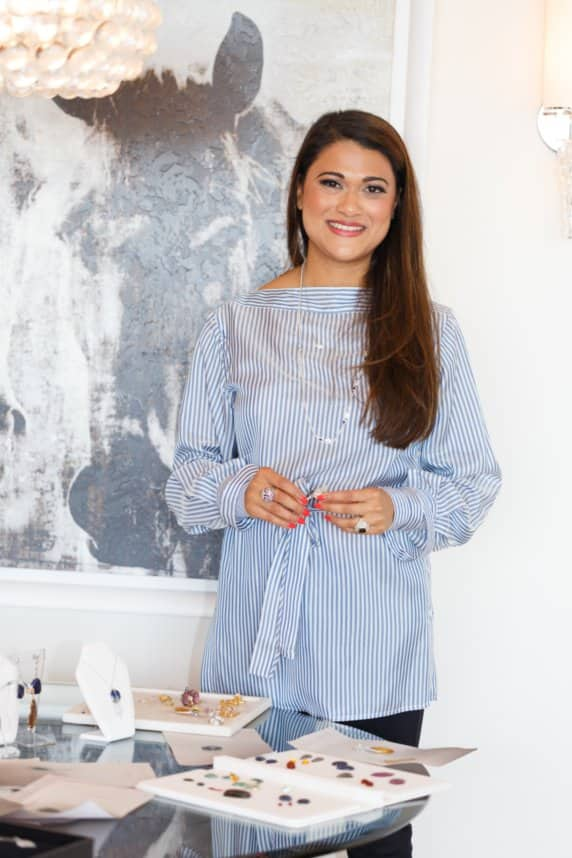 What drew you to Wolf & Badger?
I love the platform created by Wold and Badger that allows designers to present their work on a global stage. There is no shortage of high fashion and creativity in all of the pieces carried by Wolf and Badger. It feels great to be a part of that group. 
Where do you see the brand in 5 years?
In 5 years, I see growth and expansion via numerous partnerships with international fashion-forward retailers, allowing  Ri Noor jewellery to be thought of by customers the same way they do a nice seasonal jacket, a must have in-trend handbag or ensemble.