Sisters N Silk is a fashion start up creating and selling luxury silk scarves based on reality rather than imagination. Designer Dimana Mabhena is a woman inspired by contemporary topics of human and environmental importance such as feminism, gender equality, female safety, endangered animal species etc. It is through creativity that she wants to influence people to take a stand and wear her scarves as statement pieces. Each scarf is an abstract representation of reality and aims to discuss a subject that affects us all. We sat down with Dimana to find out more about her brand. 
How did Sisters N Silk begin?
The story of Sisters N Silk is a story relatable to many women around the world. I was a person stuck in an everyday job, working part time during my maternity leave. Because of my inability to commit fully to my work, I was demoted and was no longer considered valuable to the company. The feeling of dissatisfaction with what I was doing was growing so much that at some point I had to draw the line and say "enough is enough". I have seen so many people do what I only dreamt of doing and I decided that it is finally my turn to pursue my dreams and devote my time and money to what I'm passionate about. I guess I have always had this idea at the back of my head of what I want my business to represent so drafting the concept of Sisters N Silk came naturally and easy. You can say that it was born in an afternoon over coffee and a skype meeting with my mom. In a way, it was my little version of grabbing life by the horns and believing in myself.
I'm fairly new in the fashion design world and I still have so much to learn. You enter with certain assumptions and soon you realise that it is a very wide and complex industry. Because I care about authenticity, being the designer of my own scarves has always been a priority for me. For that, I had to qualify as a graphic designer and took a photography course to be able to understand the process of shooting my editorials and products. For many designers, having your own brand is often a one man show and for me it was like this for a long time. I had to gain expertise in a lot of different fields from drawing and designing to social media marketing, website building and business strategy. So my experience in the fashion business might not be as vast but my motivation to succeed is driving me to always improve my skills and knowledge.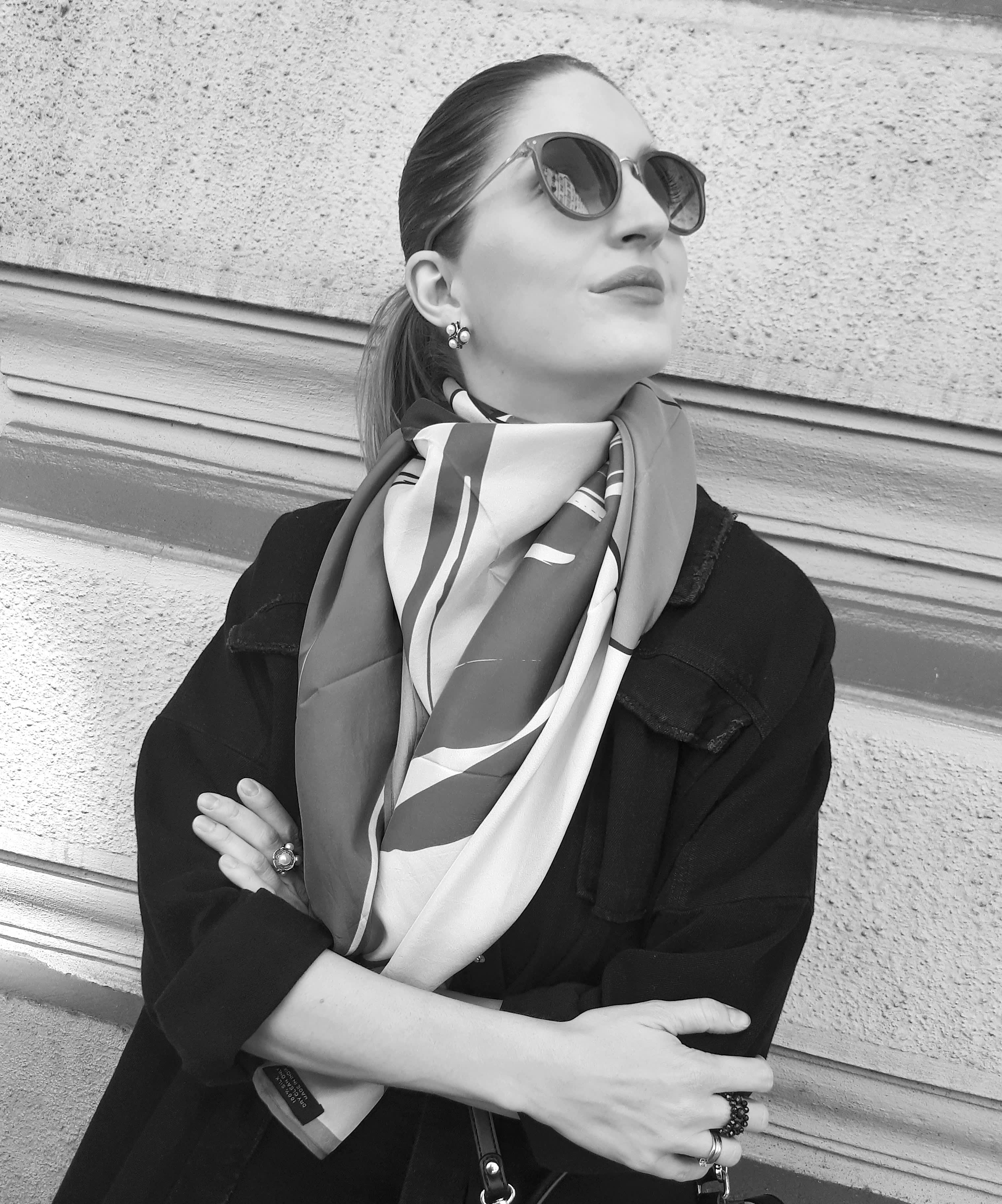 Have you always been interested in fashion?
My real interest came in my university years when I was studying abroad and after that with my first job. With my maturity I slowly got to understand my own style, what I like, how I want to be perceived. I have always liked clothes, but that was the thinking of a young teenage girl. In my twenties I got to understand what fashion really represents with the creativity and aesthetics behind it and this is when I truly fell in love with it. 
What have been the highest and lowest points on your journey so far?
The highest has been that I get a positive response on my scarves. People find them creative and different, which is what I wanted from the beginning. The lowest is feeling lost in the sea of competition out there and sometimes not knowing what to do next to make yourself visible and to engage people. Instagram for me is still a pain as I was not a user before and now I find myself on it almost all the time because I know how important it is to connect to people on a personal level.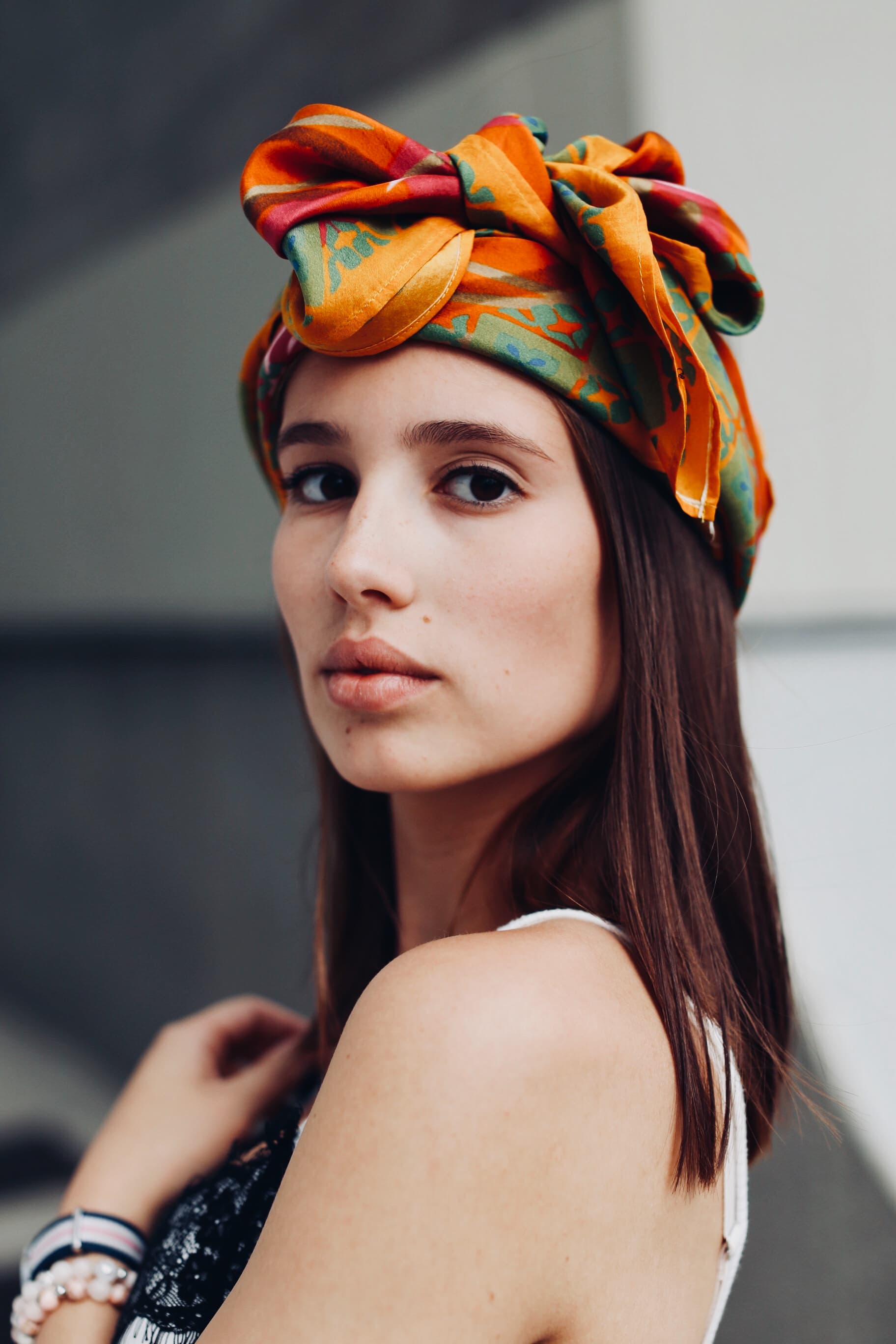 What are the morals you run your brand by?
It is the same morals I try to live by every day. My brand is a representation of me. Integrity, honesty and loyalty are things I value above all others. Sisters N Silk is a company that uses fashion design to describe topics of social or environmental importance that I believe need to be addressed. My designs are not just based on my imagination, but an abstract representation of reality. I like to call it Philanthropic fashion because it consists of statement pieces that aim to inspire people to know more and do more. To be more involved when it comes to social duty. We live in a complicated world where vanity prevails and I thought it would be a breath of fresh air to create something that digs beneath the surface for once and surpasses the aesthetic of a silk accessory. 
What was the inspiration behind your latest collection?
My latest collection is widely inspired by my travels to South Africa where I visited a lot of endangered and rescued animal reserves that were in desperate need of funding. I was inspired to adopt a lion, which contrary to everyone's expectations, was totally affordable. I saw what people do for these animals, how they are cared for and was shocked by the cruelty of human nature when I heard some of the stories of the rescued tigers and lions. The next collection I'm working on now is a Female Heroes collection. It will be abstract portraits of women through history that are breaking barriers and are pioneers in their fields of work. I think it will be very inspiring when it comes out in 2020.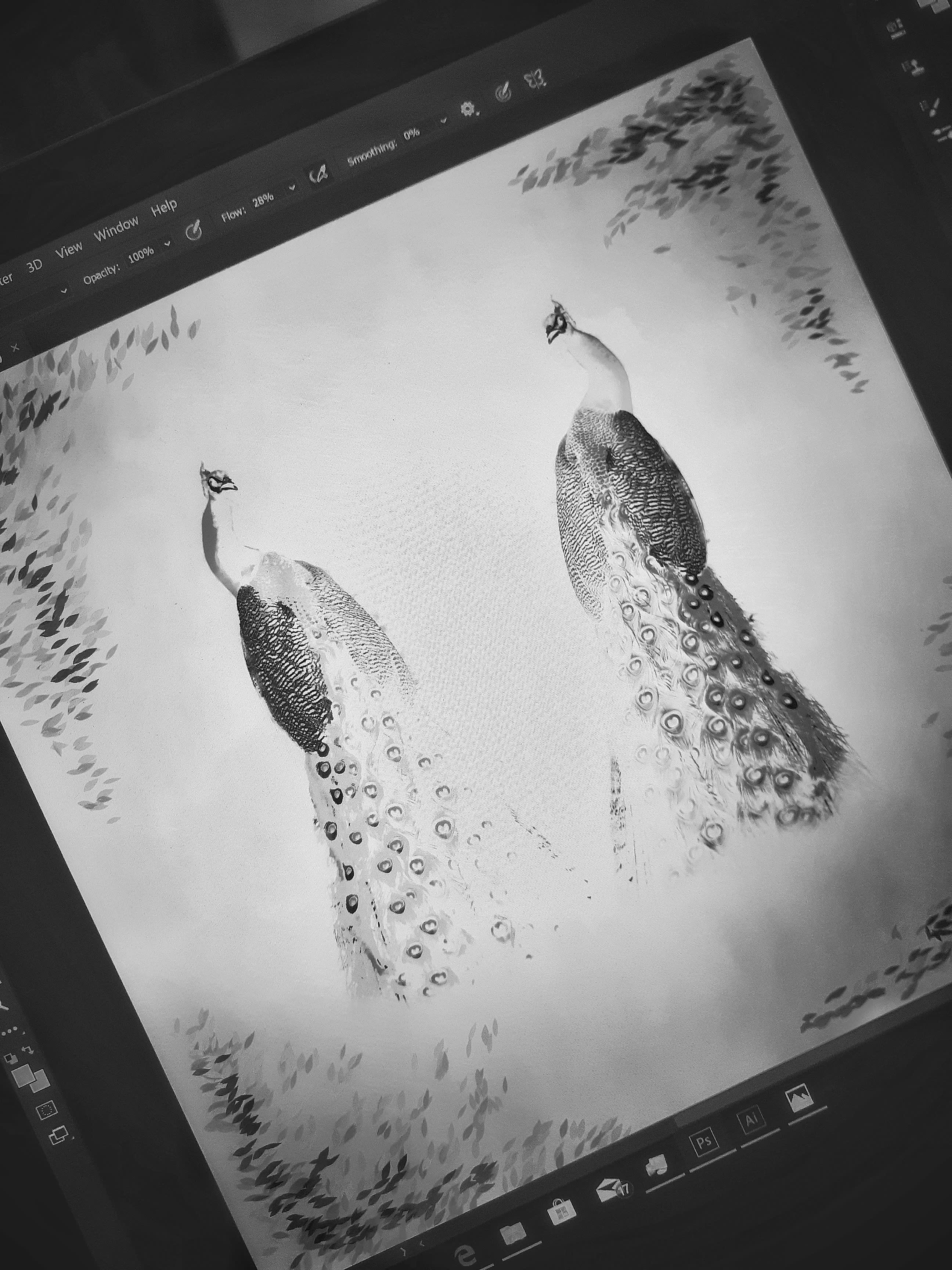 How would you describe your customer base?
I like to think of my customers as people who like to be challenged. I want them not to be afraid to be different by wearing something that is unconventional. For me an accessory is what defines one's taste in a real way. It is a representation of personality and mood in a special way that cannot be duplicated. You can wear any coat you like, but you can never wear an accessory that doesn't fit you as a person. If my customers find themselves in my scarves, then I'm happy we have made a connection. 
Do you ever struggle to stay inspired?
Honestly, no. I think I might be too inspired sometimes and drift away from the concept of my collection. I tend to think way ahead of everything and I already have at least three topic ideas for collections in my head ready to be executed. The only thing I need is time, which I don't have. 
Is there anyone you would love to see wearing your designs?
I can see Rihanna wearing my Sushi scarf because her style is just so out there and striking. I can see her wearing it as a bandana or in an interesting knot on her head. It doesn't need to be just on the neck and I think she is creative enough to find a way to wear it.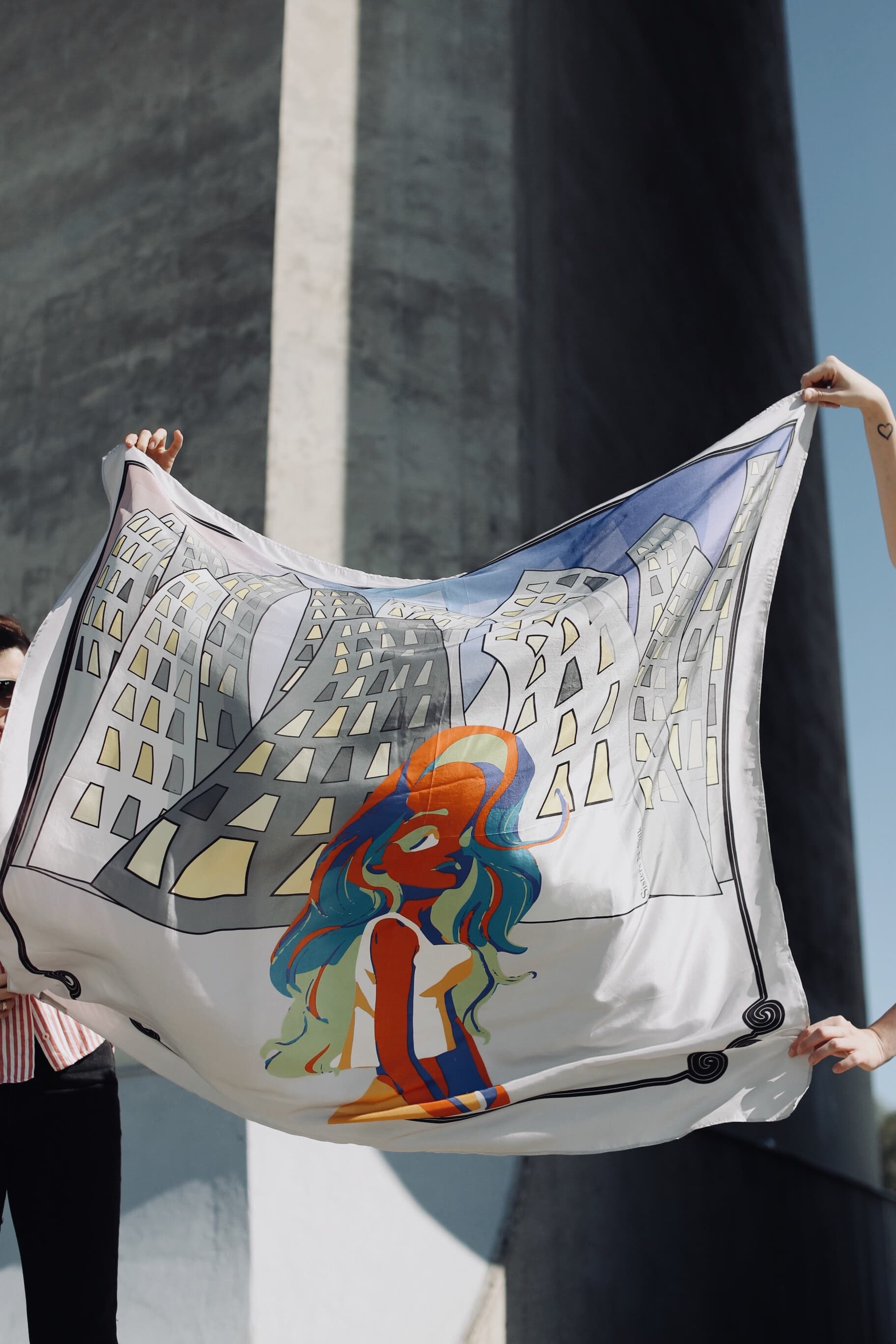 Do you have a mentor?
I have a lot of mentors. I have successful business people around me giving me advice and pointing me in the right direction. I have my family's support which is also very important. I consider all the experts out there as mentors, if you will. I have read tons of books and articles on many topics that have helped me improve so yes, you can say they are mentors too. 
If you could only wear one piece from your collection, what would it be and why?
I tend to often grab my Girl Power Scarf. It is funky and people notice it. It is also a great accessory for a monochrome outfit in need of a zing. 
Is there another designer whose work you particularly admire? 
I absolutely adore the scarves of Sabina Savage and admire how Byfar have developed as a company. They are fellow Bulgarian girls so for me particularly, it is interesting to follow.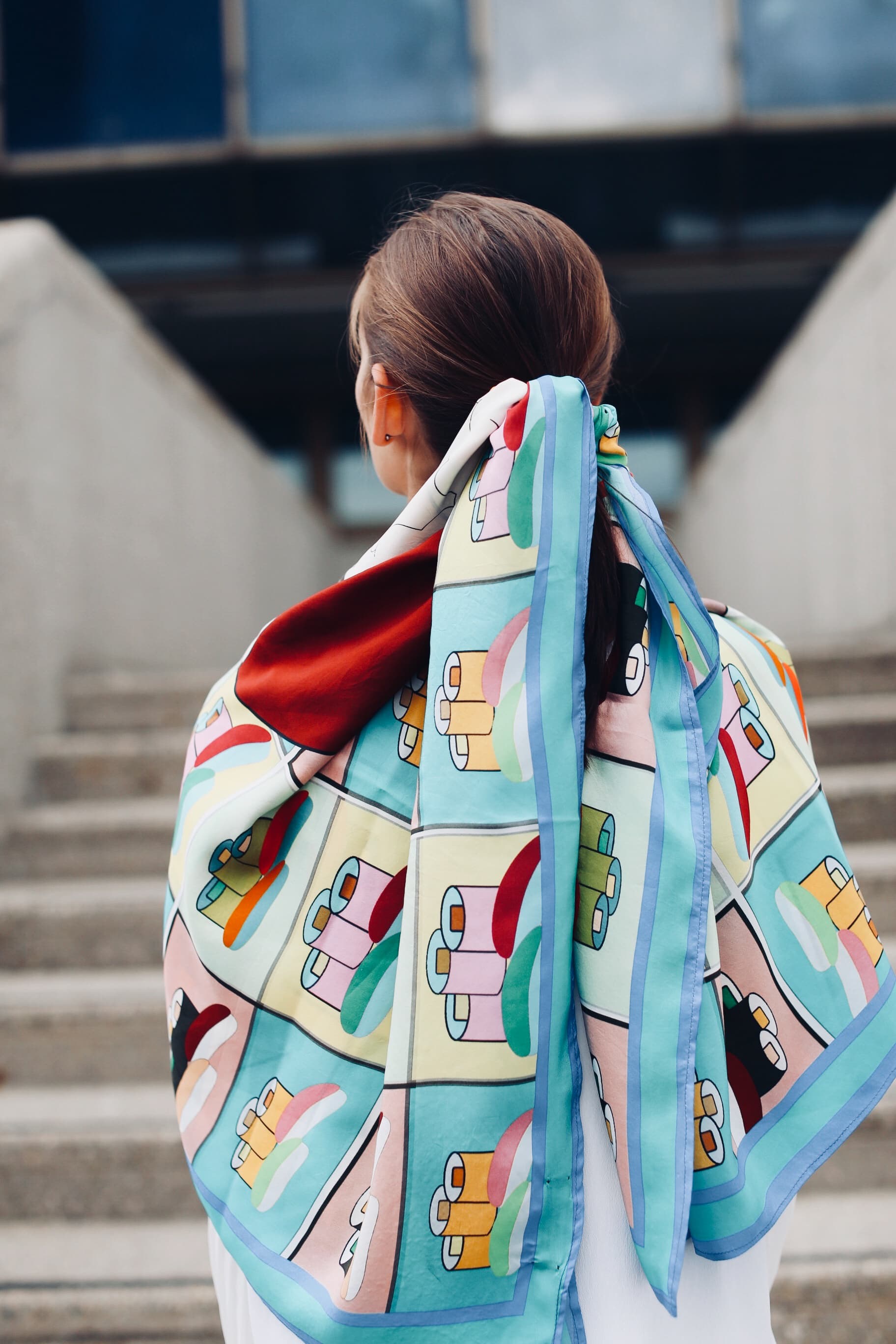 What's the best piece of advice you've ever been given? 
"If you don't know something, ask". It is a piece of advice I was given by my grandmother when I was a little girl and it has been my best friend ever since. People are afraid of asking in fear of looking stupid. But you will be surprised how often people are happy to help you if you ask them for advice or direction. It is the strength of human connection that makes me positive. 
What drew you to Wolf & Badger?
It is a concept store I have always admired. I like the combination of collections in your brick and mortar store and the fact that you give a chance to independent emerging designers. New talent is very important for the development of this industry. 
Where do you see the brand in 5 years? 
I see the portfolio expanding to garments where silk is blended with other natural fabrics. I am currently working on creating a shirt, coat and pants collection but this is a very long term plan that is not yet into production. But like I said, I'm positive and hope for the best.