SO KLARA provides handcrafted silk scarves, luxurious home decor accessories and vibrant art fabrics that say so much. We spent five minutes with the designer, Klara Capouskova to get a closer look inside the brand.
How did So Klara begin?
I launched the SO KLARA brand in summer 2014 with a collection of handcrafted silk scarves. I was then selected for the One Year On-New Designers show and that really helped me to kick off my business. Since then I have expanded the range of products, found stockists in the UK and abroad, exhibited in London at numerous shows and tradeshows and in Milan for the Design Week. Additionally I was shortlisted for the RA Summer Exhibition and have been collaborating with well-established fashion and lifestyle bloggers.
I graduated with a MA in Textile Design at Chelsea College of Art and Design with the intention to run my own creative business where I can bring together my passion for art and craftsmanship with my background in fine art and counselling. Being my own boss has been my dream since I was little and I was ready to bring that dream to its fruition. It took me about eight months to set everything up from creating the first designs, sourcing UK based manufacturers and suppliers, building an e-commerce website to the final packaging.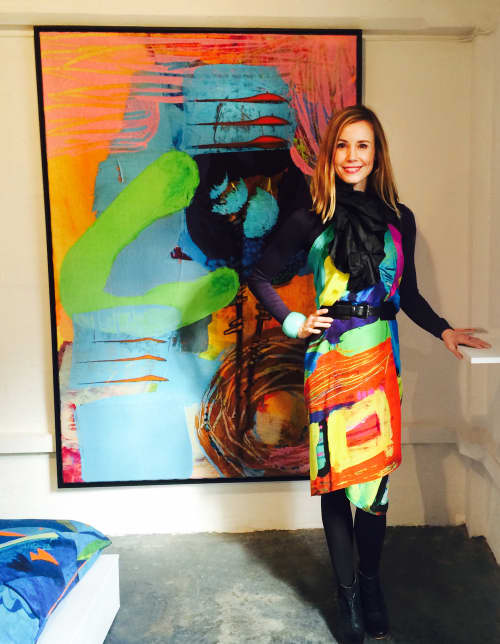 Have you always been interested in fashion?
I have always been interested in art and design and in the ability to express yourself through creative processes.
What have been the highest and lowest points on your journey so far?
There have been several high points, but one of the most significant ones was being interviewed by Czech ELLE magazine. The issue came out on my mum's birthday and I happened to be there at that time visiting my family. I handed her the copy without saying what was inside, she flicked through the pages and when she saw the article she became quite emotional. It was a proud moment for both of us.
The lowest point is when I feel I have invested so much of my time and energy but cannot see any tangible results; when I get totally crippled by my own fear and insecurities. In such situations it is extremely hard to stay motivated and enthusiastic. However, these dark moments provide an opportunity for self-reflection and personal growth. I remind myself that I cannot plant a seed and expect a fully-grown tree the following day. It is about patience and persistence.
What was the inspiration behind your latest collection?
Inspiration based on memories of favourite places, capturing the essence of travels to sundrenched beaches, tropical islands and exotic locations.
Do you ever struggle to stay inspired?
No, as I channel inspiration from many sources; time spent in nature, reading books, visiting museums and galleries, travelling, listening to music or hearing someone's story.
Where is your go-to meeting spot?
In London we are spoilt with choices. There are so many great cafes and eateries that it would be hard to pick just one.
How would you describe your customer base?
Independent, curious, bold and enthusiastic individuals with distinctive tastes for the finer things in life.
Is there anyone you would love to see wearing your designs?
I would love to see my designs in the Firmdale Hotels group.
What are the morals you run your brand by?
Keeping the chain of manufacturers and suppliers local, making sure the materials and finishing is constantly of premium quality. Establishing a reputable brand where relationships matter. Being authentic.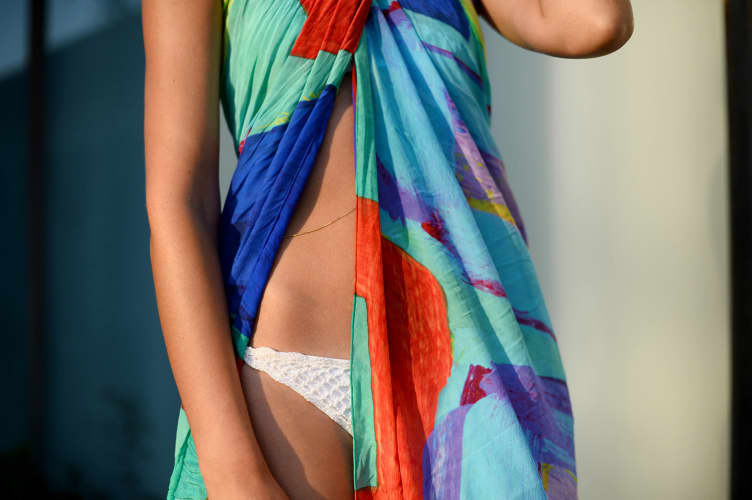 Do you have a mentor?
I did have a mentor straight after I graduated from my MA course and it was really beneficial. I read books and blogs related to marketing and running your own business. I get inspiration from stories of successful female entrepreneurs and I love TED Talks on Youtube.
What apps keep you sane?
Daily meditation, regular exercise and time spent in nature keep me sane. However, as a visual individual I enjoy sharing and socialising via Instagram. I also praise Google Maps.
If you could only wear one piece from your collection, what would it be and why?
I frequently wear my silk scarves throughout the year as they are versatile and can be styled in numerous ways. I either tie them around my neck or wrap them around as a dress with a belt and add some bright bangles. Depending on the season, I either pair the scarf dress with sandals or tights and leather boots. Plus, wearing your own designs is such a fantastic cost free way to promote your business.
What's the biggest style mistake you've ever made?
Is there such thing as a style mistake? I'd rather view them as trials that do not require any further exploration.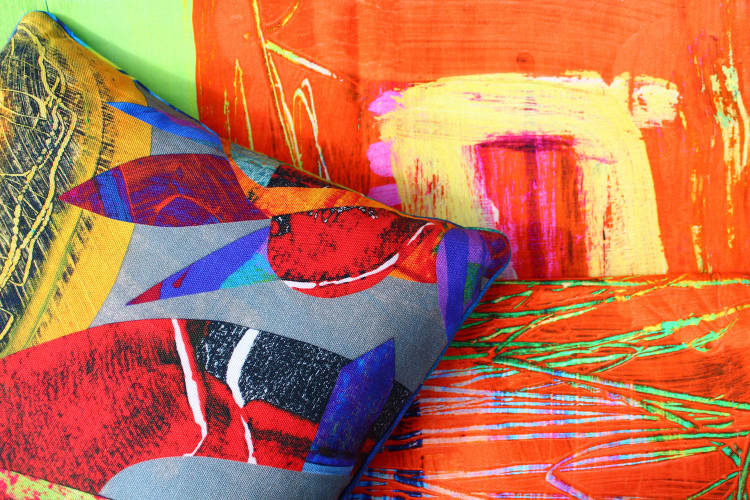 Is there another designer whose work you particularly admire?
It would have to be Alexander McQueen - he was an incredible visionair, a tremendously creative yet humble force and a real gift to the world. Although Bjork isn't a designer, she constantly pushes the boundaries of what can be artistically possible while expressing her feminine strength in a genius way. Lastly, I adore Iris Apfel for her boldness and a totally authentic style. She is in her 90's and doesn't she rock?
What's the best piece of advice you've ever been given?
Trust your inner voice, be persistent, have a vision, be kind and enjoy the ride.
What drew you to Wolf & Badger?
I walked past the store while visiting a friend in Notting Hill and thought to myself what a stylish looking boutique. Later on I discovered that W&B promotes and supports independent designers and brands. I applied and the rest is history.
Where do you see the brand in 5 years?
Working globally on commissioned projects within the interior design and hospitality sector where personal relationships matter. I would love to collaborate with other designers, makers and artists on projects where multidiscipline can be intertwined. For me it is about being authentic, eager to create, share and communicate.