Soluna London is an international jewellery brand that offers fine handmade pieces featuring exceptional quality, innovative designs and delivered with impeccable service. By its fresh British designs, SOLUNA offers you modern and high-end jewellery that will make you stand out and have a positive impact on your lifestyle. All jewels are carefully wrapped with the best European packaging.  From the Modern British designs to the Ancient Peruvian inspirations, each of our Soluna Jewellery has a rich and interesting story to share. We spent 5 minutes with founder Miguel to learn more about his passion for precious pieces.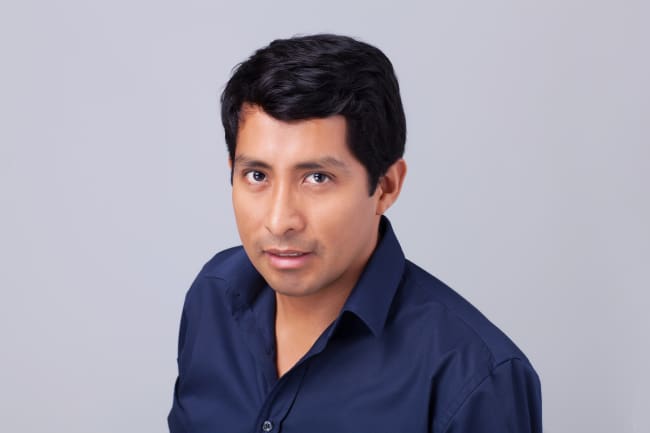 How did Soluna begin?
From a very young age, I was fascinated by my Peruvian culture and inheritance (Inca's legacy). Often a colourful work of art, combined with gold, silver and gemstones. In order to share this art with the world, I created a brand called "SOLUNA". Our pieces are designed in London and handcrafted with love in Peru. Stories are based on my Peruvian heritage and pieces are modernised to fit a worldly and contemporary woman. In 2015, I launched SOLUNA London because I wanted to innovate in the luxury and high-end space. I wanted a brand that resonates with a cosmopolitan crowd, that is relevant to a modern and global world. A brand that connects with its customers at emotional and idealistic levels. A brand that allows its customers to identify themselves in its products, services and inspirational stories. I do not come from a traditional designer background. I studied engineering in top university and schools. In the corporate world, I was working in Marketing and Strategy until I created Soluna. I then graduated as jeweller and Gemologist from GIA London. I decided that it was time to fulfill my childhood dream and put my creativity to work, redefining traditional ways of making jewellery and modernising ancient symbolisms that carry meaningful stories and inspirations. More importantly, I wanted to preserve a long tradition of craftsmanship by creating the highest value we could offer to ethically conscious customers. I have been the Creative and Brand Director since the beginning and responsible of expanding the Soluna brand to international capitals in European and Asian countries. I am based in London and Shanghai, and often travel to different cities in South-America, Europe and Asia.
Have you always been interested in fashion?
No, I am not interested in fast fashion. What interest me about fashion is the innovation and development of new concepts and products that would transcend time and borders.  I am interested in making beautiful things using precious, high-quality and rare materials that showcase design, art, and craftsmanship.
What have been the highest and lowest points on your journey so far?
I don't necessarily call them high and low points. I learn, adapt and grow every time I meet an obstacle in life as in business, hence, it becomes a positive thing every time. There have been many highs recently such as a successful Fashion Show in Shanghai, interviewed by House of Coco magazine, and our iconic pieces being spotted by Vogue UK editorial team.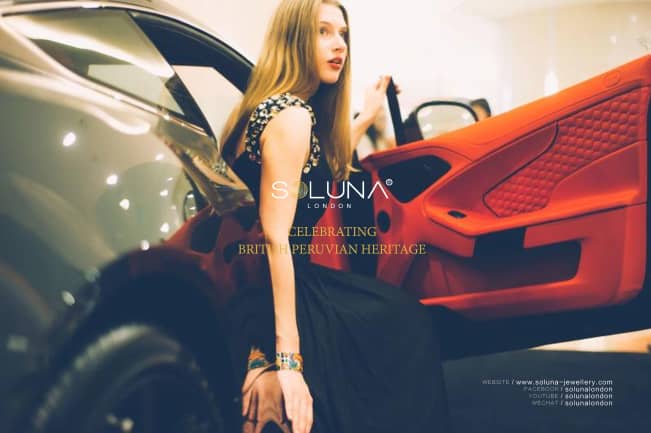 What was the inspiration behind your latest collection?
I use Modern Designs and Ancient Stories to come up with ideas for the creation of all my collections. I love geometry, shapes, patterns and vivid colours. Most of my collections are rooted in my DNA as British-Peruvian jeweller. They are all modern and chic, yet have a spirit and are timeless. 
Do you ever struggle to stay inspired?
No. I always have many ideas and concepts working in my head, so the difficult part is to prioritise them. As well as making those design ideas come to life in the products, services and experiences we create.
Where is your go-to meeting spot?
Baker & Spice in Shanghai. I like its environment and cappuccino is great there.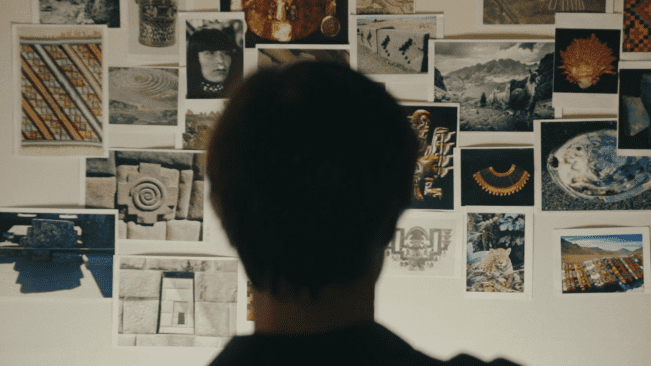 How would you describe your customer base?
Stylish and refined customers that are looking for high-quality products, design-driven and exclusive pieces, produced in limited number. Our collections appeal to worldly and contemporary women from their mid-twenties to late fifties.
Is there anyone you would love to see wearing your designs?
I would love to see Emma Watson and Sophie Turner wearing our iconic pieces.
What are the morals you run your brand by?
We are a British jewellery and accessory brand providing unique pieces for refined customers who appreciate modern designs, art and luxury. We envision ourselves building a high-end brand that is socially responsible. Our mission is to make our customers feel unique, inspire them to make a difference and feel good about it.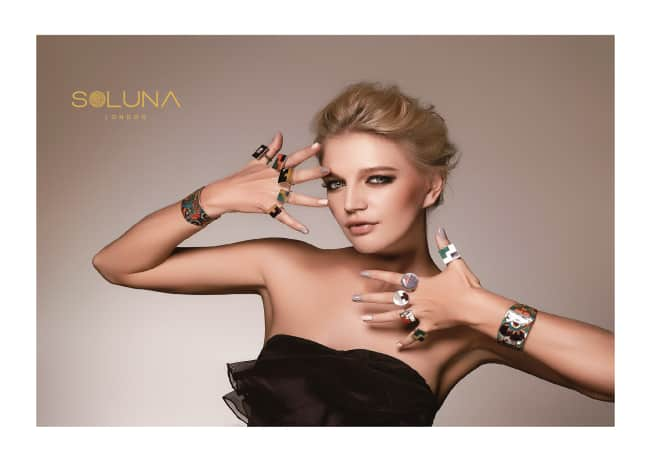 Do you have a mentor?
No. What I have is a selected group of artists and business friends with whom I exchange my ideas about fashion, luxury, arts and so on.
What apps keep you sane?
World Clock App and Google Translate as switching back and forth from different languages as the team, customer, and business partners are in different time zones and they all speak different languages.
If you could only wear one piece from your collection, what would it be and why?
My new 18K gold Inca-cross ring. It is a fabulous piece that has thousands of years of history and its symbol is full of meanings!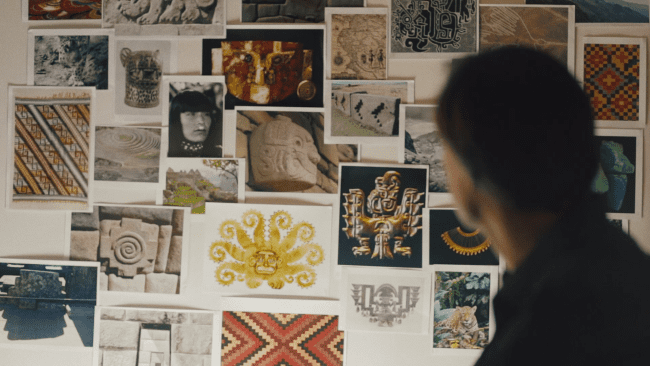 Is there another designer whose work you particularly admire?
I hugely admire Paul Smith and Armani for the empire they have created around their brands. Our goal at Soluna London is to build a lifestyle brand that connects with customers and to establish a real international presence.
What's the best piece of advice you've ever been given?
Dare to be different and work hard to create your own luck.
What drew you to Wolf & Badger?
The Wolf & Badger ethos perfectly matches our brand DNA.  It is an amazing platform for the best designers and upcoming talent.
Where do you see the brand in 5 years?
We hope to have more of an international presence with high profile retailers in the US, Asia and Middle East.