A delicious breakfast or brunch time treat with a beautiful shiny apricot glaze and fragrant spiced flavour! 
Ingredients:
300ml milk

50g butter

500g strong white bread flour

1tsp salt

7g sachet easy blend yeast

75g caster sugar

1 egg beaten

25g sultanas

75g dried cranberries 

50g mixed peel

1tsp ground cinnamon

1tsp ground mixed spice

½ an apple, grated

Zest of an orange
For the topping:
70g plain flour

4 tbsp apricot jam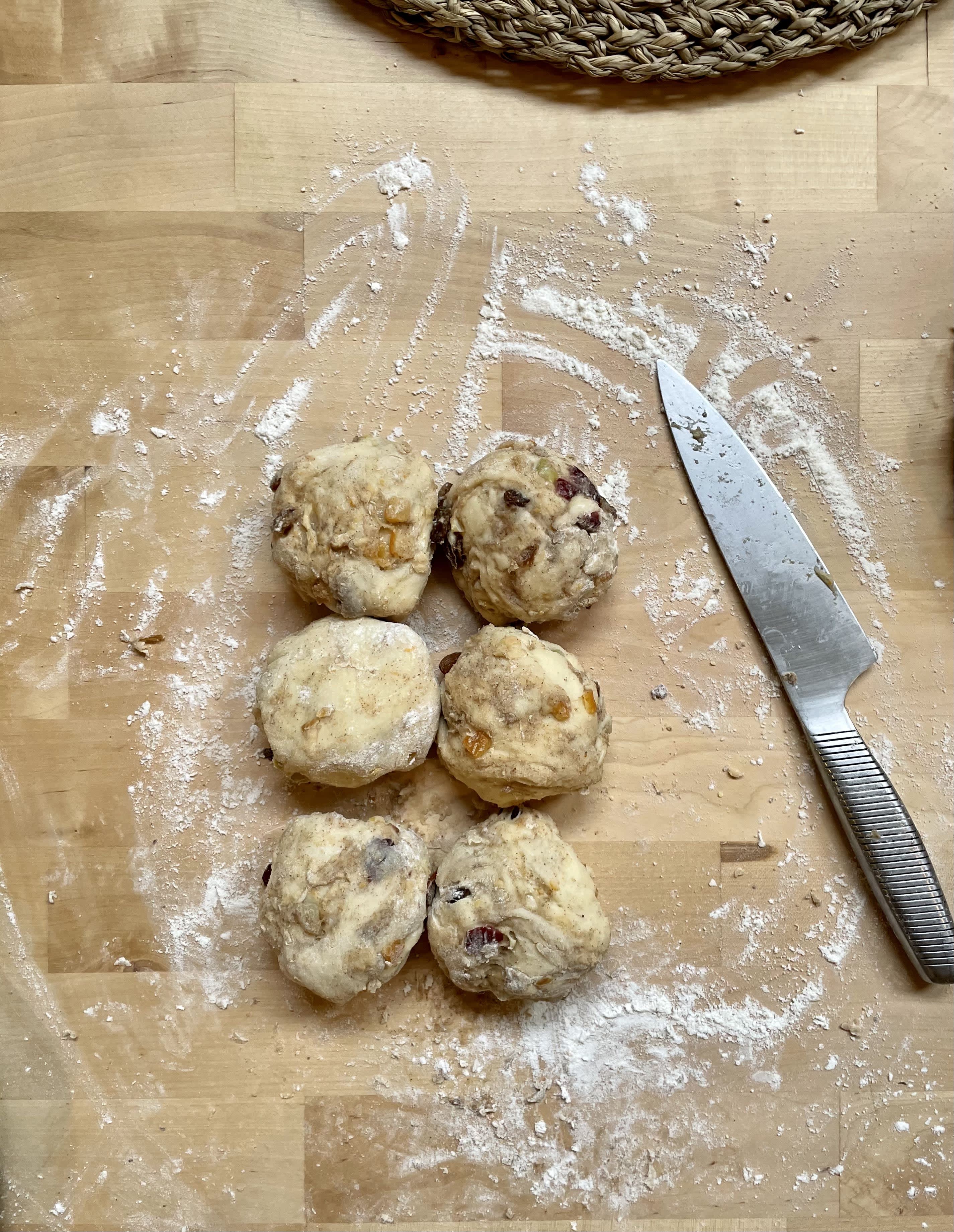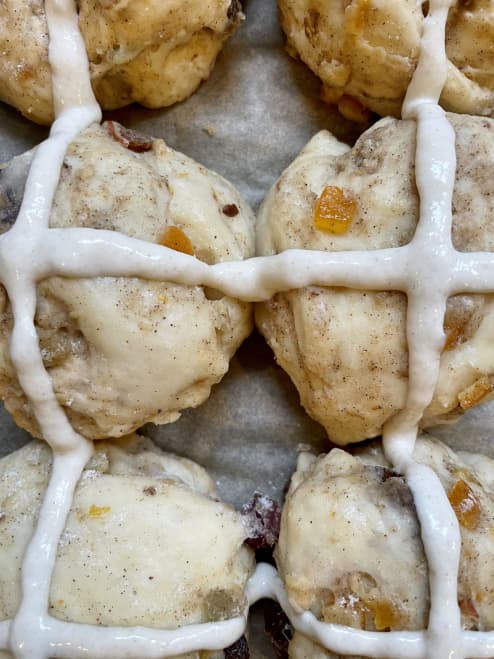 Method:
1. Begin by gently bringing 300ml milk to the boil and then remove from the heat and stir in the butter (50g) - make sure it's cut into small cubes so that it melts in easily. Set aside and leave to cool.
2. In a large bowl, add 500g strong white flour, 1tsp salt, 75g caster sugar and a 7g sachet of easy-blend yeast. Make a well in the centre, and pour in the wet mixture, as well as one whisked egg. Mix with a spoon and then use your hands to form a sticky dough.
3. Tip mixture onto a floured surface and knead for around 5 mins until it forms a smooth dough mixture.
4. Lightly oil a bowl and leave the dough to prove for around an hour in a warm place, until doubled in size. Cover the bowl in cling film or a tea towel.
5. With the mixture still in the bowl, add 25g sultanas, 75g dried cranberries, the zest of an orange, half an apple grated, 50g mixed peel, 1 tsp ground cinnamon and 1tsp mixed spice. Knead this into the dough making and leave to prove again for another hour, cover the bowl in cling film or a tea towel.
6. Divide the dough into 12-14 even pieces. You can weigh them if you want it to be really accurate (usually around 80g per piece).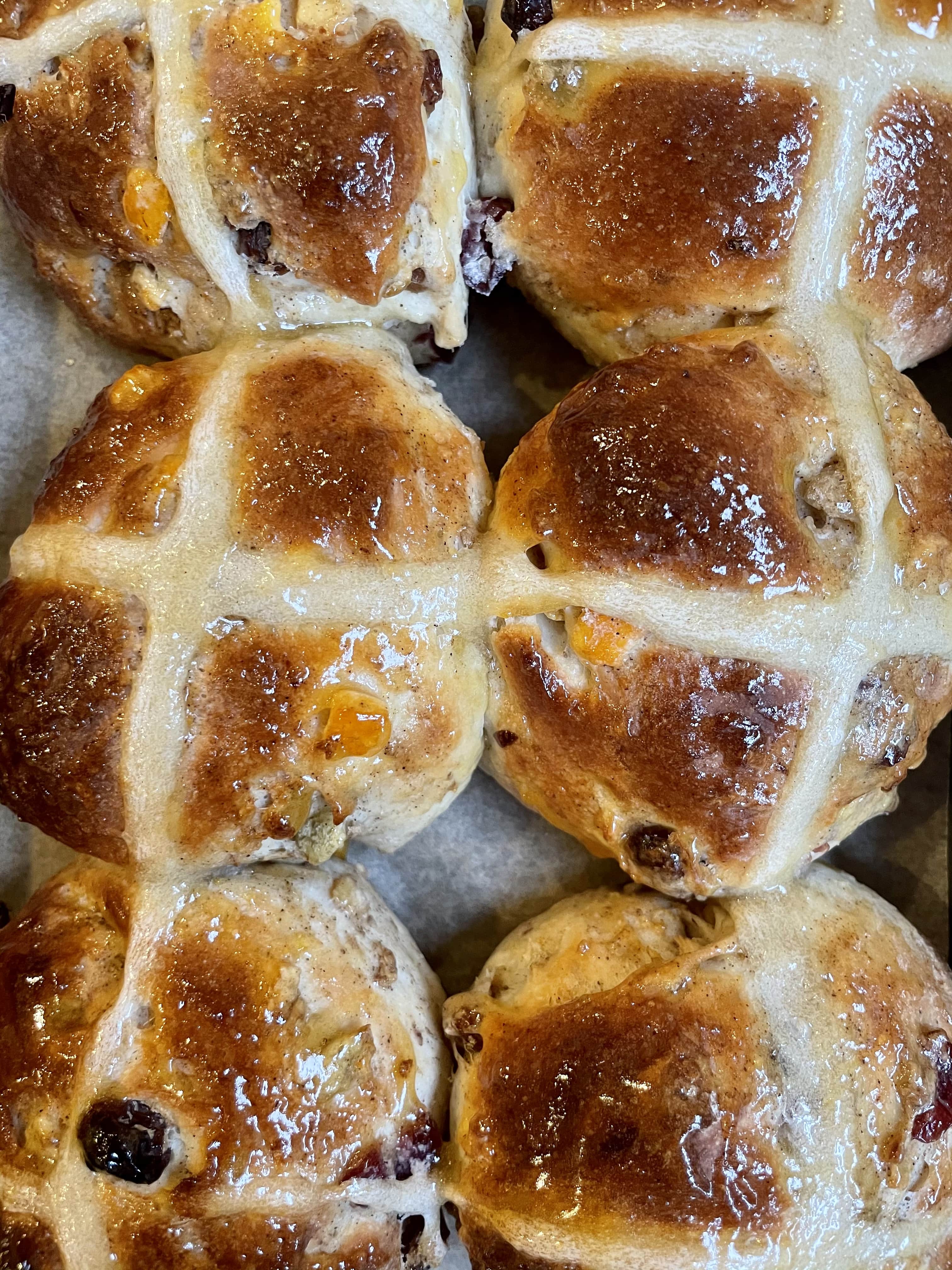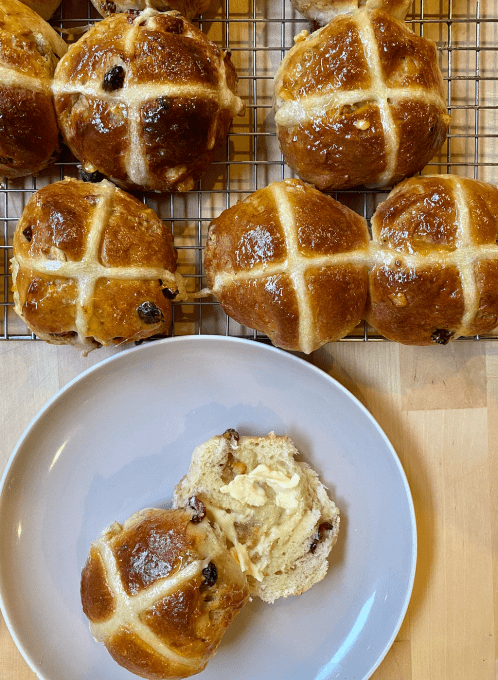 7. Add the buns to two baking trays lined with baking parchment and cover with a tea towel for the final prove (around an hour). They should begin to join together at this stage.
8. Heat the oven to 180c. Mix 70g plain flour with around 4tbsp of water (adding gradually) to create a thick mixture for the crosses. Pour into a piping bag and pipe the crosses onto the buns before placing them into the oven.
9. Bake for 18-20 minutes until golden brown.
10. Whilst they're in the oven, warm 4 tbsp apricot jam and sieve to remove any slices of apricot. 
11. Remove buns from the oven and brush the apricot jam over them whilst they are still warm for a delicious sweet and shiny glaze.
12. Leave to cool on a rack and serve with butter!