Ops&Ops is Teri Olins from Indiana and Steph Jones from Liverpool, who spent years playing in bands, working in vintage shops and promoting clubs before meeting in London. United in their love of great shoes and 60s culture, they make day-to-night footwear that's cool yet practical, modern with a hint of retro styling, handcrafted in a family-run factory in Portugal.
Since launching with their signature No10 flat, their footwear has graced concert stages, red carpets, dance floors and pavements across the UK and beyond. We sat down with the duo to find out more. 
How did Ops & Ops begin?
After a few drinks at a friend's birthday party, Teri popped the question to Steph: how do you feel about starting a shoe company? She had the idea to make a versatile, 60s inspired flat and Steph was into it, so why not? We met the next week to put the wheels in motion.
We launched at the end of 2014 with just one shoe style in four colours and established what we were about, introducing multiple versions of this signature flat over the next couple of seasons. Since then, we've grown organically, slowly bringing out new shoe and boot styles, always with the intention of continuing to produce them in different colourways and with varying materials. After trying out several pop-up stores, we opened our bricks and mortar shop in Shoreditch, London, in January 2019. Unfortunately, we had to close because of the pandemic, but we have maintained a loyal customer base at home in the UK and further afield, particularly in the USA and Australia.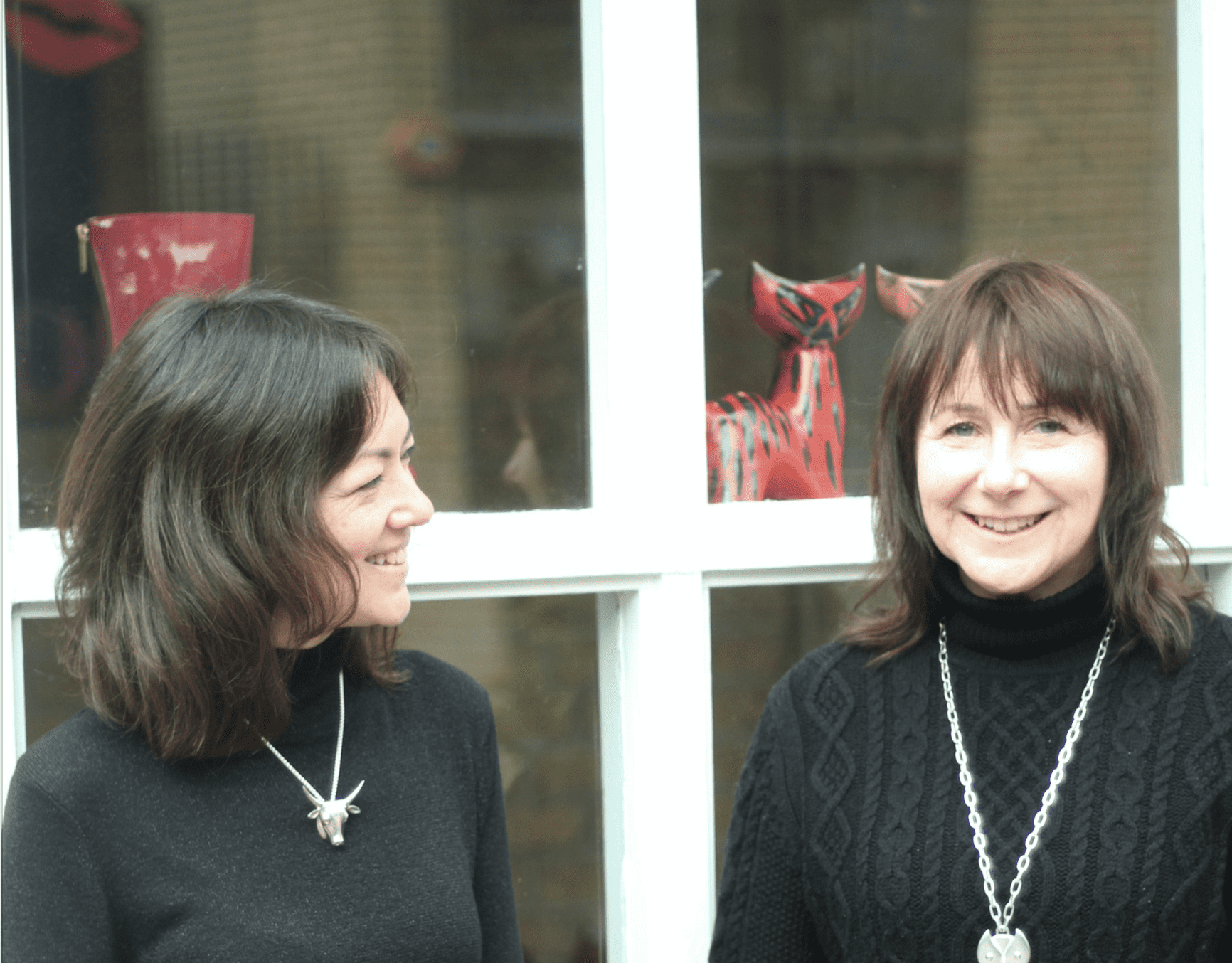 Have you always been interested in fashion?
Steph: Yes! As a kid I played with fashion cut-outs, loved to dress up, styled my toys and had a strong sense of what I wanted to wear from a very early age. I loved watching my mum get ready to go out to dances and parties in dresses she'd had made for the event. Some years back I worked in a vintage clothing store – that was kid-in-a-sweetshop territory.
Teri: Absolutely! I remember seeing Blondie performing on Saturday morning's American Bandstand and desperately wanting to look like Debbie Harry. The styles of bands and musicians have always been the biggest influence on the way I dress. I like that it's a bit DIY and individual, often with some vintage casually thrown in. I bypassed magazines intended for teenage girls and went straight for Vogue, where the glossy images of fashion adventures took me beyond my Midwestern bubble.
What have been the highest and lowest points on your journey so far?
Watching our brand grow from concept to concrete actual footwear was incredible – wearing our own shoes! We get the biggest buzz seeing and hearing how much our customers 'get' Ops&Ops. 
It's been tough going since the pandemic hit, we had to close our store and shoes aren't a go-to when you're in lockdown and can't go out.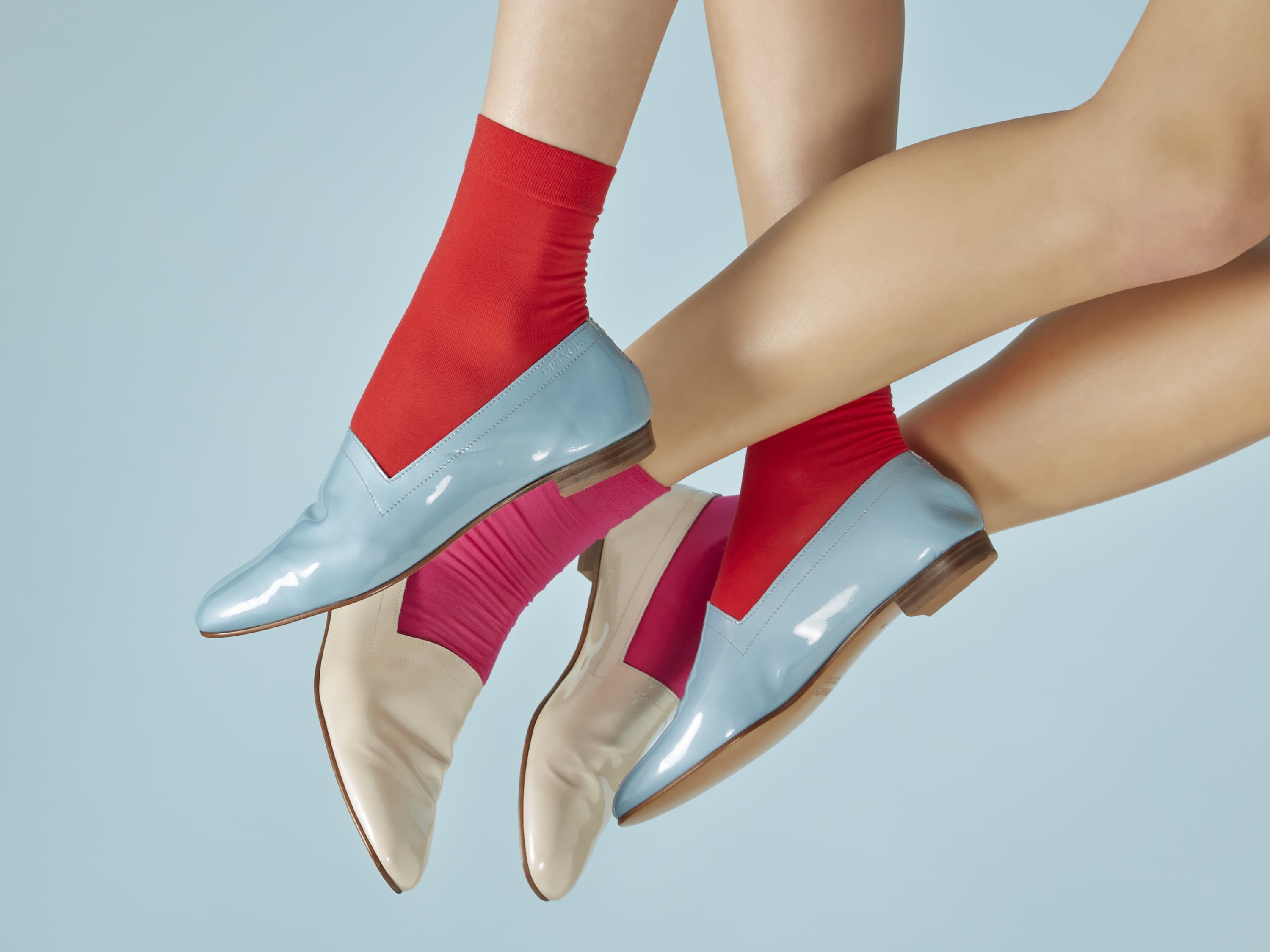 What are the morals you run your brand by?
Stay true to what we believe, don't be tempted to veer off and do something we're not completely happy with in return for quick results. Every pair of shoes and boots, every style, colour or finish we make is something we would want to wear ourselves. And do!
What was the inspiration behind your latest collection?
Vibrancy and taking it slow. We have stepped away from the traditional twice-a-year launch and instead are introducing small batches of a primary colour, pattern or style each month. The colours will be seasonal but not just for that month. Depending on how it's styled, our footwear is pretty transitional and can be worn throughout the year. 
How would you describe your customer base?
Apart from fabulous? We have a truly mixed following, from A-list celebs to musicians on the first rung of their careers to grandmothers and professionals. A brilliant mix of age, style and attitude. Loyal, too – more than a few of our customers have 20 pairs-plus and counting.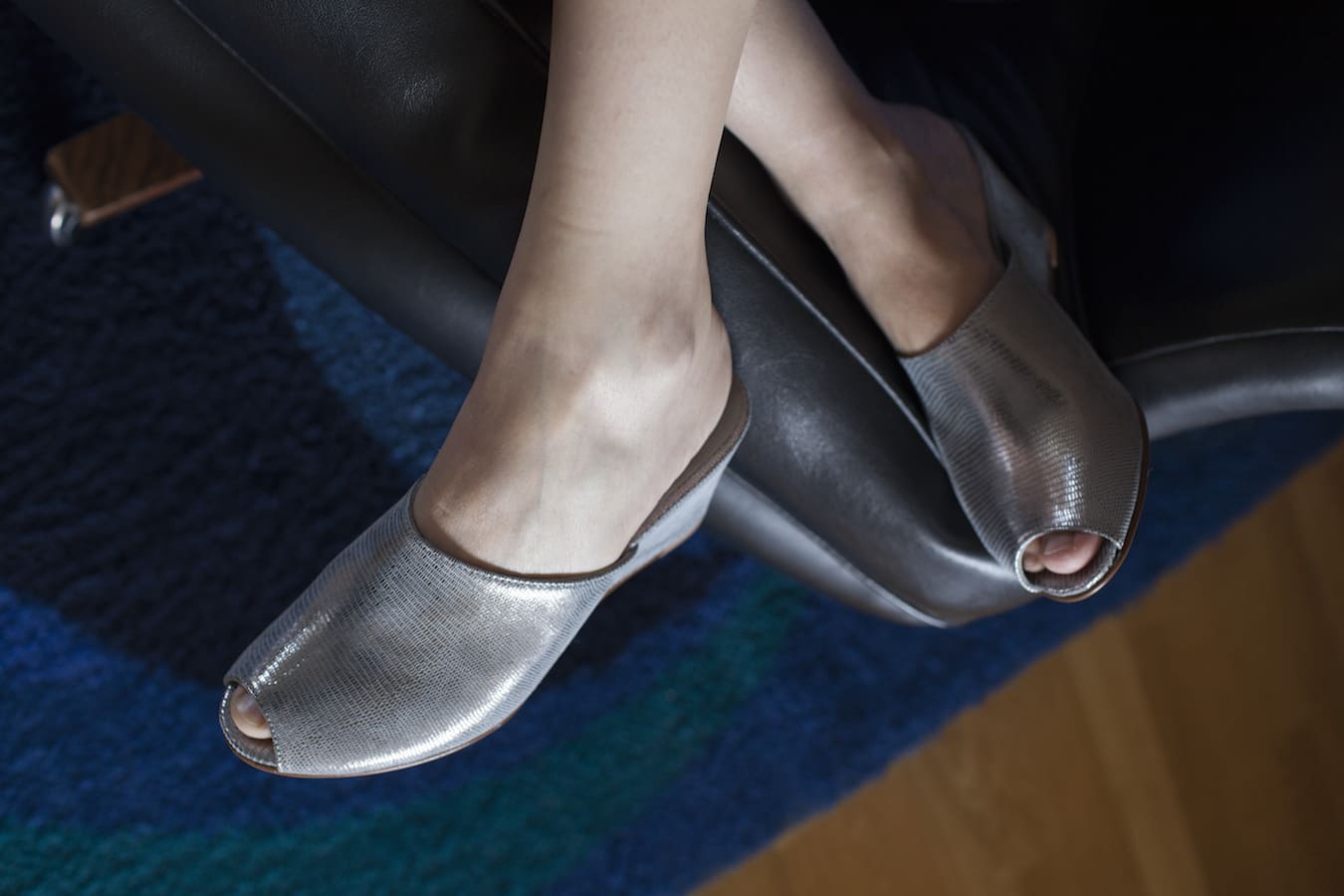 Do you ever struggle to stay inspired?
Not yet, in fact, it can be hard to rein us in! We are guided by circumstance, sometimes something we have seen – film, show, book, leathers – plants a seed and it grows from there. Other times we work from a moodboard or have a set colour palette or strand in mind and work with that.
Is there anyone you would love to see wearing your designs?
There are plenty of people in the past, we'd like to imagine would have worn our footwear, such as Françoise Hardy, Anna Karina, Debbie Harry, the women and faces of the 60s … but we are genuinely thrilled when we see our shoes and boots on our super stylish customers!
Do you have a mentor?
Not as such, but we have had a lot of people who've helped us on our journey. David Preston, whose own label DP James produces 60s-style boots for men, was the first and we still regularly catch up with him. Until we had our shop, we shared a studio with streetwear label Aries, so it was great to be able to get advice from Sofia Prantera, who is far more experienced in the fashion industry.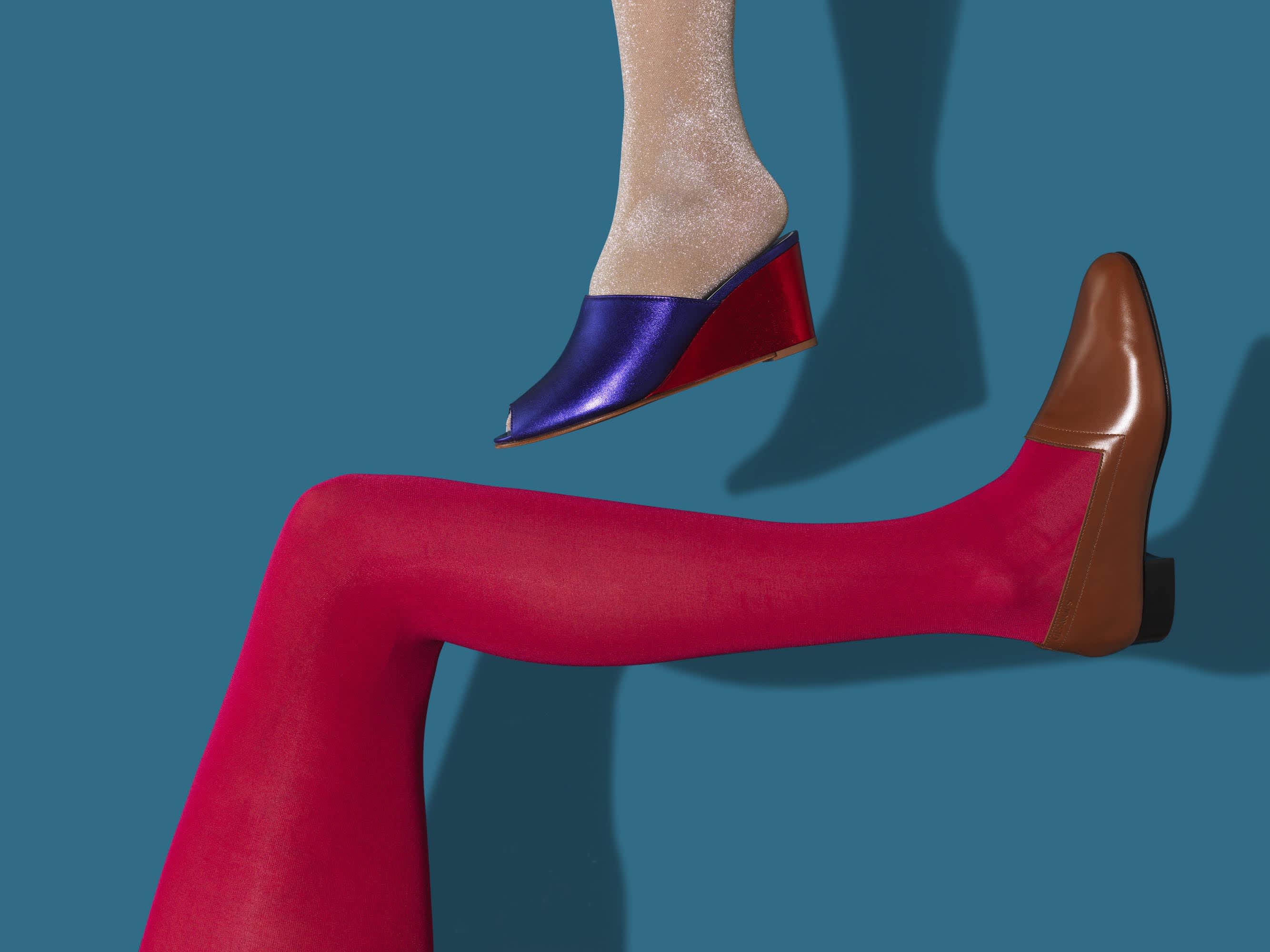 If you could only wear one piece from your collection, what would it be and why?
Teri: For me it would have to be one of our signature No10 flats. I have a habit of pretty much living in one colour at a time; I slip in and out of the same pair that sits by the door. That pair at the moment is the Action Red. We always have a red style in the collection as it's a colour that goes with everything but isn't dull, so I'll stick with these. 
Steph: Right now, our No17 flats. These have a slightly wider fit than our other loafers and after having had foot surgery, they are perfect. In any colour, although I've been wearing Mushroom, a classic neutral, non-stop.
Is there another designer whose work you particularly admire? 
Nicholas Kirkwood, who's been at the top of his game since he first launched his label over 15 years ago. He makes statement shoes, innovative styles that will stand up against the greats of the past. He gave a speech at a footwear design awards evening where he spoke about not being afraid to make mistakes, but to learn from them – it's something a lot of successful people might say, but coming from him resonated with us. And he's super nice, taking the time to chat with us and have a photo taken!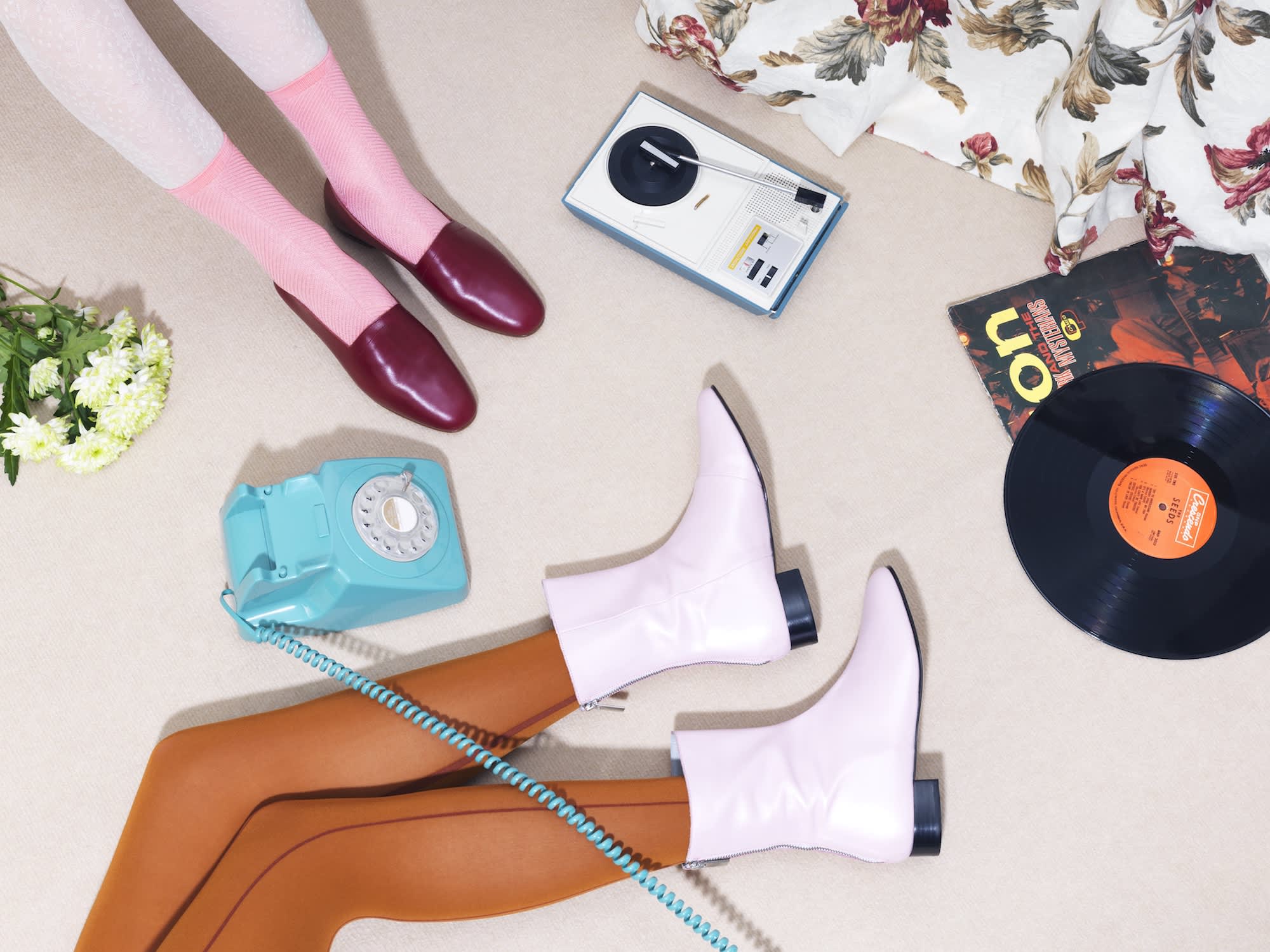 What's the best piece of advice you've ever been given? 
Probably the above. We have made mistakes, everyone does, and a couple have been big but we've learned from them. You can't be afraid to make errors, otherwise you can't move forward.
What drew you to Wolf & Badger?
The mix of independent brands we sit alongside and that we are all on the same path offering quality, style and sustainability in whatever it is we're producing. It's like being in the most exciting, stylish, brilliant shop window imaginable.
Where do you see the brand in 5 years? 
Completely established as a go-to brand for day-to-night, comfortable footwear that look the bomb.