Born in Argentina, Isabel Englebert started her relationship with fashion when she worked as a model 15 years ago. Fusing traditional and modern materials with avant garde design, Isabel presents her exquisite collection of handmade, couture jewellery. We spent five minutes with Isabel to find out how it all started. 
How did your career in fashion begin?
It was really organic and natural. I breathe fashion, so it was the next step that I needed to make. Being born in Argentina, I started my relationship with the industry when I worked as a model 15 years ago. After studying Economics and Communications Sciences I moved to the corporate world, where I developed my career in the communications market. I then seized an opportunity to travel around the world through my job, to learn, investigate and experience fashion in different places.
A couple of years ago, I decided to focus my talents on fashion and after studying Fashion Design in Central Saint Martins and after a number of courses in jewellery manufacturing with well-known goldsmiths, I finally launched my brand: Isabel Englebert Jewellery, early in 2012.
Since 2012 I haven't stopped working. I love learning and trying new methods in jewellery design and I travel a lot to get inspiration and getting to know what's going on in fashion in other countries. I have a showroom in Buenos Aires where I have my collections, and my bespoke business. I also work with Designers in Argentina making for them Capsule collections to accompany and complete their Haute Couture collections, for example with Fabian Zitta, with whom I worked in the Noir and Eterea capsule collections. In the international front, I am present in London, and slowly by steadily getting into the European and Asian market.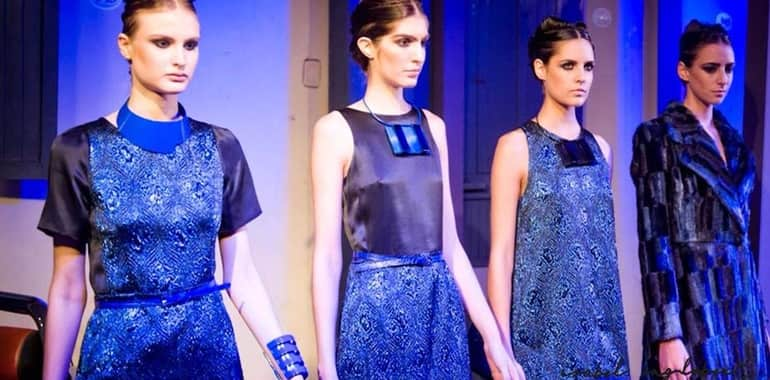 Have you always been interested in fashion?
All my life! I like to read fashion magazines and books and of course visit stores, not only to buy –which I love- but in order to see what are the news trends in the industry. And what I like more is to travel, and walk through the neighbourhoods where locals live to see what they are wearing, see colours, forms, cuts, etc.
What have been the highest and lowest points on your journey so far?
Being on the cover of Harpers Bazaar was definitely a very good point in my career. The lower points are generally when I can't be in the country when exciting activities are happening!
What was the inspiration behind your latest collection?
My latest collection is the Polo Collection, a set of 16 pieces made of Sterling Silver and mother of pearl. It is inspired by Polo Sport, a sport which is very traditional and typical of my country, Argentina, where the best players of the world come from. Is a conceptual and subtle collection, with sleek lines, and it comprises, bracelets, necklaces, rings, cufflinks and a clutch.
Do you ever struggle to stay inspired?
I usually suffer from the contrary! I have too many ideas but I have to focus on one at a time! Anything and everything can trigger inspiration, especially travelling.
How would you describe your customer base?
They are fashion forward individuals, who value top quality, attention to detail and modern and unique design. They are not afraid to stand out in the crowd.
Is there anyone you would love to see wearing your designs?
Amal Clooney is one of the latest women that really got me hooked up with her style. She's really neat and elegant.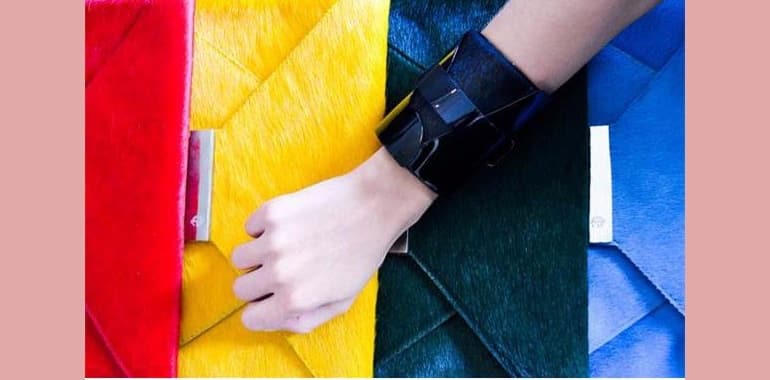 What are the morals you run your brand by?
Passionate about excellence, each jewel is a work of art begun from scratch. Collecting inspiration from my travels, I first sketch the alma mater piece of the collection and then work with a goldsmith, adjusting and changing the piece until it perfectly embodies my vision. This is the first product of the collection which then inspires and unifies the rest of the jewels. In turn, this creates a capsule collection composed of carefully curated pieces, each unique and original, that together conform a strong fashion and art statement.
Do you have a mentor?
Not really a mentor as such, but there a many people that I learn from.
What apps keep you sane?
Instagram!
If you could only wear one piece from your collection, what would it be and why?
I feel a little bit as a mother who has been asked to choose a favourite kid! But I have to say, I do feel something different for the art deco collection and art deco necklace, since it represents my aesthetic very well. In that piece I mix semi precious stones, such as peridots, mint quartz, citrines, topaz, with mother of pearl and leather with hair.
Is there another designer whose work you particularly admire?
I love what Shaun Leane does for Alexander Mc Queen, and I admire Iris Van Herpen. Although she works with clothes, I adore her way of treating materials, of investigating and trying new techniques.
What's the best piece of advice you've ever been given?
Dream big.
What drew you to Wolf & Badger?
For me, coming from Argentina and having the chance to show my work in London, the worlds fashion capital, is super exciting. It's a dream come true. Wolf & Badger is a store where all the up and coming designers are showcased, its really incredible.
Where do you see the brand in 5 years?
I wish to keep creating exclusive and unique pieces. In 5 years I would like to be present in most fashion capitals and to keep on growing in brand awareness. I wish for people to instantly recognize my jewels.