Nostalgia is back in fashion.  This thought exercise that we had a casual on-and-off relationship with, not unlike the one we have with sequins, isn't only social media á la mode as seen in #throwback pre-pandemic group photos. Nostalgia is currently playing a more meaningful and comforting role during our time of isolation, that of a therapist.  This pedestrian activity has belied it's reputation and has proven to be quite the healer. So when my mental well-being is seeking some palliative relief, I lay on my sofa and let soothing memories of summers in the south of France do it's magic.
For the past 11 years my family and I have spent the summer season in Provence. My husband's grandmother lives in a Vaucluse village called St. Didier.  It is an artisanal community of 2000 residents, peaceful in its pastoral calm and slow-rolling days, perfect to drop one's anchor for a few lavender laced weeks of exploration.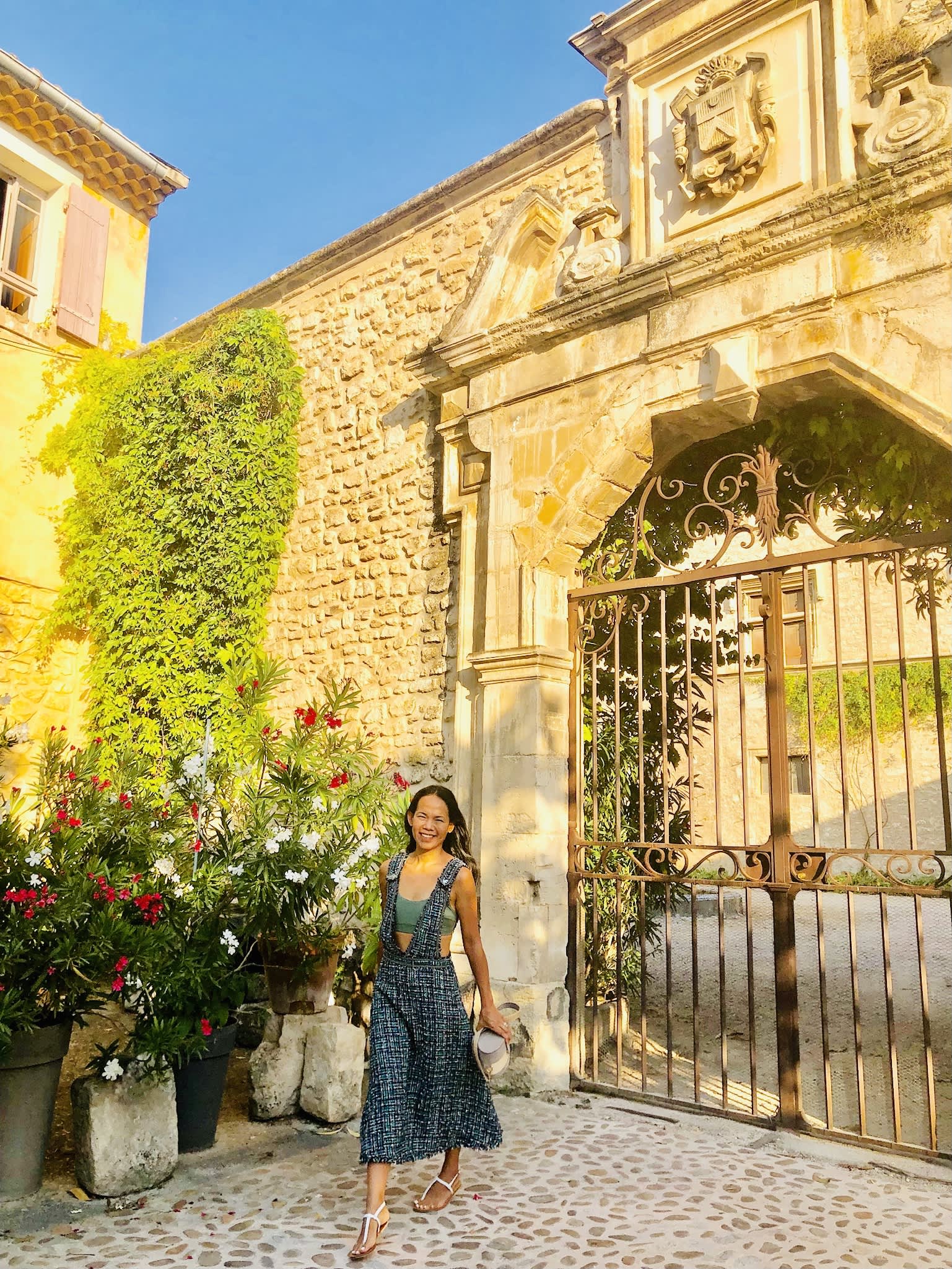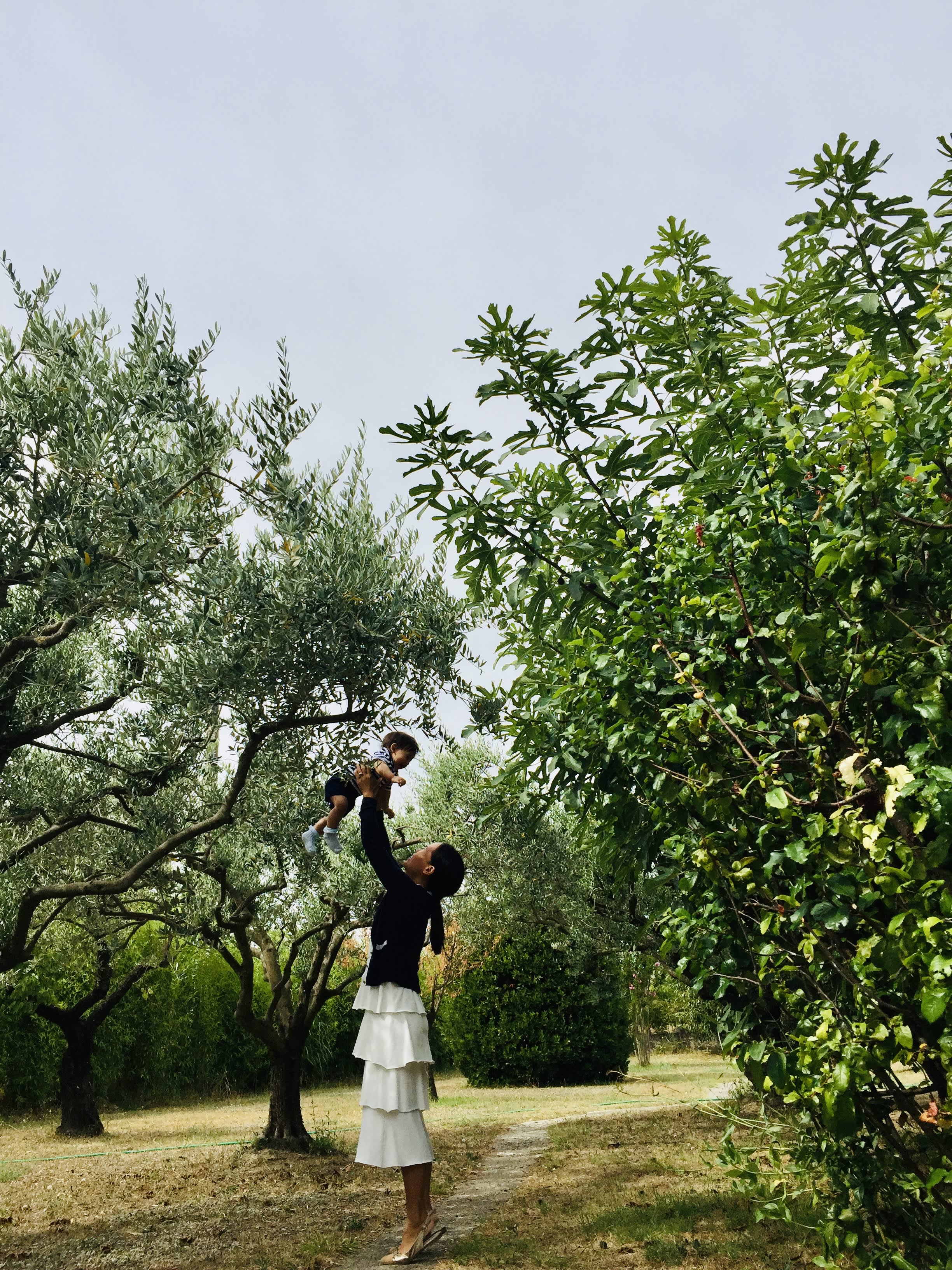 Slices of heaven are distributed on lofty historic hills in the south of France. Geographically known as Vaucluse's mountain villages or charmingly called villages perchés. Built in the Middle Ages as fortified settlements, they have evolved into contemporary holiday destinations with sophisticated and tasteful offerings in the form of chateaus-turned-museum,  galleries, cobblestone paths and every glorious provençal notion one can have.  
There is a cluster of these villages perchés around Luberon with short driving distances from each other. If the heart so desires, a lunch at Lacoste followed by an espresso at Ménerbes then perhaps an apero at Lourmarin, can all transpire in one dream-like day.  
Lacoste is charm incarnate. It has an artistic and theatrical vibe, thanks to the Savannah College of Art and Design that holds classes and programs there. Art installations, original music and boutiques with handmade accessories pepper the stone footpaths. A hovering chateau casts generous shade on these winding passages. It was formerly owned by the notorious, or misunderstood some French would say, Marquis de Sade. It is currently owned by Pierre Cardin who has revived much of Lacoste.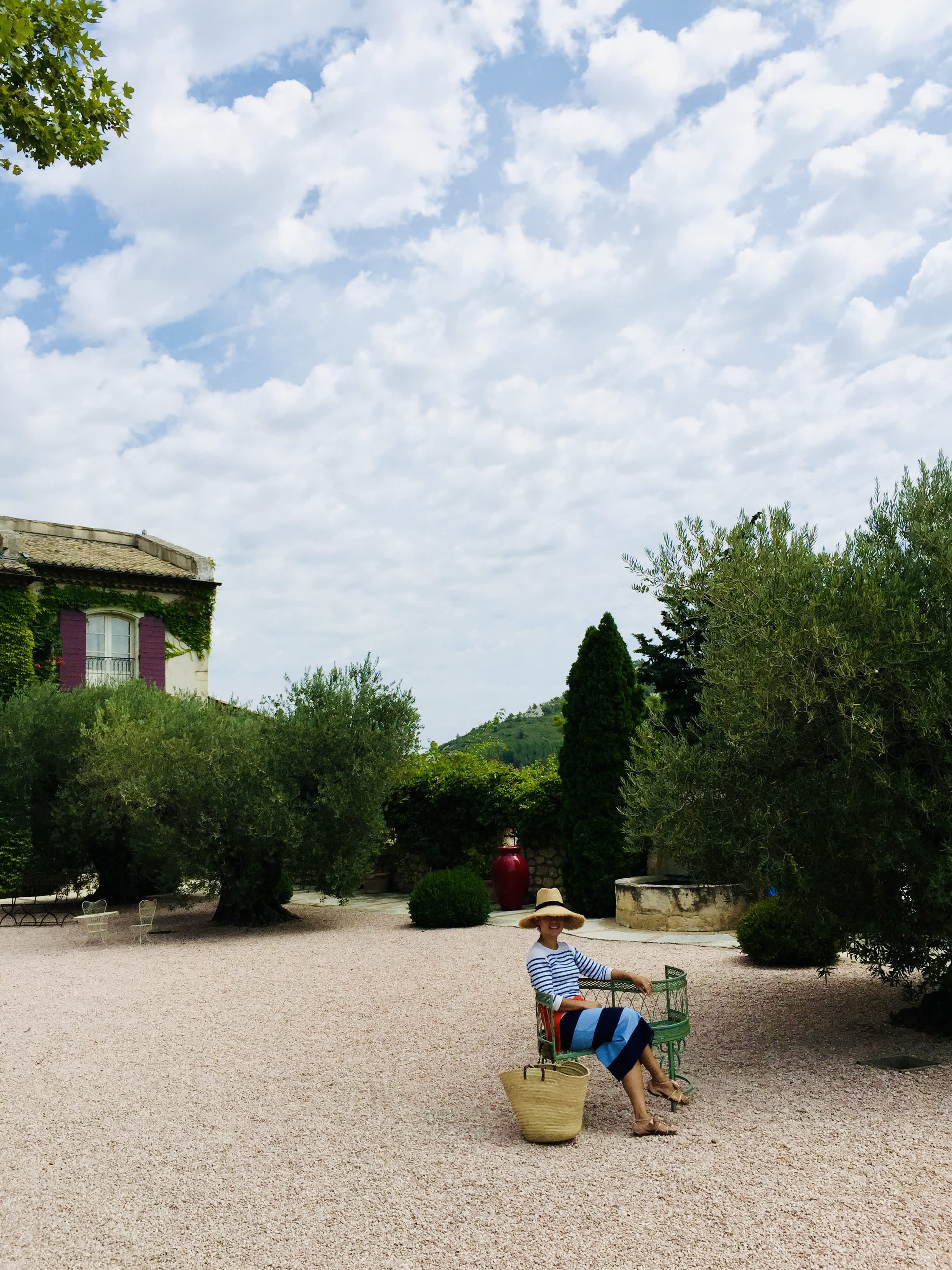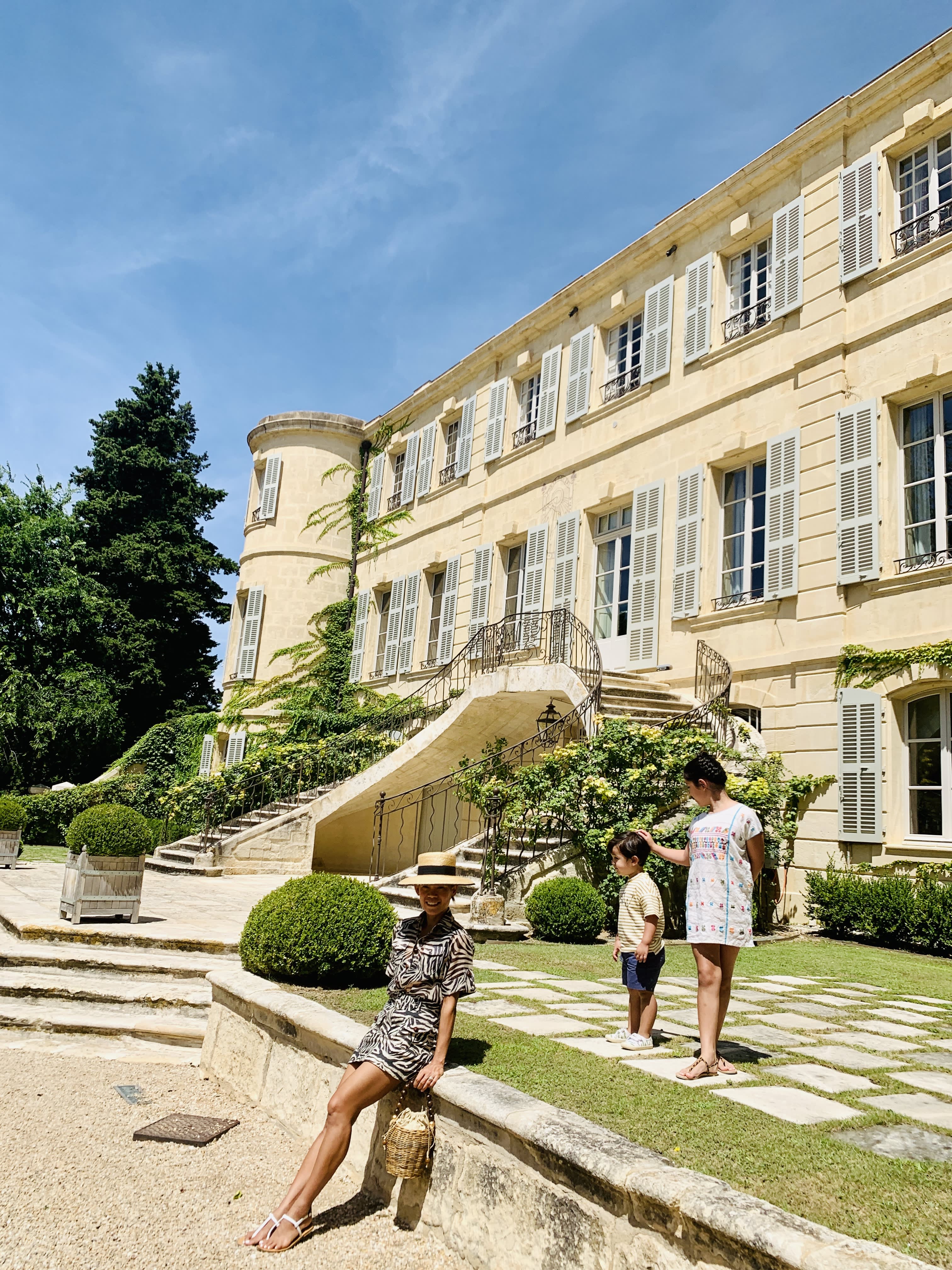 Nearby, Ménerbes awaits with its Maison de la Truffe et du Vin. Formerly a noble chateau, it is now the cradle of a restaurant, a cellar and a contemporary art gallery. For sometime the gallery hosted an exhibition of lapis lazuli blue and ivory colored portraits that were life size and completely arresting. Around the corner from the chateau is a home where Dora Maar, Picasso's most poignant muse, formerly called home.
Lourmarin, although not perched, is undeniably disarming. A sprawling field of sunflowers sway at the foot of a Renaissance castle that sits serenely along the skirt of the village. To enter this charming town, cobblestone passages lead visitors on foot or bicycles to diminutive antique stores, irresistible ice cream parlours, tasteful cafés and provençal boutiques.
Perhaps on another driving day of exploration, there is a pair of villages perchés that is worth the hour between them just to arrive and get your breath taken away. As one approaches the village Crillon le Brave in midday you are greeted by the shimmer of the town's white rock foundation heralding your arrival. The most distinctive characteristic of the village is that previous private homes, that have been carved out of the sides of the hill, have been turned into hotel suites. The town's epicenter is a boutique hotel from the renowned group, Hotel Crillon. A truly remarkable place to visit as the historic stone foundations have been thoughtfully well preserved.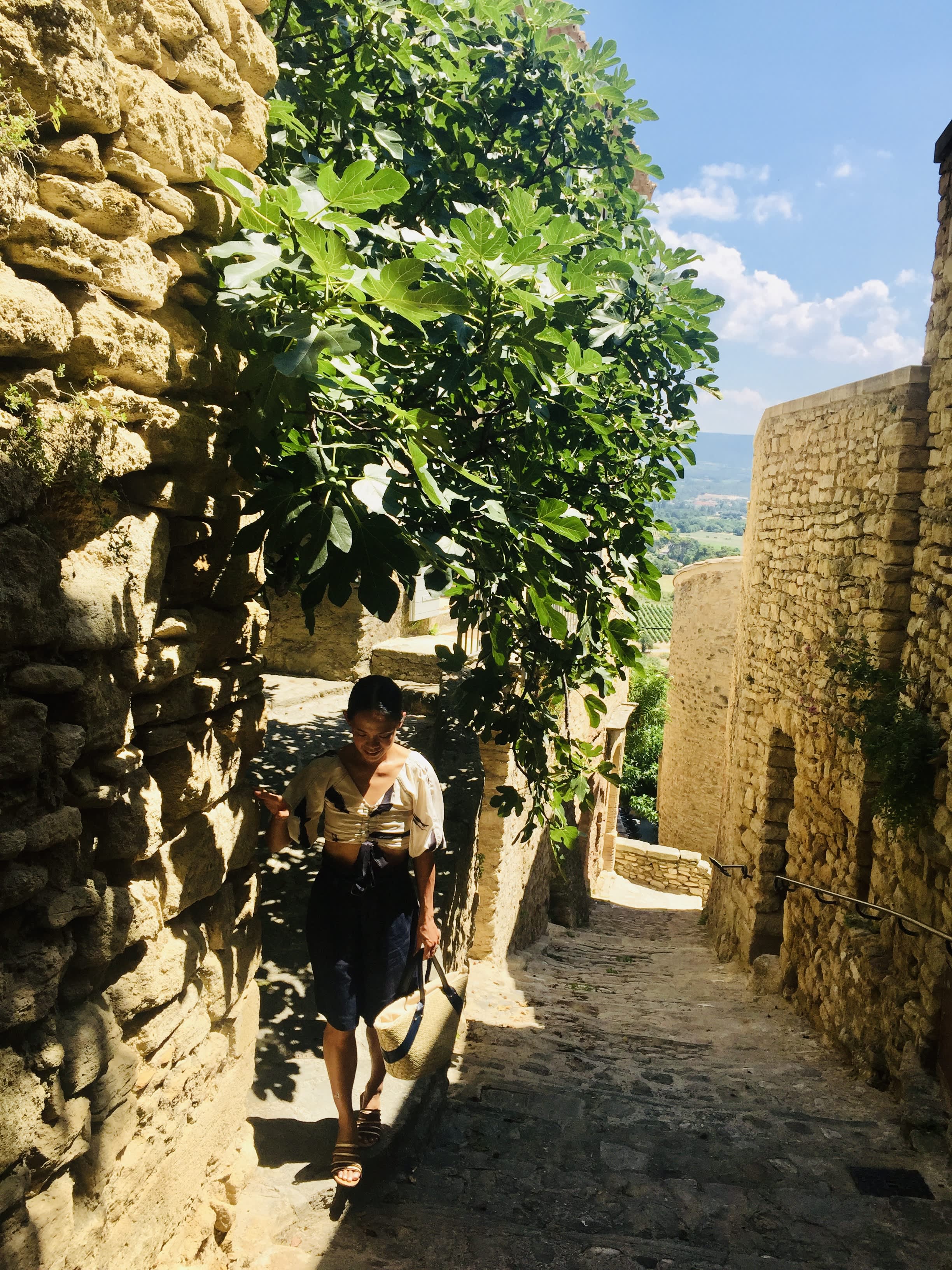 The second of the pair is the town of Roussillon. Roussillon is like one's favorite pink party dress: small, impractical yet nonetheless a showstopper. Correction, it is ochre not pink. And like any froufrou ensemble it must be seen in the most flattering light, twilight. As the sun sets on Roussillon, the hill's ochre earth responds to the receding warm glow with a pinkish gradient reflection that compels one to pen a haiku. The village is ribbonned with cobblestoned paths that swell into some stair-climbing. One's calisthenic efforts are rewarded by lovely little cafés and delightful boutiques nestled in the recesses of the hill.  
Summer's pièce de résistance in Provence is La Roque d'Anthéron's annual piano festival. It is inarguably the most enchanting piano concertos one can attend. From the moment one enters through the chateau's gates, there is a palpable sensation of magic. An ambient phosphorescence that embraces you when you step in. The strategically lit long alley of trees, which seem to graze the moon they are so tall, lead to an alfresco concert hall. At the center sits a high cove stage that glows a warm orange and is cuddled by swaying pines around its perimeter. The pianist that has stood out in memory is a young virtuoso, Daniil Trifonov, who in his 20's possessed the skill and the gravitas of a maestro decades his senior. He enraptured his audience for an impressive 2 hours, flawlessly.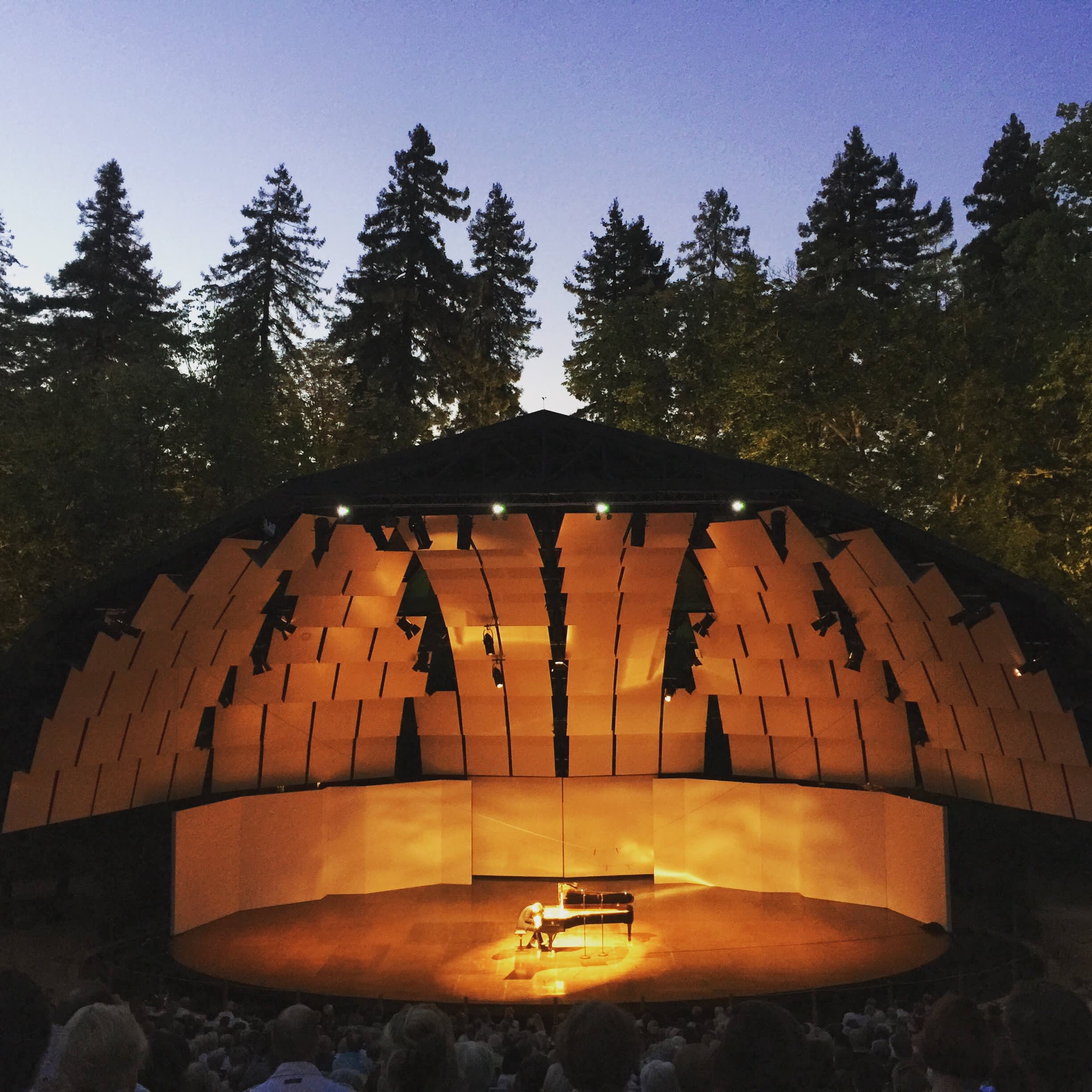 As this article is written, promises of the Covid-19 vaccine are on the horizon. And when it can be administered globally, travel plans will replace its spot on our skyline of hope, permitting people to step away, apprehensively at first perhaps, from nostalgia and begin to make tangible plans for their next adventure. We will start to rediscover pieces of ourselves in new destinations, new cultures and new sights, refitting fragments that have chipped away during our concerted effort to protect each other in our unified isolation. Then surely, the healing will begin.