It's happened. The world is on lockdown and those who can, are working from home. While many companies may already be well versed in the art of remote working, for some of us this involves turning the rulebook on its head and adjusting to a new way of 'office' life. 
Even just a week or two into this period of isolation, two types of people are starting to emerge through the new conferencing call culture; those that immediately get dressed in the morning with their usual style and flair to maintain an element of normality, and those that are embracing home life to the fullest, with luxurious loungewear having its time to shine. 
So while we're all spending more time at home than ever before, it's the small luxuries that are bringing us joy and keeping our heads in check during these uncertain times. Discover the items that team W&B are loving whilst working from home.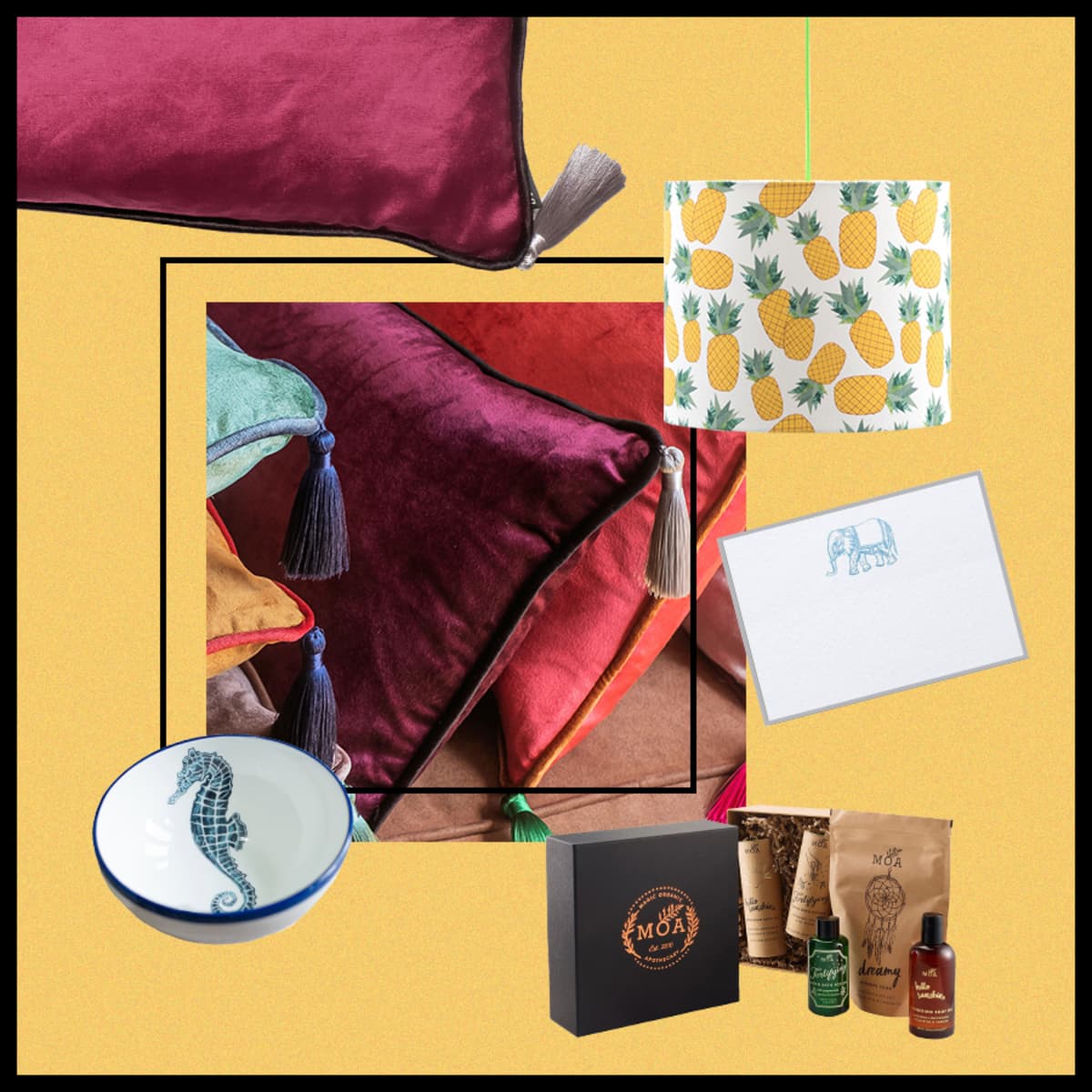 Henry Graham, Creative Director
Who doesn't need a new lampshade. If you're going to splash out, you may as well get a pineapple one. Rosa & Clara Designs piña lampshade, £60
One benefit of working from home is you can have a bath during your lunch break. Make it amazing with this organic set of lotions and potions. MOA Magic Organic Apothecary bath & body boxset, £65
Can you ever have too many cushions? No seriously, can you? Bivain cushion with tassels, £75
Up your desk game with this set of elephant stationery. Don't even get me started on how much I love stationery, I am only allowed to pick 5 things, otherwise you'd see more. Picketts Press elephant enclosures, £22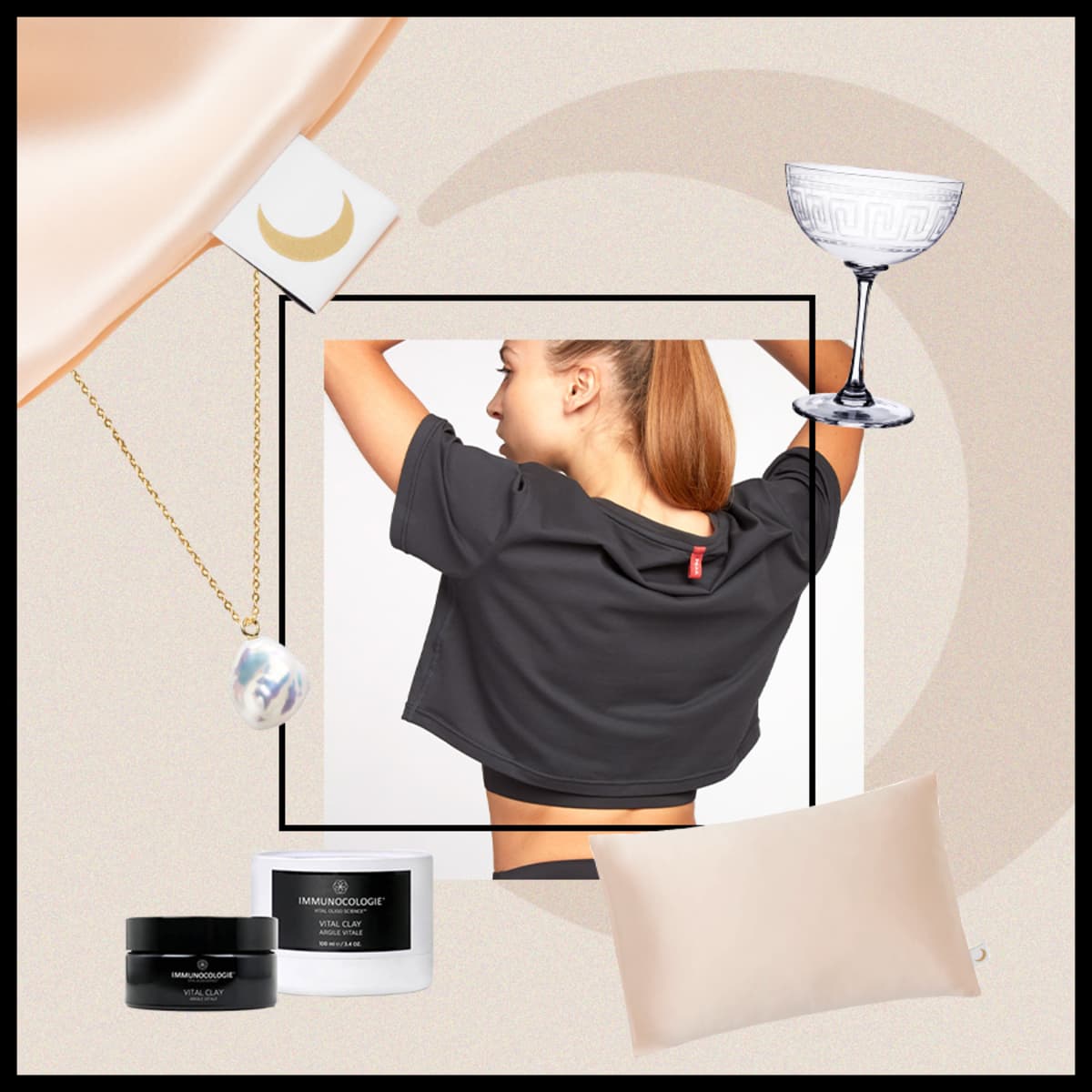 Maudie Barclay, Editor-in-chief
The coolest crop in charcoal, looks good with high waisted leggings or boyfriend jeans. Peak Vigour crop tee, £24
Give your skin a break and luxuriate in the feel of soft silk whilst you sleep – dreamy. Moonchild silk pillowcase, £135
This necklace, made from a single baroque pearl offset against vibrant yellow gold, will make you feel like a mermaid. Ora Pearls mermaid necklace, £150
Quite possibly the best clay mask ever! It has a lovely almond scent and clears up all congestion. It lasts for ages – well worth the investment. Immunocologie clay face mask, £213
Egyptian inspired champagne glasses – fun for entertaining or just lounging around the house and pretending you are Sofia Coppola's version of Marie Antoinette... The Vintage List champagne saucers, £7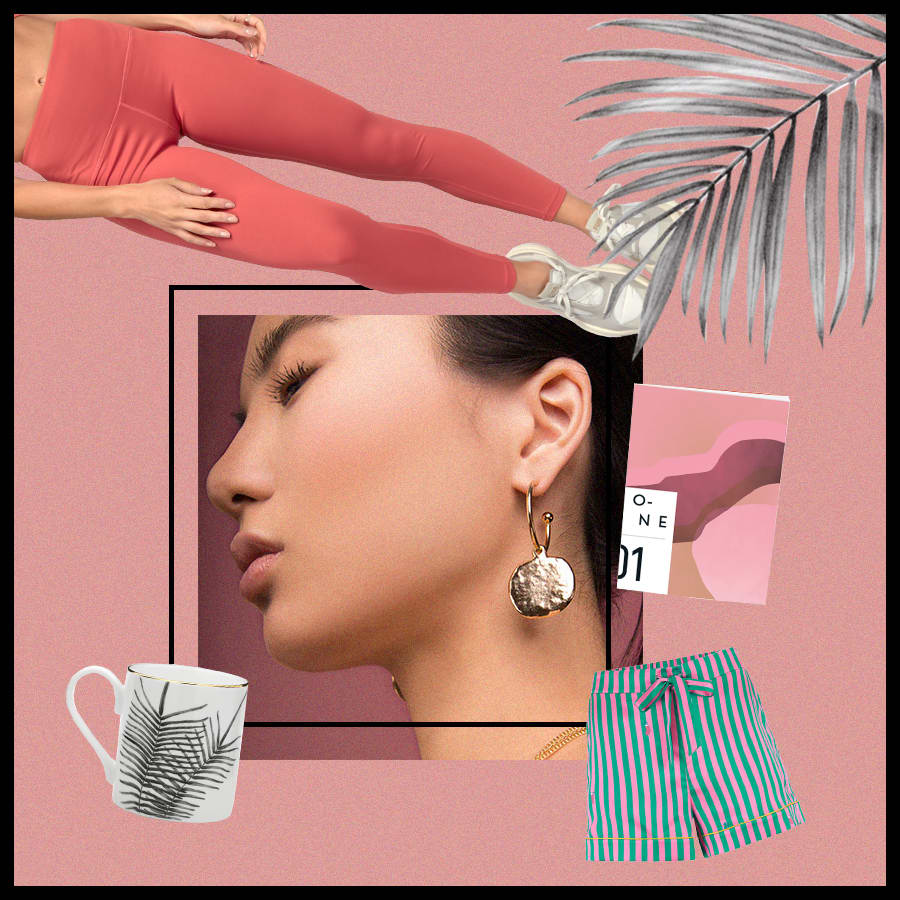 Emma Foreman, Marketing Manager
My jeans have been pushed to the back of my wardrobe and won't be seeing the light of day for a while, so I'm swapping them out for these bright, comfortable leggings instead. Evveervital leggings, £39
The 'new normal' way of life calls for a new notebook, of course! Papier Melville aqua notebook, £13 
Attempting to look like I've made an effort for my daily Zoom calls with these hoop earrings. Biko Moonwalk earrings, £120
Lounge in style with this chic pair of striped pyjama shorts. Sleepy Wilson silk shorts, £85
Drinking copious amounts of tea is getting us through the day, do it in style with this leafy Fern mug. Sasha Tugolukova fern and butterfly mug, £17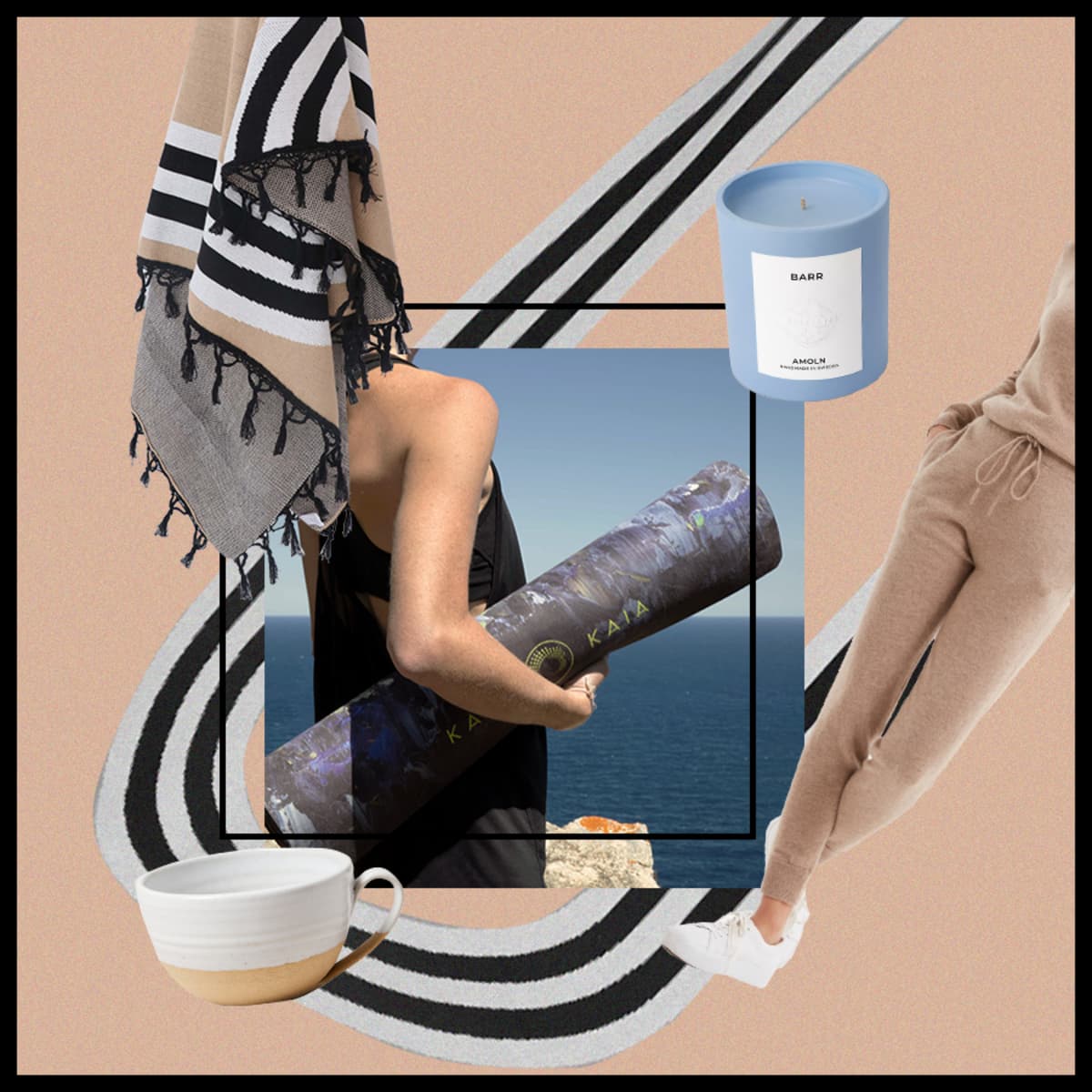 Abi Curran,  Head of Brands
Since joggers have now become a huge part of our lives, we're investing in this luxurious cashmere pair. Les 100 Ciels cashmere joggers, £199
A scented candle is helping us switch off and unwind at the end of the day. Amoln barr candle, £50
Finding time to become the flexible person I've always wanted to be with the help of this colourful yoga matt. Kati Kaia natural rubber yoga matt, £95
It's the little things that are getting us through this unusual time, appreciating perfect cuppas out of a beautiful, handmade mug. Farmhouse Pottery large pantry mug, £85
For your walls or your sofa, or maybe that tiny patch of outdoor space you have to escape to, this throw will brighten any space. SMTNG GOOD STUDIO Love Run, £370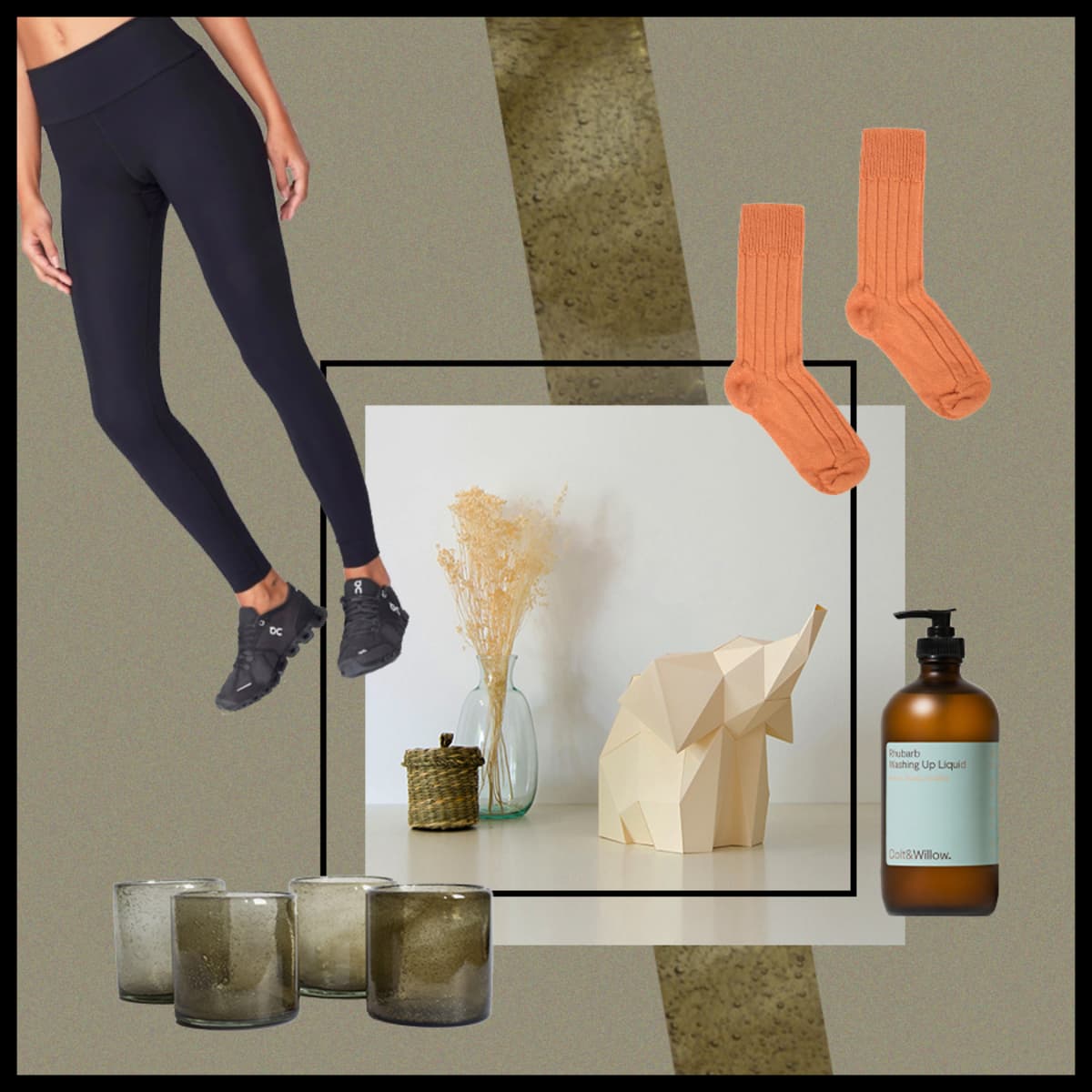 Emily Cuthbert, Head of Product
More meals at home means more washing up, this toxin free washing up liquid smells and amazing and won't dry out your hands. Colt & Willow rhubarb washing up liquid, £12
The allure of living in activewear still hasn't faded, whether lounging or working out - we'll be doing it in this high-waisted pair. Evveervital cinnabun leggings, £88
Socks have suddenly become an important part of lockdown life,  keep cosy with this knitted pair. Heating & Plumbing London luxury lounge socks, £26
Handblown glassware for all your quarantini cocktails needs. La Muerte Tiene Permiso recycled glass set, £44
We're staying zen with these adorable paper lamps. Get in touch with your crafty side too as each lamp comes with a DIY papercraft kit ready to be assembled. Owl Paper Lamps baby elephant kit, £30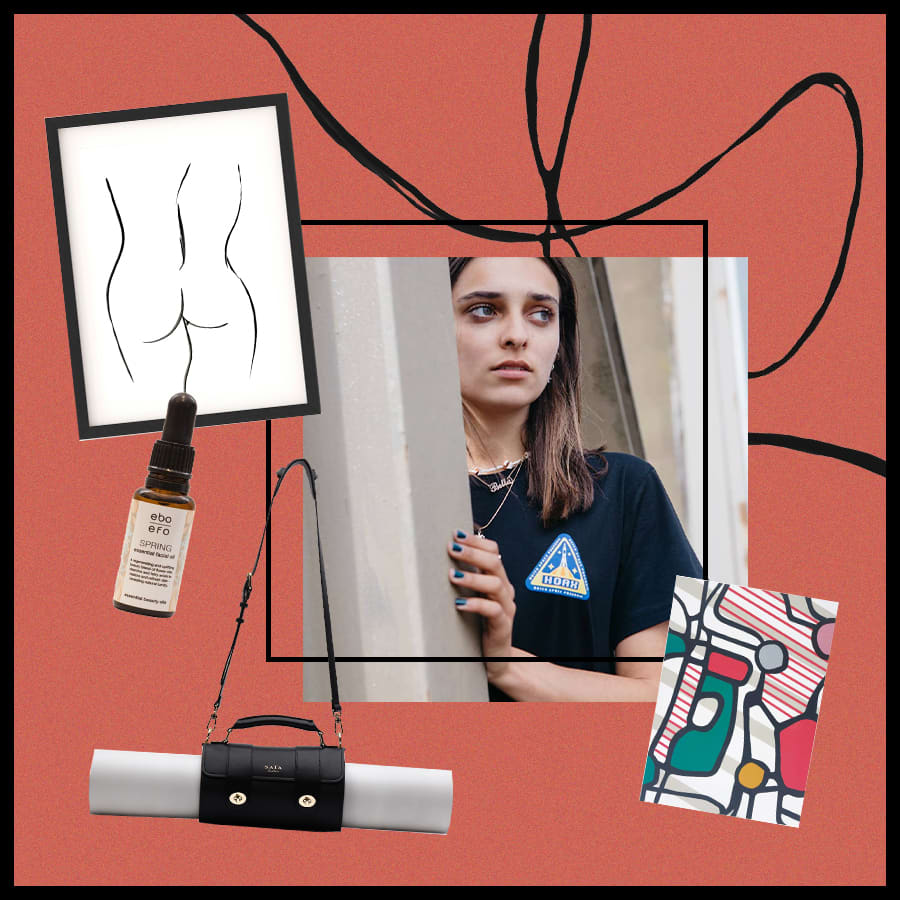 Rosie Gillespe, PR & Events Manager
Doing daily exercise is one way to stay sane. With a stylish yoga mat bag that looks as good as this, its even easier to get out of bed in the morning. Saïa London yoga mat bag, £120
So important to try and keep a healthy and regular skin routine. This oil is perfect before bed to keep skin looking bright as well as ensuring it's getting the nutrients it needs. Ebo Essential Facial Oil, £24
Updating interiors or planning a gallery wall can be therapeutic, we're adding this delicate line drawing print to our collection. Olive Jennings bum print, £32
It's important to 'dress up' on the top half during all those Zoom meetings yet still be comfortable. This black tee is simple and classic. Hoax pulse t-shirt, £20
A fancy new notebook to help get your head into gear. Papier Merveille notebook, £11