Characterised by bold, black, impulsive lines, artist Mary van de Wiel's work stems from her lifelong love of doodling. Here, van de Wiel shares the story behind her brand Black Line Crazy and how everything started from one roll of tape.
Where did the inspiration behind Black Line Crazy (BLC) come from?
It all started in Brooklyn, New York. One day, with friends headed over for dinner, I decided to design a paper table cloth for the table. We had several rolls of different-sized black tape from that fabulous art store, Pearl Paint (since closed), and a roll of wide white butcher paper. I started cutting up the black tape into different lengths, strips, shapes and sizes and applying them across the paper. That night, no one gave a damn about the food. Everyone left with a story about the black tape. I blurted out:
well, that's what I'd call black line crazy!
 The name stuck and now trademarked (of course).
It was a few years later that I landed in the middle of Mexico. An incurable doodler all my life, one day I picked up a brush and a can of black house paint and, for the first time in my life, started to paint floor to ceiling! I didn't stop painting and in 2015, I was invited to have my first show at the Saint Cloche Gallery in Sydney.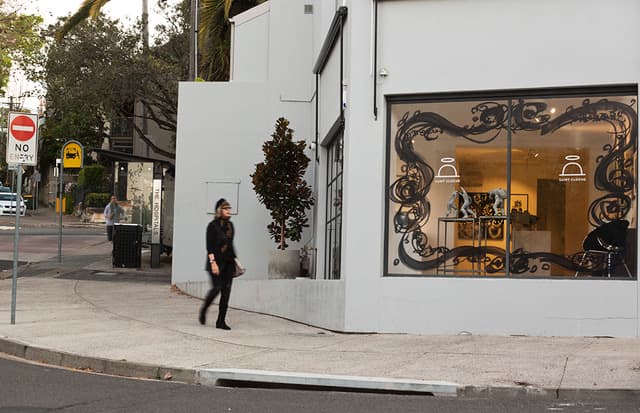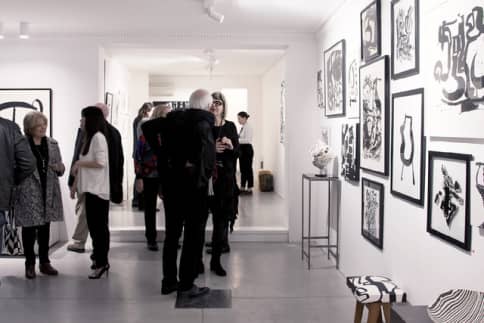 Saint Cloche Gallery, Sydney, Australia. 2015. 
I believe art has a vital, pumping pulse, just like we do. It belongs in everyday life. Not just on walls.  So I had fabrics printed with Black Line Crazy images and covered retro chairs for the show. Also I designed a BLC images to be applied on the outside of the gallery window — a kind of 'faux frame.' That's what I find so particularly appealing with Black Line Crazy: it's the possibility and endless opportunities of interpreting images across different platforms, textures and mediums. 
Being in the branding world my entire career and running my own agency with offices in New York and Sydney, I was used to coming up with a logo, idea and/or concept for a client and then, my interest as a brander was in interpreting that logo concept across various other platforms and mediums. For example, we launched People Weekly magazine in the Australian market. Our team came up with various ad campaigns and marketing concepts. Then we'd translate those visuals and text across different formats — from printed collateral, print ads to animated graphics for tv to outdoor banners, bus sides adverts, t-shirts, promotional give away gifts, the lot.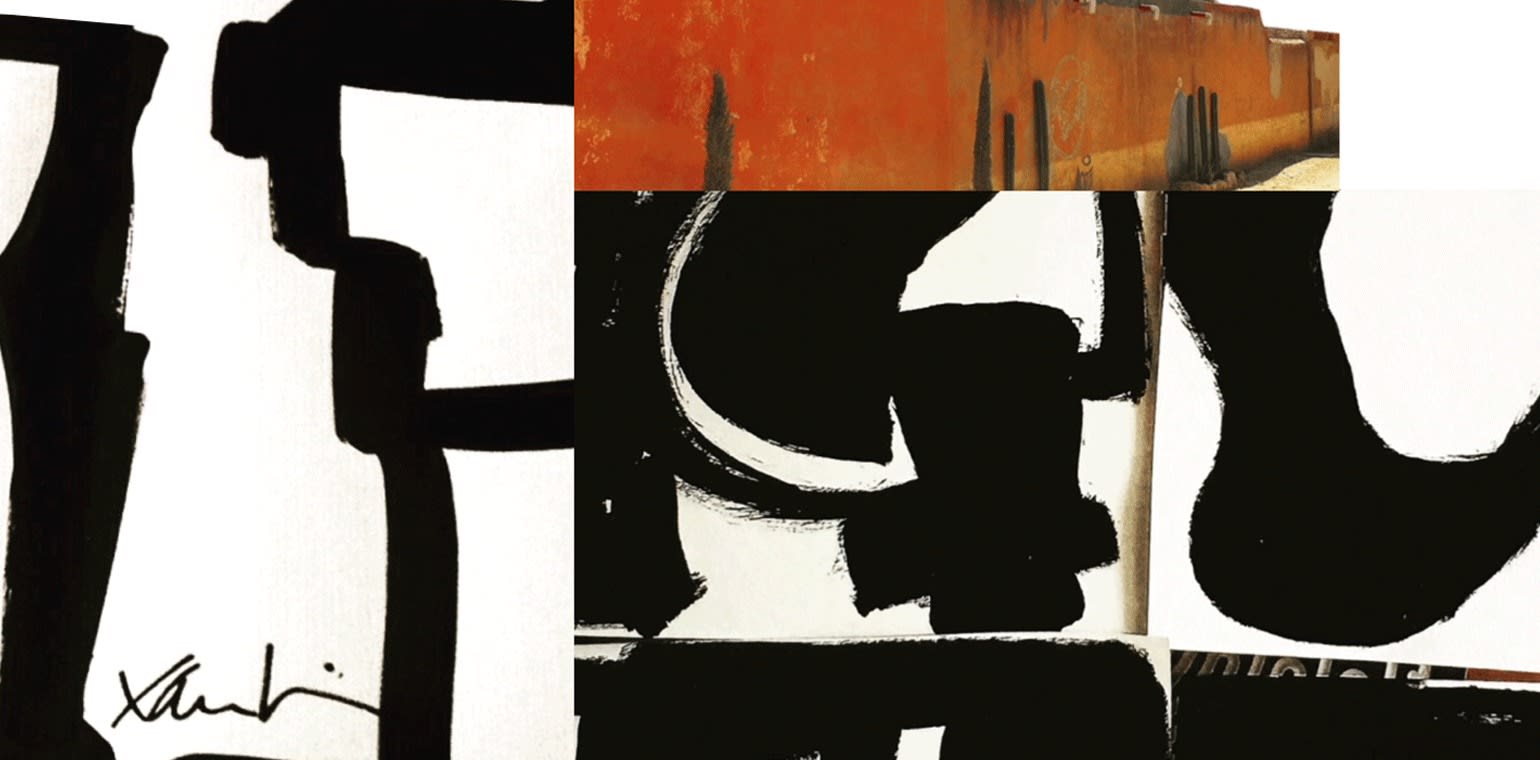 What let you to put your designs on bags specifically, rather than clothing?
Living in New York for 24 years, I was always mesmerized by the cool courier dudes weaving in and out of traffic on their bikes with a vinyl messenger bag strapped across their back! So of course, I had quite a collection of vinyl messengers at that time. I loved the ease of them and being 'hands free.' Years later, when I started painting, and after my first successful exhibition at the Saint Cloche Gallery, I seriously started to want to interpret the artwork across diverse platforms. And interpreting the BLC designs across messenger bags became my obsession when I landed in Mexico. After the messenger bags, I started to work on the entire BLC Collection which now includes totes and zippered portfolio sleeves. It also includes a Wool Collection which a master weaver has hand woven using ethically sourced 100% wool: each 3 x 5 ft wool piece is one of a kind, and based on a BLC painting of the same name. Clothing? I've designed some tunics with substantial dramatic black trims but it's hard to find good quality material here in Mexico. So I'm leaving that to another time and place. Watch this space!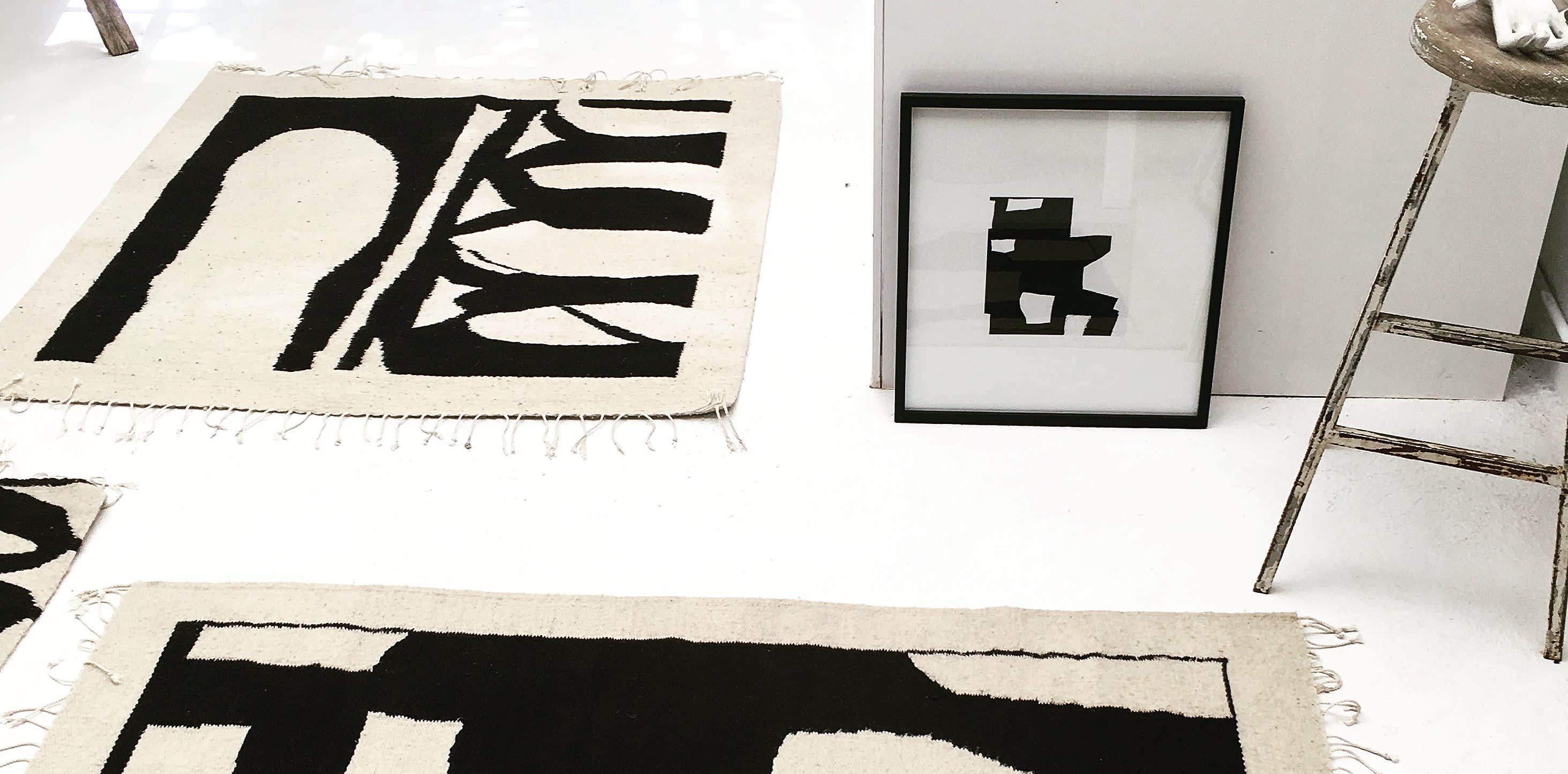 What does the brand Black Line Crazy represent?
Black Line Crazy? It's about highly-idiosyncratic creative thinking. Spontaneous energy. Dynamic, sensual power. It's about fun. After all, life's more fun when you walk outside the line, right! The people who are buying from the BLC collection are telling me they're responding to its high drama, stand-out energy and a distinctive, eclectic way of being.
Black Line Crazy was born from you exploring painting. What led you to this? Did you always feel like you'd become an artist?
I've always been particularly highly-idiosyncratic and creative in my thinking. But I never considered myself an artist. Just a life long incurable doodler! It was a turning point for me in 2012 when I picked up a brush and can of black house paint in the middle of Mexico and for the first time in my life, started to paint floor to ceiling. After my successful exhibition in Sydney in 2015, my second exhibition took place at Galeria Manuk in San Miguel de Allende, Mexico where I showed my first Black Line Crazy Wool Collection. My latest commission is a public art installation called 'WHAT WHERE THEY THINKING' and was unveiled in the UBS corporate bank building in New York City at 1285 Avenue of the Americas and West 51. It's still up. 
The way I see it? I just wear two hats (like so many of us). One as a global maverick brander. The other as artist, designer and creative director. That works just fine for me!