In a time where everyone wants quick solutions, convenience and affordability, fast homeware is becoming an increasingly booming industry. Similar to fast fashion, consumers are now shopping for homeware impulsively and on a trend basis. Throughout the past decade, it has grown to become an industry worth £13.6 billion in 2019. 
Conscious consumption is very important for us at Auli London. We believe that you can fill your home with beautiful pieces without compromising the wellness of the planet and yourself. 
We understand that sustainability isn't always considered when it comes to purchasing homeware. Even if you already are a conscious consumer, you may not necessarily think about the repercussions of the home decor you are filling your space with. Fast homeware, however, is just as bad as something like fast-fashion, depleting the planet of its natural resources and exploiting people for cheap labour. They are often made with synthetic materials and are poor quality- lasting only a few years (if you're lucky) before they break and need to be chucked away. In the UK alone, up to 22 million items of furniture are thrown away every year. 

The fast interiors industry has become increasingly popular in this pandemic-ridden world. As a result of COVID-19, all of us have had to spend more time in our homes and for many of us, this has had us itching to redecorate. We are also spending more time on social media than ever before. Advertisements promise that we will find solace and comfort in a world which is unpredictable and quite frankly, scary at the moment. It doesn't help that these fast homeware brands also give out large discounts, next day delivery and a percentage off your next order. 
Before heading to checkout, take a step back and reflect on the purchase you are about to make. Avoid impulse buying by asking yourself: is this just a trend I'm following? Or will the item actually bring me joy?
If you can still answer yes, then consider looking into brands that use recycled materials. We believe recycling doesn't necessarily mean sacrificing style and aesthetics. That's why our candles, reed diffusers and room sprays are made of 100% recyclable glass and FSC certified cork and aluminium. Another option is to buy second hand. Although we can't visit antique stores quite yet, online vintage homeware retailers have great options. There are also brands that turn old materials into beautiful statement pieces. You can even up-cycle Auli's products, doubling them up as a vase or elegant plant pot after they've been enjoyed. The packaging will still look wonderful and it allows you to shift from the cycle of take, make and dispose way of consumption to a more circular and considerate way of living.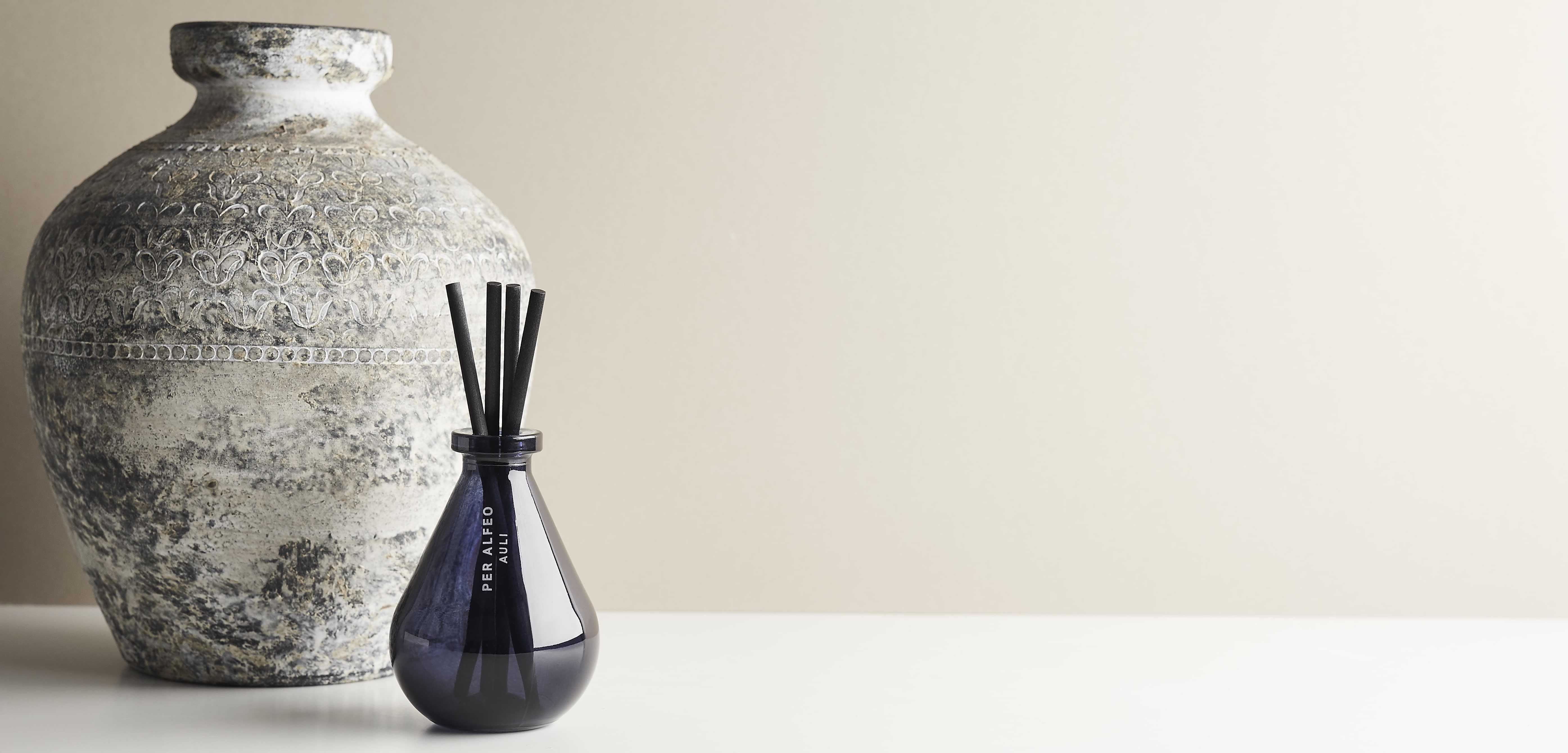 Also, keep an eye out for certifications or qualifications that make brands more sustainable. Is the item you are looking to buy: 
Made with natural materials? 

Made with consciously sourced materials?

And are they produced locally or shipped from far away places?
Fast homeware is tempting, but that doesn't mean that it doesn't come with its own costs. Fast homeware also often contains toxins. The harmful gases that are emitted through furniture and carpets create poor air quality within your home and it is estimated that we are exposed to around 30 times more toxins within the home than outside. 
Using natural home fragrances like Auli or filling your home with natural materials like linen, all help contribute to a less toxic and more thoughtful space. If you're looking for a simple and easy way to brighten up your space, we suggest starting small first. Our unique fragrances are made with 100% natural ingredients and the products are free from parabens, phthalates and synthetic colours, so you never have to worry about them harming you or the planet. 
Begin with the basics and remember that even tiny pieces from purpose driven brands are more individualistic and have the power to uplift and transform. On your journey towards sustainable living, remind yourself that living a holistic and mindful life is a journey that takes time and patience. When we purchase consciously and from small and independent brands that are here to create a cleaner and better world, we fill our homes with good energy. And who can argue with that?