Arabella Bowes, Associate Commerce Writer at House & Garden
As an expat child, I bounced from country to country, picking up interior cues and inspiration from the people and places around me. My resulting taste is rather eclectic and lies somewhere between crumbling English country house, Spanish villa and Egyptian souk. 
As I grew up in Azerbaijan and Egypt, I formed an aesthetic opinion on what a 'home' should be very early on. You see, there's a funny thing that happens when you move house a lot in your younger years: you come to recognise home as the people and objects that fill it, rather than the four walls that surround you. That specific height of the ceiling or stiffness of certain door handles in your last house is quickly forgotten. Bedrooms merge into one, punctuated only by the placement of your familiar bed, or bedside table. 
So for me, the things you place inside your home are key to the creation of a personal sanctuary, be it a piece of art or a touristic trinket, brought home to remind you of happy days abroad. And whilst the option to travel still feels far away as we dredge through the pandemic, I have begun using objects as a way to inject some overseas warmth into my space.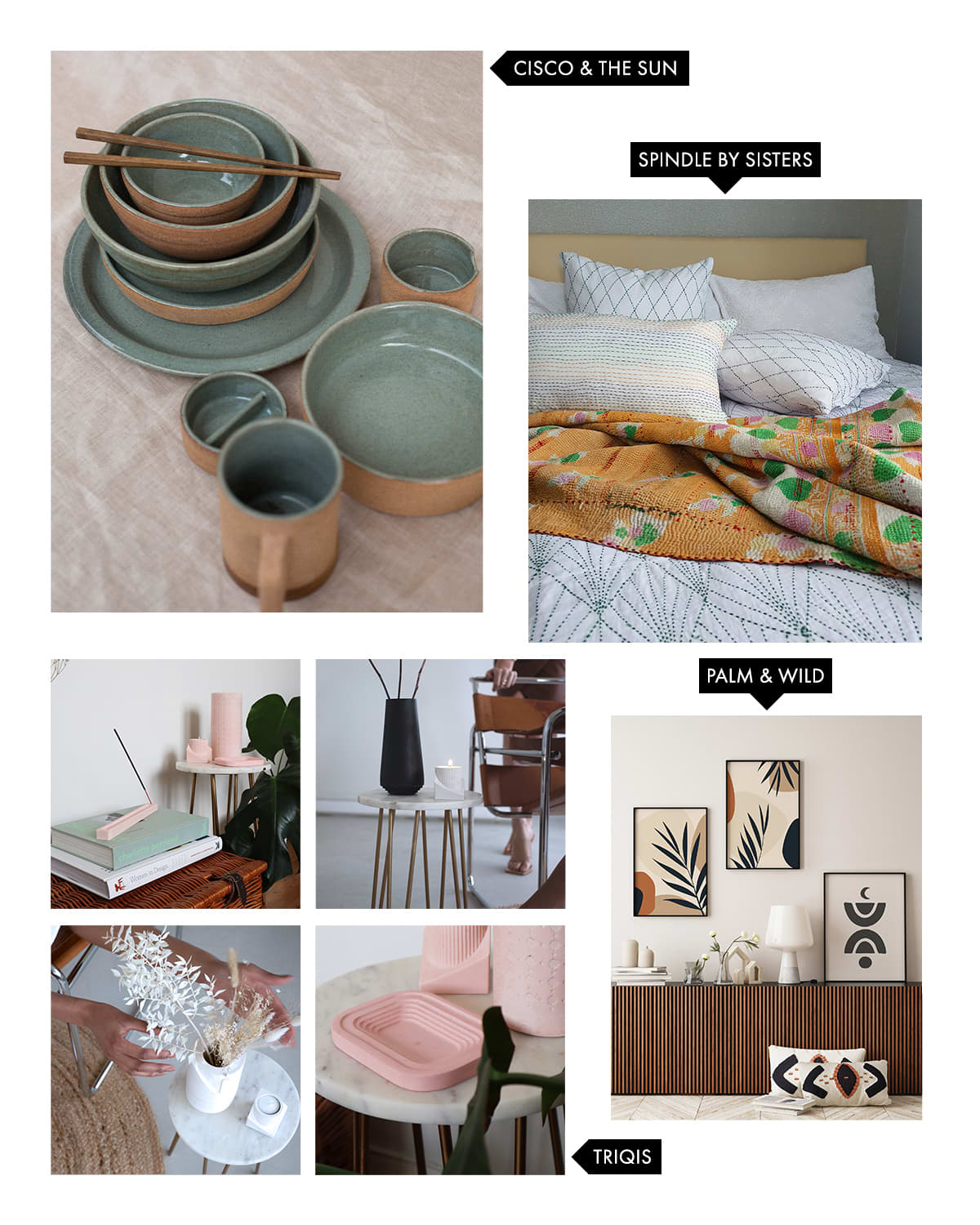 Every country has a slightly different aesthetic; the Amalfi coast is a jewel toned treasure trove, the Balearic islands are filled with textures and earthy hues and, further afield, Morocco goes big with pattern and colour. Consider where you want to transport yourself to and take cues from their interiors. But be warned, lovely neutral tones and rough textures seem so refreshing in villas abroad but they don't seem to translate quite as well in cooler climes. The neutrals can feel less beachy and more bland, the whites can seem less crisp and more chilling. Bringing a holiday feeling into your home can still be done well, don't fear that. It just takes a little consideration of light and aspect. 
My top three tips for bringing a sense of holiday to your home are: 
1. Changing your sheets to lighter, summer options can work wonders. I am partial to dyed linens year round, so in summer I like to swap out for a crisp set of white sheets that trigger memories of happy nights in luxury hotels. If you're feeling particularly luxurious you can add silk pillows to your bedding.
2. Exchanging soft furnishings, such as blankets and cushions, to suit a more summery palette can really lift a space too. Whilst this is easier if you have a neutral background to begin with, if you live in a colourful house, look at your furniture, wallpaper and paints to find a colour you haven't necessarily picked out before. Use that as a new tone.
3. One of the best ways to transport yourself abroad is with scent. Our nose is our most powerful tool when it comes to memory. So choose a lovely new candle and allow the smell to take you to a sunny spot. 
Banner image by That Rebel House