We have partnered with fellow B Corporation and Dutch confectionery company, Tony's Chocolonely, to inspire all to make better decisions. As two like-minded brands, whose ethos and values are strongly aligned and deeply cemented in driving real change within our specific industries, we have carefully selected some of the Wolf & Badger designer community to collaborate creatively and launch a social competition underlined with one simple environmental message: Be more mindful when consuming plastic.
Three designers from the Wolf & Badger platform have been asked to create a Tony's Chocolonely wrapper, drawing on their own personal style, to help illustrate the ways that they use alternative options to plastic within various elements of their supply chain. The brands, Palava, Wires Glasses and Lorna Murray, were carefully selected for their unique methods with the aim to further educate customers on some of the many ways that independent creators are being more conscious toward the planet.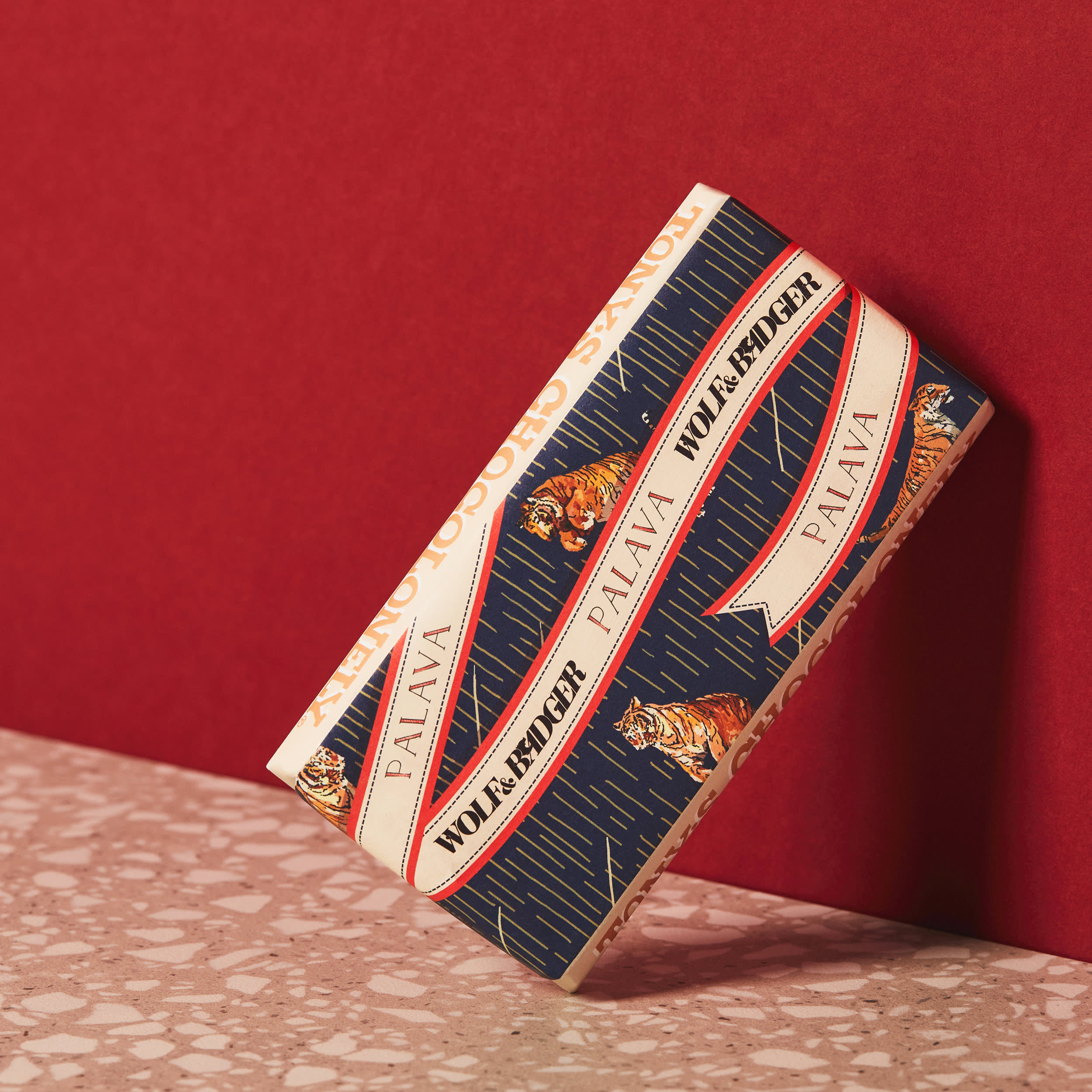 Wrapper designed by Palava
We also caught up with a member of the Tony's Chocolonely Impact Team to learn more about how they're trying to make the world a more sustainable place to live…
Tell us about Tony's mission. What are the problems facing the cocoa farming industry that the brand is looking to drive significant change towards?
At Tony's Chocolonely, we're the chocolate makers on a mission to make all chocolate 100% slave free. And that's because there's a serious problem in cocoa we're trying to solve. 60% of all the world's cocoa comes from two counties, Ghana & the Ivory Coast, but the price being paid for it is forcing farmers to live in systemic poverty. This has resulted in illegal child labour and modern slavery on farms in West Africa. The numbers are shocking: 1.56 million children working illegally on cocoa farms in West Africa with least 30,000 instances of modern slavery. At Tony's, we don't think the human beings at the start of the cocoa supply chain should be exploited to make a sweet luxury, so we're doing things differently. We've developed 5 sourcing principles and believe that when all 5 are in place (no cherry picking) you can eradicate illegal labour from your supply chain. We've made this model open source through Tony's Open Chain and invite all chocolate companies to join us in changing the industry for the better.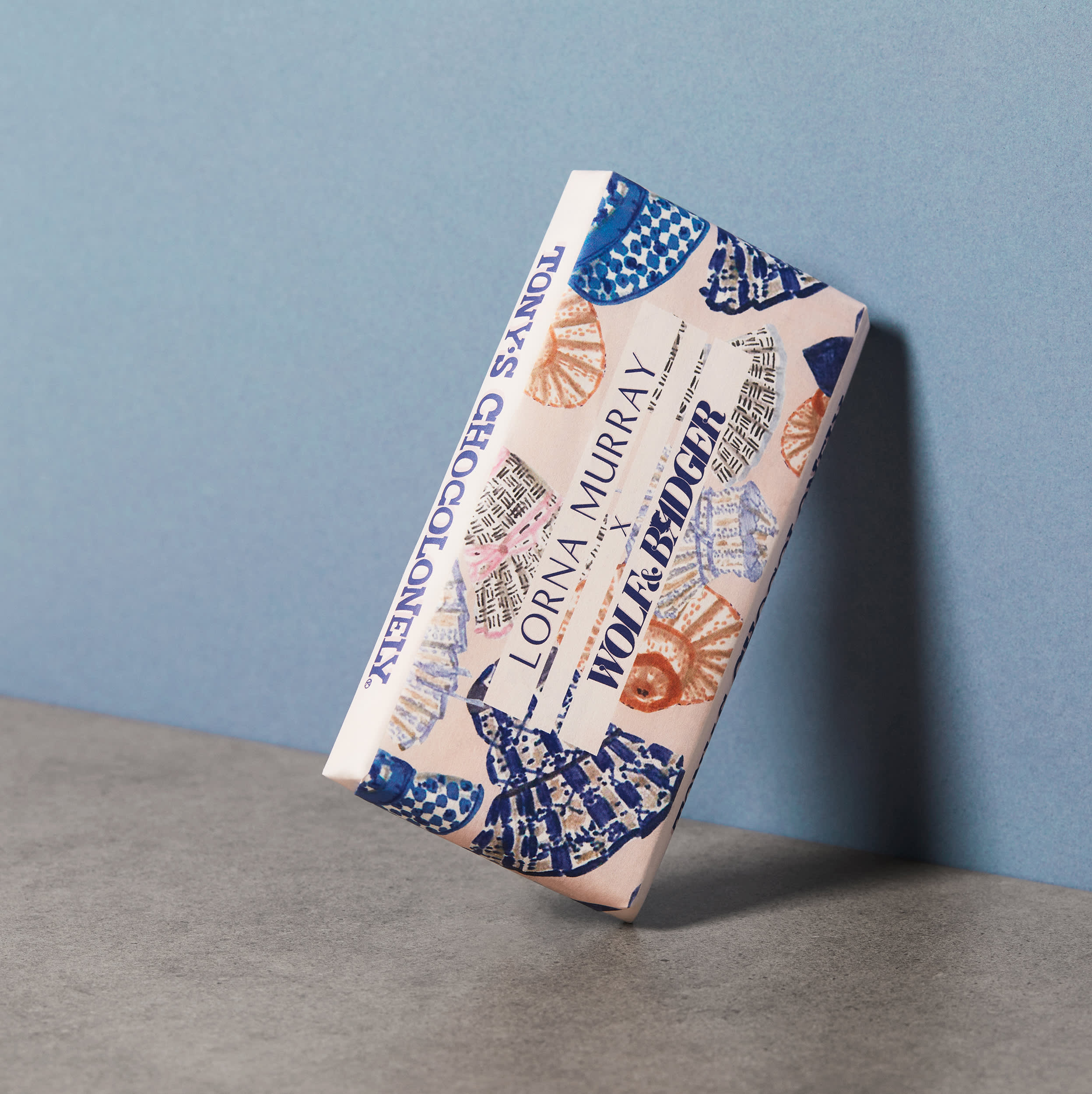 Wrapper designed by Lorna Murray
How aware do you think consumers are of this? What can they do to make a difference?
Awareness is growing and consumers are closer to these issues than before. But much more must be done. Studies show that inequality in the cocoa industry is still prevalent and continues to grow despite greater awareness. Ultimately we're only a small company - so we can't do this alone. That's why we share our story with choco fans in the hope that they'll feel inspired to demand more from the companies they buy from. We always ask people to share our chocolate and share our story, as this simple message could encourage conversation and lead to more conscious choices, campaign support and demand for transparency from suppliers.
How are Tony's encouraging other chocolate brands to become more sustainable? 
This is our biggest mission because, to make real impact, we need other big chocolate companies to join us. Mostly we hope that by leading by example and demonstrating that you can create delicious, well-loved chocolate (that supports farmers) and still be a successful business, other chocolate companies are inspired to do the same. But we're also realistic and have developed 5 sourcing principles to ensure 100% slave free chocolate can be accessed through Tony's Open Chain. Any chocolate company or manufacturer can access this to see our principles and our secrets so it's really a case of getting it done. We have some great mission allies under open-chain including Albert Heijn, the biggest retailer in the Netherlands, who's private label 'Delicata' are sourcing effectively using open chain. We hope to grow open chain and invite UK businesses to join us too.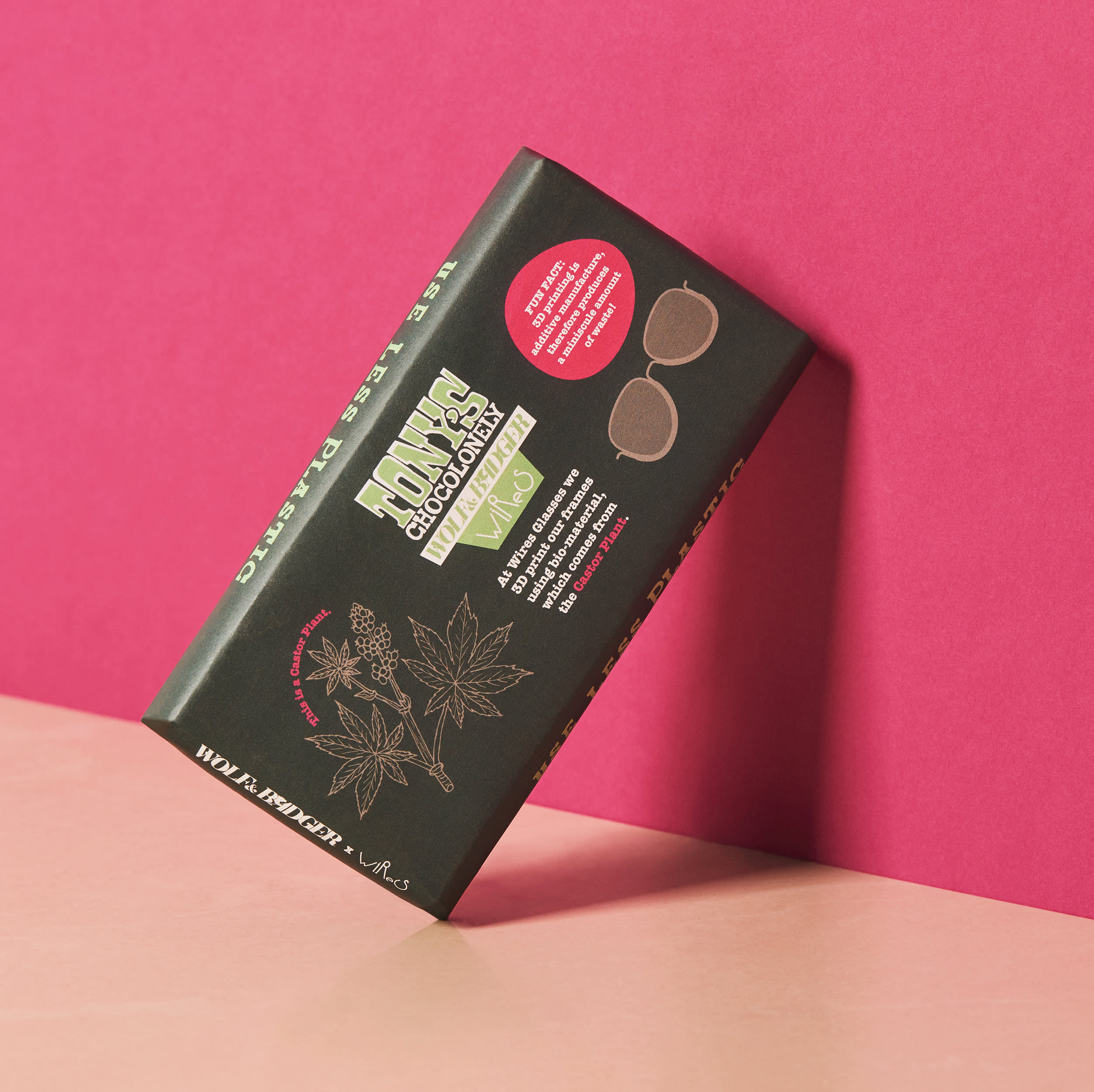 Wrapper designed by Wires Glasses
Explain to us in what ways Tony's Chocolonely is plastic free.
Sure! It's no surprise that environmental issues are also present in the chocolate industry, so we try to consider the environment in everything that we do. Our big bar wrappers are uncoated, FSC-certified recycled and the materials that go into it are 100% recyclable. So you can enjoy a big bar and feel confident about its plastic-free credentials. But what's little known is that the low price being paid for cocoa is forcing farmers to take shortcuts they don't want to make, directly impacting the environment. There's a lot more work to be done here.
What does being a fellow B Corp certified company mean to you and for Tony's Chocolonely? 
It means a lot, because we believe that being a better business should be the norm, not the exception. As a company that is first and foremost a changemaker, we've been living the B Corp mantra of balancing purpose and profit since day one. Not to mention their three main criteria: not only limiting negative impact, but improving your industry, holistically aiming to do good, and seeing money only as the means, never the end. We fully support B Corp in making high business standards the norm.
All photography by Wolf & Badger Studios