Amaveda products celebrate natural health and beauty made possible through simple Ayurvedic longevity practices. Their products are formulated with revered healing botanicals and therapeutic cold-pressed unadulterated rare oils. The products are as multi-functional and multi-dimensional as the plants they formulate with; encouraging you to explore how the products work on multiple levels, with various usages, creating a botanical collective of dynamic healing oils. We spent 5 minutes with the founder, Emily Shaw to get a closer look...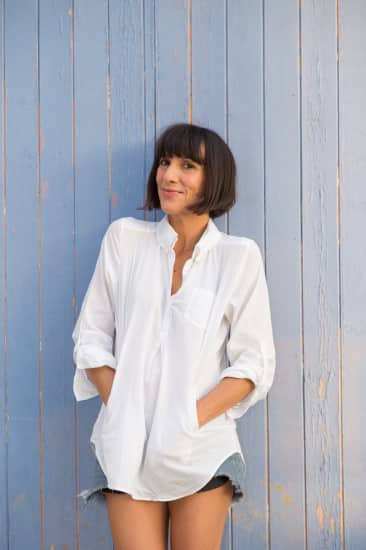 Please give a brief description of your career so far.
'Brief' and my career is a challenge, but here it goes. In my early twenties I studied aromatherapy and became a registered massage therapist. I then moved from Toronto to Jamaica and set up a private practice. While in Jamaica, I worked in a luxury hotel where I was trained to work in their spa. There I created a line of natural skin care products and treatments from essential oils and local raw ingredients. Five years later I moved back to Toronto and opened a restaurant with a friend of mine who was a chef. Ten years later, I sold the restaurant (which is still running) and moved to Peru. That move was 10 years ago. In Peru, inspired by the copious amounts of medicinal foods, I got switched on to using 'food as medicine'. I spent a lot of time in the Peruvian Amazon, learning everything I could about plant medicine. At one point I was menu consulting at an esoteric plant medicine healing centre in the Andes and knew I needed a system to work with, which led me to Kerala, India to study Pancha Karma, the detoxification method defined by Ayurveda. I returned to Peru to create my own detox programme and products using Peruvian ingredients.
Please describe the first step on the formation of your brand.
At first, the products were only available as part of my detox programmes but past clients were always asking me if they could buy more products once they finished the programme.  This inspired me to start selling them separately. I wanted a brand name that combined the powerful botanicals of the Peruvian Amazon with the detailed systems of healing defined through Ayurveda, Amazon + Ayurveda = Amaveda. At first my brand was called Panacea Peru, but people found it difficult to say 'Panacea' so after a year, I rebranded to Amaveda, which I love.
Have you always been interested in the beauty industry?
Yes, but I think my true passion is healing the entire body, it goes deeper than the skin.
How did you begin to develop your products? 
I would take trips to the Amazon to source ingredients and then just start experimenting in my kitchen.
What have been the highest and lowest points on your journey so far? 
The high points have always been seeing the transformation in people that I am facilitating. I think too, the highs come from those moments when I actually look back and see that the brand is growing, and that I truly love what I do. The low's come from the anxiety of doing it alone, not really having a business model to follow and having to make all the decisions on my own, making it up as I go.  
How would you describe your customer base?
For years my client base was mainly in South America, but finally I'm seeing a loyal following starting to build internationally. I love shipping anywhere from Scotland and The Netherlands.
What do you do when you are feeling uninspired?
I stop. Completely, switch off and change tracks. Usually a little trip or a social media detox will help although I am more often over-inspired than uninspired!
What is your evening skincare routine?
I honestly only use my own facial oil with the oil cleansing method (OCM). It's all I need. I'm addicted to it ;) I also love to experiment with things like natural exfoliates, I like to use super fine ground rice or grains. When I am in Peru, I use fresh Aloe Vera on my skin every night. I literally slather it on like a thick layer of gel before I get into bed, it's a miracle what the plant does for skin! I also love hydrosols and face masks that I make myself. My bathroom is filled with glass bottles and jars with no labels.
What's different about your products?
Amaveda promotes simple self-healing practices and beauty rituals using powerful natural ingredients that support the body's natural detoxification process.
'Ayurveda inspired, Amazon sourced'.
Why is using natural/organic ingredients in your products so important to you?
I see what I eat and what I put on my skin as one in the same. I wouldn't knowingly eat chemicals so I don't put them on my skin either. It's so unnecessary.
What is your go to product from your range?
Amaveda Buriti Facial Oil
Do you have a mentor?
No, but I would love to find one, or even better, one to find me.
Is there another brand whose work you particularly admire?
I think what May Lindstom has created is quite genius and Nadine Artemis of Living Libations as the trail blazer.  
What drew you to Wolf & Badger?
When I moved to the UK (my birthplace) I started following Wolf & Badger on Instagram and noticed so many amazing brands were out there, and that this new market was evolving where small-batch, high quality, artisan products were being praised, that it wasn't all about mega marketing budgets anymore, so of course I wanted Amaveda to be available on that platform.
What's next for your brand?
Right now I'm exploring some new ingredients and suppliers and ramping up the Amaveda spa products and treatments for my detox retreats, next up: Northern Peru in November.