Azza Fahmy Jewelry is an international luxury design house that brings different cultures and heritage to life through its unique contemporary designs. We spent 5 minutes with the brands founder Azza to get a glimpse inside her world. 
How did Azza Fahmy Jewelry begin?
As an Interior Design BA graduate, I first moved into graphic design before following my desire to become a jewelry designer. I am now the founder and Chief Designer and work with my two daughters who hold the roles of MD and Head of Design respectively. I began my jewelry making journey when I discovered a German art book on medieval jewelry at a Cairo book fair in Europe. It totally ignited my passion for jewelry design and this discovery was to change my life. But, I needed to get the right education. So, in addition to my day job I undertook practical training as an apprentice, learning the jewelry making craft from one of the most respected masters in Khan El Khalili, Egypt's ancient jewelry quarter. This was a male dominated environment so it was important to prove my worth as a student, especially as I had fought my way in and was the first woman to achieve this.
So, I tied my hair back, put on my overalls and spent my evenings learning ancient techniques and soon I began perfecting my own jewelry designs. Following my apprenticeship, I was lucky enough to be awarded a scholarship by the British Council to study at the City of London Polytechnic; here I acquired the principles and theoretical aspects of jewelry making. It was 'finishing school'. I returned to Cairo with renewed confidence and vigour. I set up a workshop with a staff of two and soon began to realise my dream. Twelve months later in 1981 I opened my first store.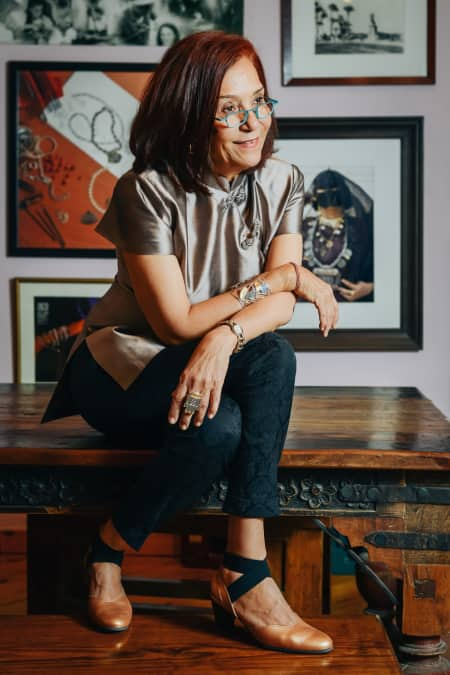 Have you always been interested in fashion?
I have always been interested in design, whether it be fashion or the broader lifestyle element.
What have been the highest and lowest points on your journey so far?
I have two high points – one was having my daughters voluntarily join the company and the other was opening my educational jewelry design training facility – DSAF - three years ago. My toughest (rather than lowest) was realising that I could not single-handedly run a rapidly growing company and had to relinquish some control and put the right resources in place.
What was the inspiration behind your latest collection?
The inspiration for our latest hand-crafted collection - The Wonders of Nature, is inspired by the natural elements of the garden; flowers, branches, bees, butterflies and the exotic hoopoe bird.
Do you ever struggle to stay inspired?
I am lucky enough to be able to draw inspiration from a variety of lifestyle, cultural or art sources, whether it be architecture or a simple flower. The key thing for me is to be able to translate these cultural and historic references to contemporary design.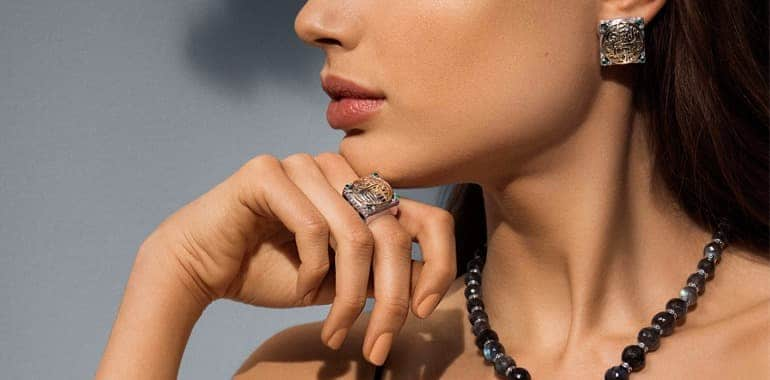 How would you describe your customer base?
My customers are women and men who appreciate hand-crafted jewelry that tells a story.
Is there anyone you would love to see wearing your designs?
If the film Cleopatra is ever made, it would be fabulous to create the jewelry and see Cleopatra wearing our jewelry.
What are the morals you run your brand by?
We are all one family and we work together to achieve one aim- the company's success.
Do you have a mentor?
It used to be the master who took me under his wing at Khan El Khalili, he was instrumental in the development of my jewelry-making training.
What apps keep you sane?
Occasionally for light-hearted entertainment, my daughter and I use Crazy Helium Booth to create funny videos.
If you could only wear one piece from your collection, what would it be and why?
It would be too hard to choose as I have many favourites, though I last wore the Butterfly ring.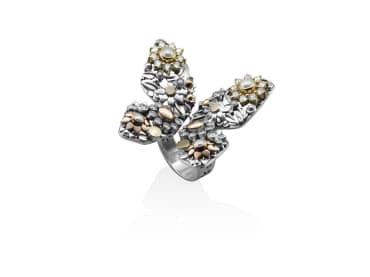 Is there another designer whose work you particularly admire?
Miriam Haskell and Hussein Chalayan.
What's the best piece of advice you've ever been given?
Nothing is ever a coincidence.
What drew you to Wolf & Badger?
The unique offering of a wealth of independent and international fashion and design brands.
Where do you see the brand in 5 years?
Our retail expansion will continue and we will have a number of flagship stores, including one in London.