BAD NORWEGIAN is the male skincare and lifestyle brand that endeavours to combine the values often associated with Norway - integrity, honesty and quality - with a rogue, confident undertone. We spent five minutes with founders Marius and Castilnano to learn more about the skincare brand attempting to break the mould.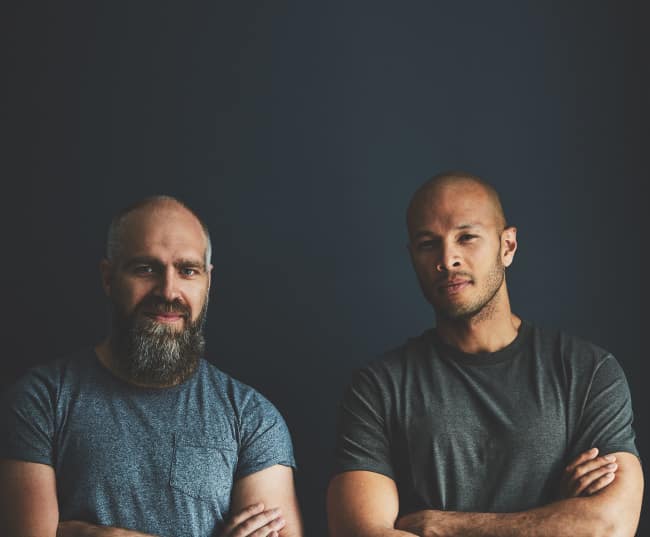 How did Bad Norwegian begin?
I joined the army straight after high-school and did two tours with NATO in former Yugoslavia in early 2000. After that I went back to school to get an MSc in International Marketing & Management and joined a management consulting agency. After some years working primarily with consumer and retail, it was time to start BAD NORWEGIAN in 2011. Castilnano has been working as an interaction designer in Oslo for bigger design agencies, and he is also part of another startup, called Oslo Brewing Co. He has a Masters degree from a design school in Oslo, and has designed web pages for some of the biggest companies in the country. It all started when I went to school in South Africa. After being out on a safari trip watching the local animal wildlife the whole day, I started to feel the wear and tear on the skin. So after returning, I got to test a moisturiser from a girl at the campus.It worked, but it came in a big pink jar and smelled like a perfume shop with perfumes he did not normally use. That´s where I started to think that someone should go in a make something better, cleaner, and with no scent. I met up with Castilnano in Oslo later and decided to challenge an industry that is dominated by big brands. This industry makes skin care for women by default and label it "for men" if they go outside the default . So we turned the tables and started to make skin care "not for women". Straight forward products with natural ingredients, no parabens or other harmful substances, no coloring or perfume. We target guys who care, and use skin care products after showering, shaving and when they feel their skin is dry.
Have you always been interested in the beauty industry?
No. We didn't really think too much about skin care before we started up Bad Norwegian. I guess you can say there were raised eyebrows from some people in the industry when we came on a visit to present this new brand, since we were completely new to the audience. However, we always enjoyed creating great design and edgy marketing, so we just moved that interest over to a industry that we felt really lacked this.
How did you begin to develop your products?
We did a lot research and travelled to meet different manufacturers in Scandinavia. We finally found a right match through that and they were keen to work with a startup.  
What have been the highest and lowest points on your journey so far?
Lowest: when we had a huge shipment of products coming our way, and all of a sudden the shipping company didn't know where the products were. We had a deadline for launch, so those were some seriously stressful days (and nights), but we managed to track them down. Highest: The day Heinemann group visited and told us to get ready for the travel retail world. Not many brands get the chance to go into that market which is dominated by the international brands, so what was a big thing for us.
How would you describe your customer base?
They are divided into two: guys who buy skin care because they need it, or they haven't really used it before and want to try, and then we have the girls who buys it for their boyfriends, husbands or family. There are even a few girls who buy from us for themselves because of our natural ingredients and vegan focus.
What do you do when you are feeling uninspired?
I tend to escape to the countryside and Castilnano hits the nearest Crossfit gym. That is if there are no beer tasting events that day!
What is your evening skincare routine?
The preferred routine would be to use Wash Face and then revitalize face every evening but to be honest, most days the skin care routine happens in the morning. Wash Face in the shower, Revitalize Face/Oil Beard when I get out. Skin care routine in less than 30 seconds.
What's different about your products?
First and foremost, our focus on clean and include natural ingredients. This has been core for us. We want our customers to buy Bad Norwegian, knowing that it is all good. Then we use airless jars, which is to prevent people from putting their fingers in the cream and adding new bacteria. We are all vegan, no animal testing, and we have what we call "functional skin care". We make products that will help you get up in the morning. Either they have menthol, like our Wash Body or Wash Face, so you got a real kick or they have a tiger balm effect like in our moisturisers, so you feel a warming sensation on your way out the door, you feel awake and focused. We want our products to give our customers a boost in some way.
Why is using natural ingredients in your products so important to you?
From day one, we knew we wanted to make something clean and good for both our skin and for the environment. When we saw all the things some of our competitors put into their products, going natural was just the only way to go. It takes more time (and money) to develop products that are natural, but we feel this is important for our brand.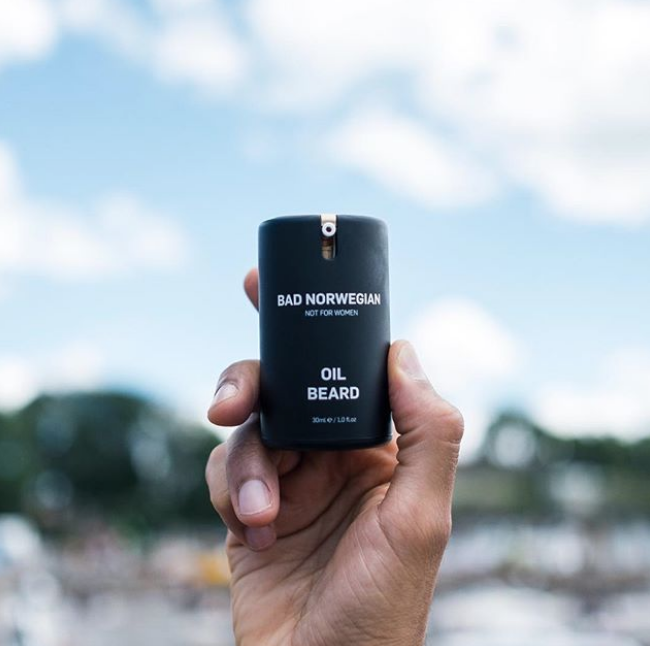 What is your go-to product from your range?
For people who would try skin care for the first time, or want to try something else than the standard products out there, go for the gift set with the Revitalize Face and Wash Face. That combo will show a lot of what Bad Norwegian is all about. Cold menthol in the facewash, and then the "tiger balm" effect in the cream, or our Oil Beard if you want to try a light scented oil for your beard.
Do you have a mentor?
We do not have a single mentor, but 50+ investors who we turn to for advice. We have been lucky to meet some very interesting people on our journey.
Is there another brand whose work you particularly admire?
We have always liked Byredo for their edge and clean design. Others are Rochambeau that we did a fashion show with some time back.
What drew you to Wolf & Badger?
We loved the selection of brands from all over the word, everyone bringing something unique to the table, based on people who really have passion for what they do. Wolf & Badger have lot of the same eagerness and focus as the new brands they represents and it is easy to see that the people who are part of W&B believe in the brand.
What's next for your brand?
We are expanding quite well into the travel retail segment now, with more airports and airlines starting to sell our products. We are also looking on expanding into the UK, and after that we will be looking at the US market. For products, we are launching some new ones this autumn that we are really looking forward to.