Gyunel Rustamova was born in Baku, Azerbaijan. After graduating from The Capital's State Economics University, she moved to London to take up fashion at The London College of Fashion and Central Saint Martins. Before entering the world of fashion, Gyunel enjoyed a successful career as an artist where she exhibited at the esteemed Cork Street Gallery, gaining critical acclaim. We spoke to her to find about how the brand started.
How did Gyunel begin?
I was originally an artist, but after graduating I set up my fashion label having been inspired by the gargoyles in Barcelona Gothic Square, I created my first collection and then really wanted to share it with the world. The second step was to gather a team and showcase the first collection. I am now creating my 7th ready to wear collection, as well as a new collection for my couture line.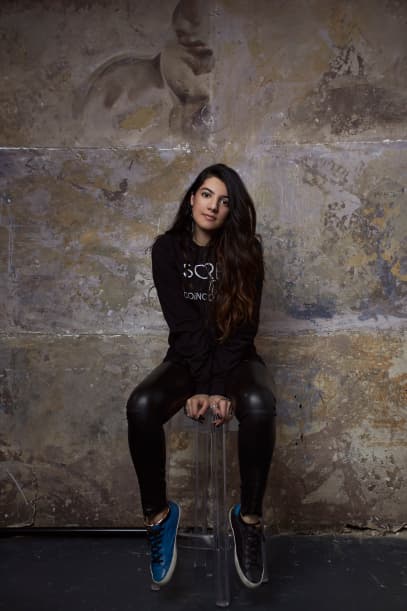 Have you always been interested in fashion?
Yes, I have grown up around Azeri women and made to measure fashion. I've always loved art as well and try to incorporate my artwork into my designs and in my prints, for example.
What have been the highest and lowest points on your journey so far?
A low point is when we found out last minute we didn't have a choreographer for one of our LFW shows, so I had to throw on a headset and quickly learn how to do it with our PR Manager! A high point is definitely Eva Longoria wearing one of my couture gowns, she looked so beautiful at her charity event Global Gift Gala foundation.
What was the inspiration behind your latest collection?
I most recently showed my AW16 collection on schedule during LFW. It is inspired by a book called 'War's Unwomanly Face' and represents young Soviet girls who fought during WWII. It features imaginative prints that are created in-house, and military inspired silhouettes.
Do you ever struggle to stay inspired?
I love living in London and find it such an inspiring city, I think it is very fashion forward compared to other cities. Therefore I never fail to be inspired by different things such as books, art exhibitions, and people I see walking down the street.
Where is your go-to meeting spot?
The member's room in the V&A museum.
How would you describe your customer base?
My customer can be any age, someone who is creative and likes to experiment with playful prints, and definitely someone who seeks high quality clothing. I imagine her to be a jetsetter, travelling to different countries all the time and seeking new experiences.
Is there anyone you would love to see wearing your designs?
I'd love to see Charlotte Rampling or Alicia Vikander wearing my designs. Or one of the leading ladies from 'Game of Thrones'!
What are the morals you run your brand by?
My brand style wise is always romantic but with a darker twist and I aim to follow this in both the RTW and Couture collections. For the ethical side of things we make sure the leather we use is a by product or that the factories we work with do not use child labour, etc.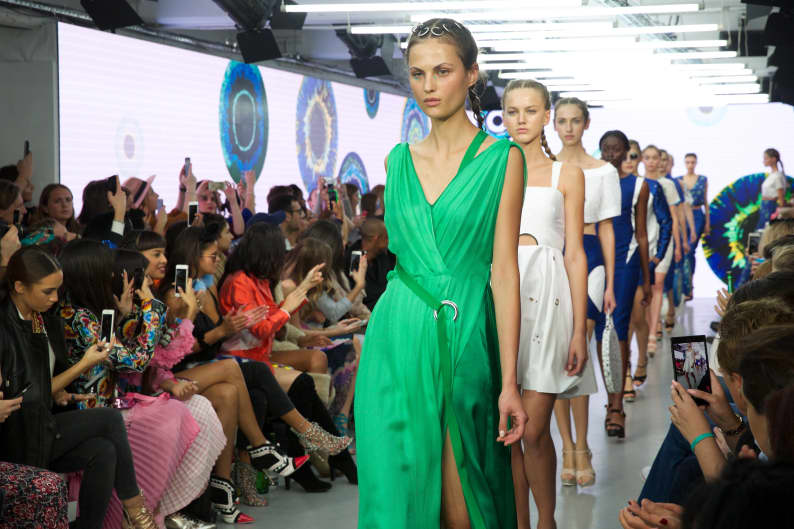 Do you have a mentor?
I keep in close contact with my teachers at Central Saint Martins or LCF as well as other business mentors and personal contacts
What apps keep you sane?
I use my music app all the time, particularly when I'm travelling, and I also love Sketch Guru.
If you could only wear one piece from your collection, what would it be and why?
If I could only wear one piece it would be our signature gargoyle sweatshirt, its so comfy and as only the gargoyle design changes from season to season, it's a always winner to me.
What's the biggest style mistake you've ever made?
At school I made our principal switch everyone to denim school wear in the 90s and we all had to wear denim dungarees, that was definitely a big mistake…I've got the photos to prove it!
Is there another designer whose work you particularly admire?
I love Alexander McQueen, his collections were always so beautiful and his ideas were inspiring.
What's the best piece of advice you've ever been given?
Be confident in what you believe, and don't let people try to change your ideas
What drew you to Wolf & Badger?
I love Wolf & Badger because it has a great location and quirky style.
Where do you see the brand in 5 years?
To continue growing internationally..