creators2019/11/07
5 Minutes with... Isabel Manns
by Becky Elliott
Isabel Manns is a British contemporary womenswear label that offers you reversible clothing that is sustainably made in London. Offering a range of daywear and evening wear, the brand is the epitome of day-to-evening dressing, with customers getting "two outfits for the price of one" as most garments are reversible. The collection is intended to provide customers with timeless, trans-seasonal pieces that can be worn to just about any occasion. With a clientele spanning all ages, the creation of clothes that flatter all generations and sizes is integral to the brand. Isabel designs all of the prints herself, which are then printed on the finest silks and cottons. The way that each item has a plain and printed side means that you will always have multiple options of style and function. We sat down with Isabel to find out more about her brand.
How did Isabel Manns begin?
I noticed a gap in the market for high quality clothing that is made in Britain and that offers multiple options of style and function. I therefore came up with the idea to make reversible clothing as it offers customers 'two outfits for the price of one'.
I previously interned for numerous designers such as Burberry and Emilia Wickstead in London and Naeem Khan and Tanya Taylor in New York. Once I graduated from Parsons in New York I was employed as an assistant designer for high-end eveningwear designer, Alexandra Vidal and as a freelance print designer for Style Council. Once I returned to London I decided to launch my own womenswear brand.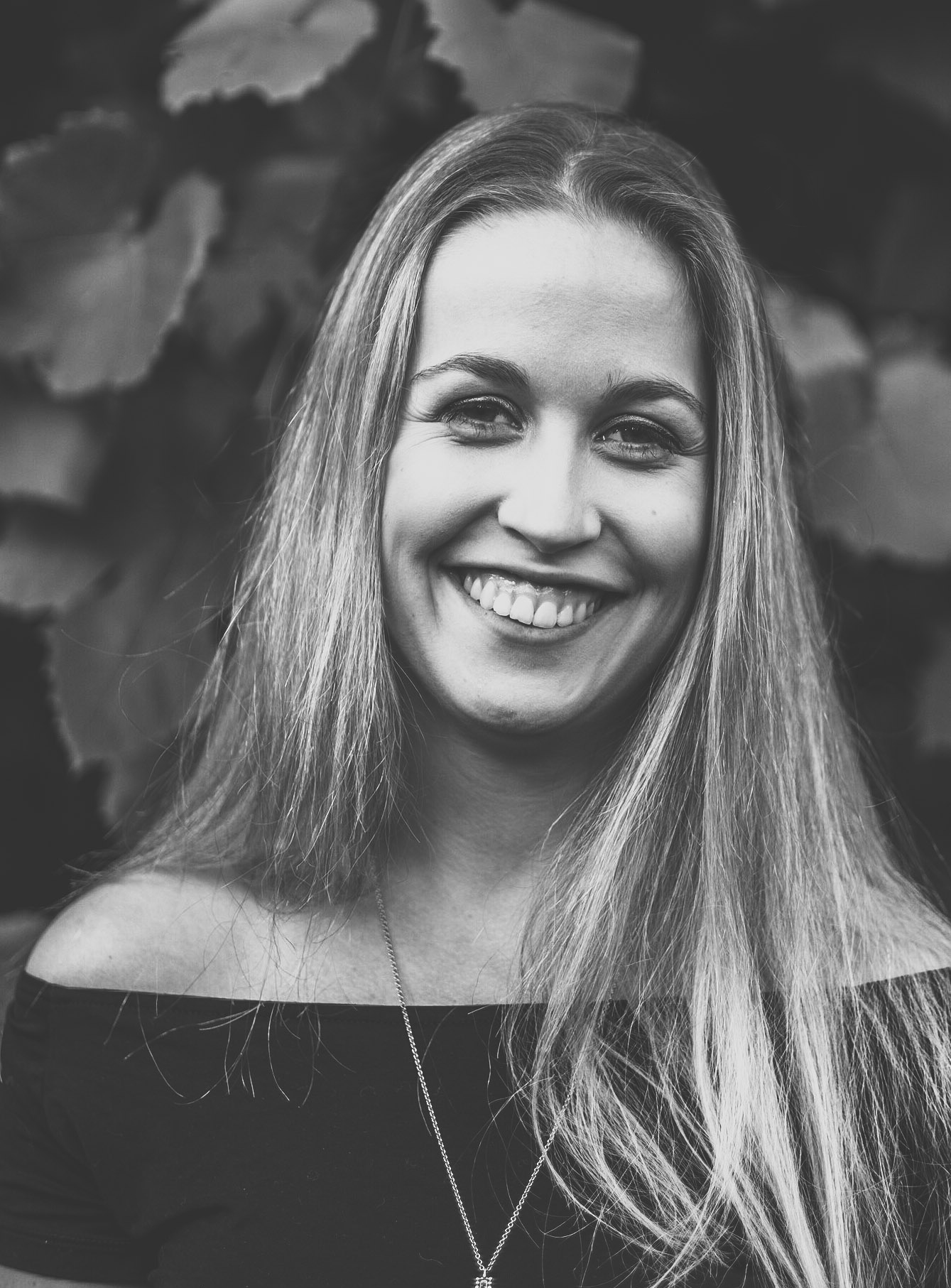 Have you always been interested in fashion?
When I was young I actually wasn't that interested in fashion, but I was always very creative and my mother taught me to sew. We would often adapt old clothing, as she hated throwing things away. When I was 13 years old, I started to take textile classes at school, I realised that I loved creating art that could then also be worn. From that moment, I knew I wanted to be a fashion designer.
What have been the highest and lowest points on your journey so far?
The hardest part of setting up my brand was finding factories in the UK that were willing to make reversible clothing because the quality of fabrics that we use makes it technically very difficult. The highest point in my journey so far was showing with Fashion Scout at London Fashion Week in September 2019 where I showed my Spring/Summer 2020 collection. The experience was incredible and it was great to hear such good feedback as it meant that I knew I was on to something!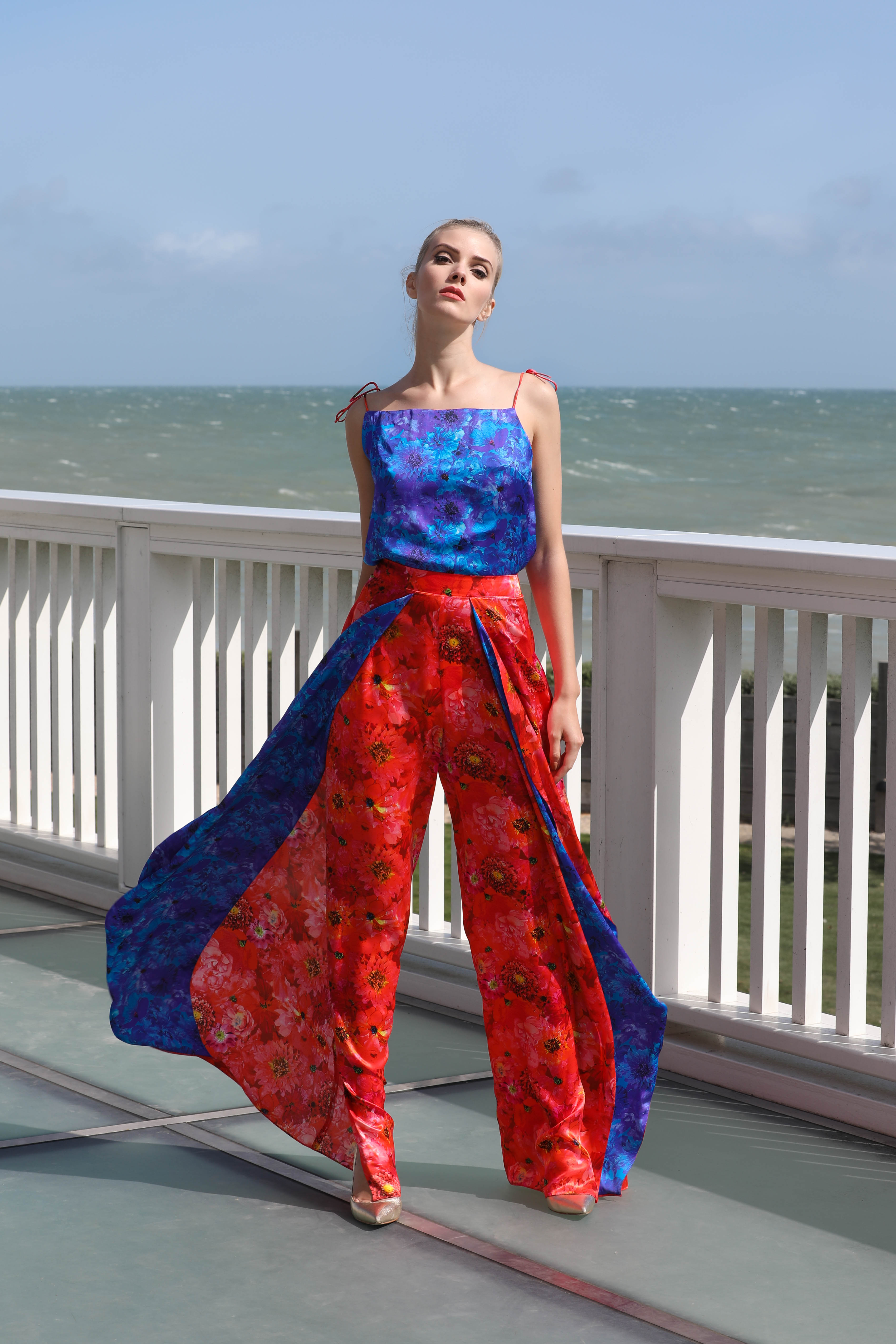 What are the morals you run your brand by?
The most important thing for me is that we make all the clothes in the UK, as I want to support the British industry and I am very conscious about the number of air miles it can take to create a collection. Wherever I can I will use British suppliers. All of my labels, hangtags and general branding are made in the UK!
It is also very important for me that the clothes are made to a high standard, as I want them to last a lifetime, not to be thrown away after just one season. As the majority of the clothing in my collection is fully reversible, it means that the customers have a choice of two-color ways that result in them being able to wear the items more frequently in several different ways. We work with seamstresses in London who are conscious of sustainability and they ensure that the fabric is cut economically to minimise waste. If we have any leftover fabric this is made into scarves, head ties and pocket scarves.
What was the inspiration behind your latest collection?
While growing up in Herefordshire my mother was always in the garden and my father would listen to music from the 1960's every weekend. The inspiration came from when I would sit in the garden painting my surroundings, watching my mother garden whilst listening to my father's music!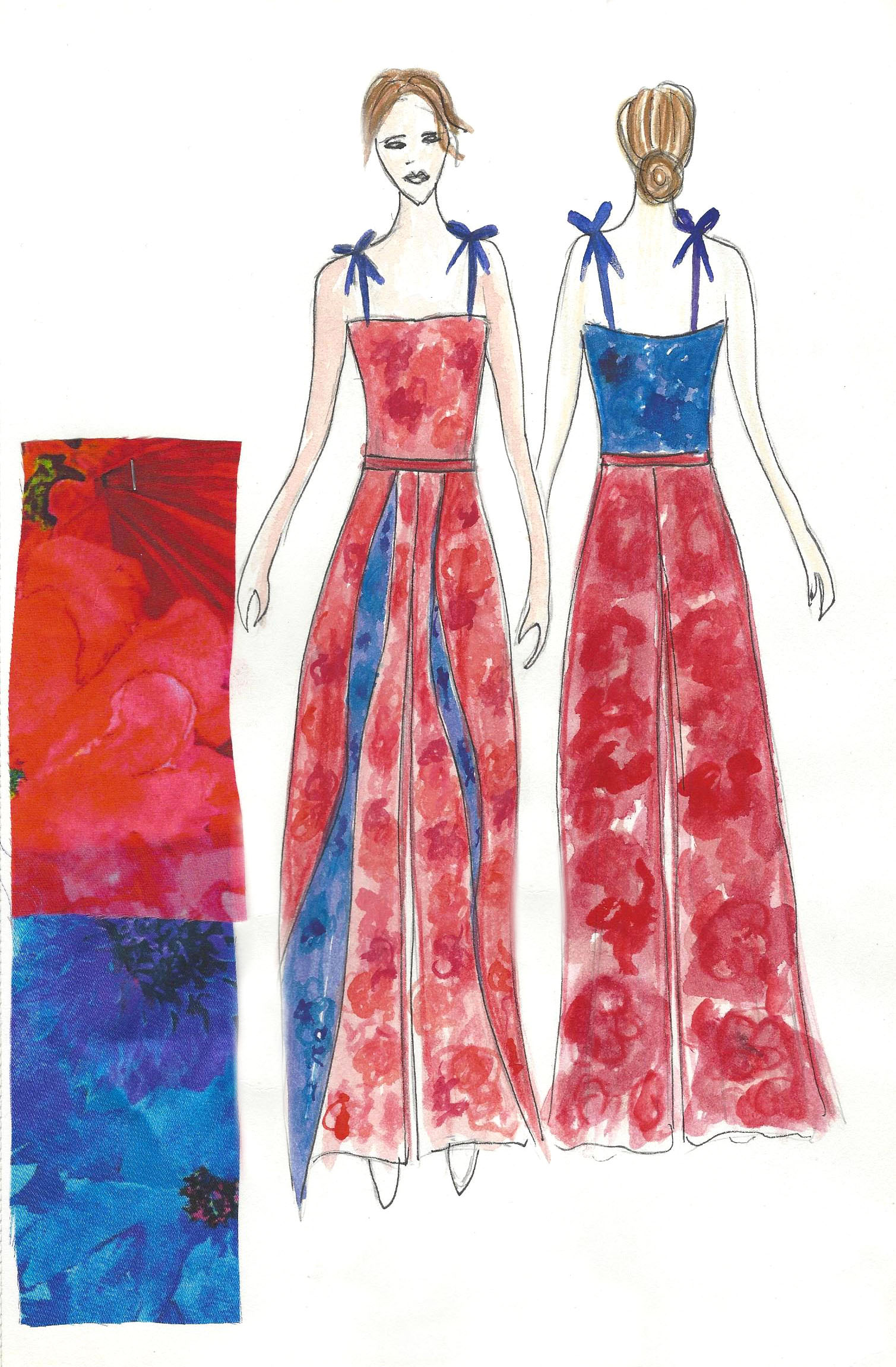 How would you describe your customer base?
They are women who have a busy schedule who need clothing that can take them from the workplace into the evening and for women who have to attend a lot of formal events and need multiple options. They are people who like color and prints but who also want a classic color for the plain side that can be worn with anything.
Do you ever struggle to stay inspired?
Never! I can find anything to inspire me even if I am just walking down the street, I see print ideas everywhere I look!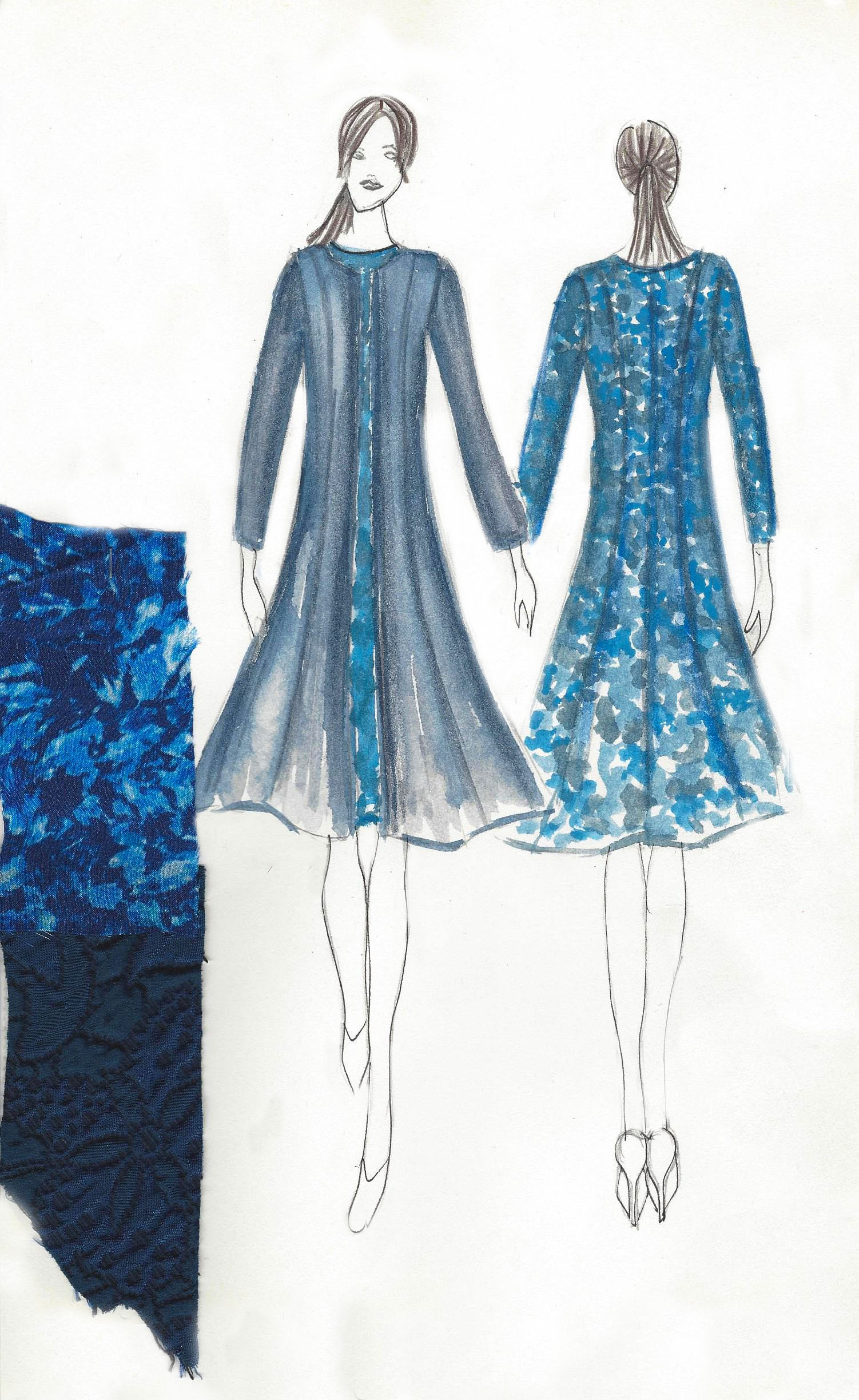 Is there anyone you would love to see wearing your designs?
I love Amel Windsor's style as well as Lily Collins, Reese Witherspoon and Lily James.
Do you have a mentor?
Yes I am lucky to have a few mentors who run their own fashion brands in New York and industry professionals in London. They have all been extremely generous with their time and advice since I decided to launch my brand.
If you could only wear one piece from your collection, what would it be and why?
The reversible Emma skirt that is currently being sold online and in store at Wolf & Badger! The style is very flattering and timeless. The silk is so luxurious and comfortable. You can wear it with anything to any occasion.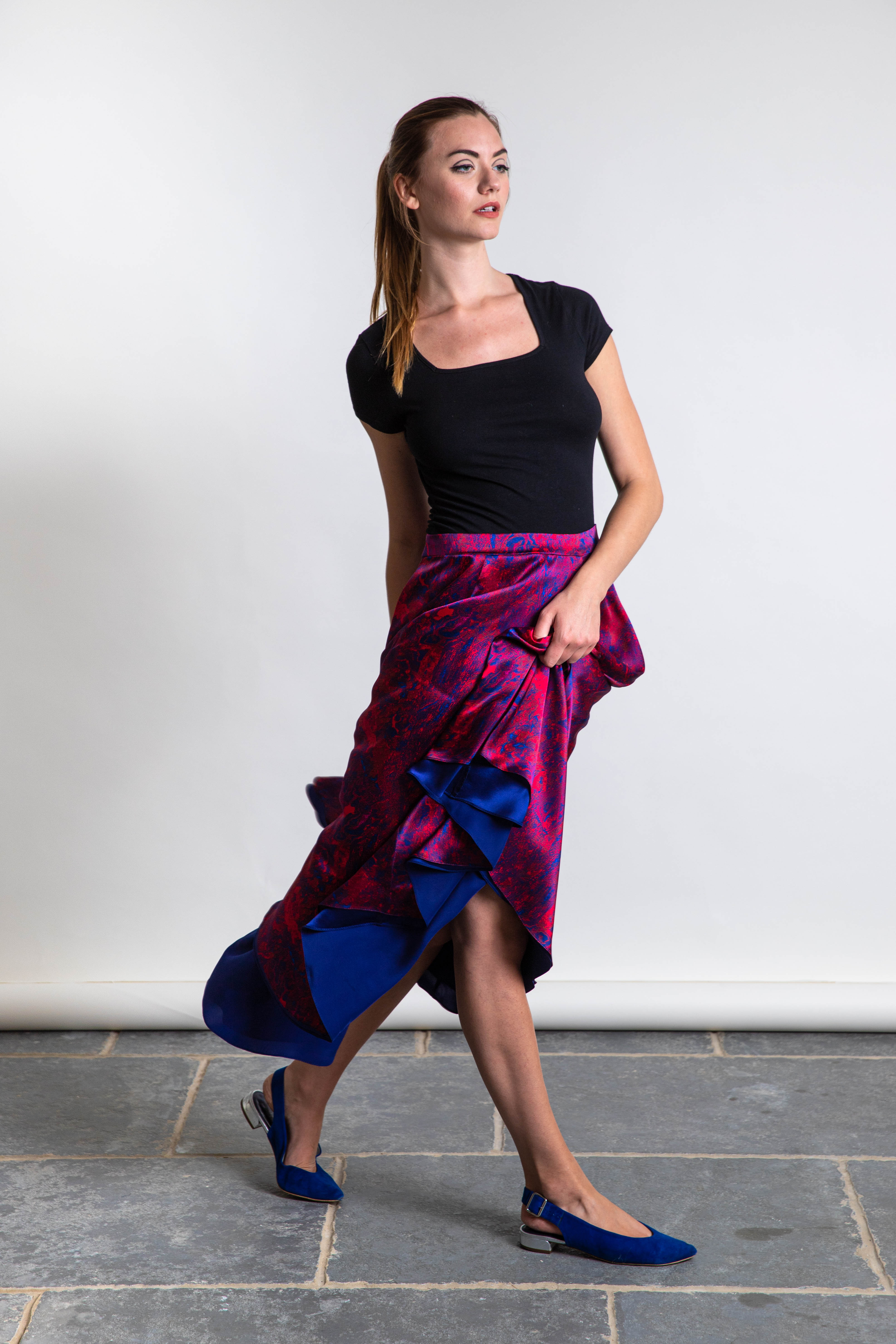 Is there another designer whose work you particularly admire?
I love Alice Temperley as she has such incredible prints and embroidery design. I also really admire Emilia Wickstead as she designs classic styles and dresses for people who have a great sense of style.
What's the best piece of advice you've ever been given?
Don't ever give up, even if you get criticised, and to be very strict and organised about your financial books.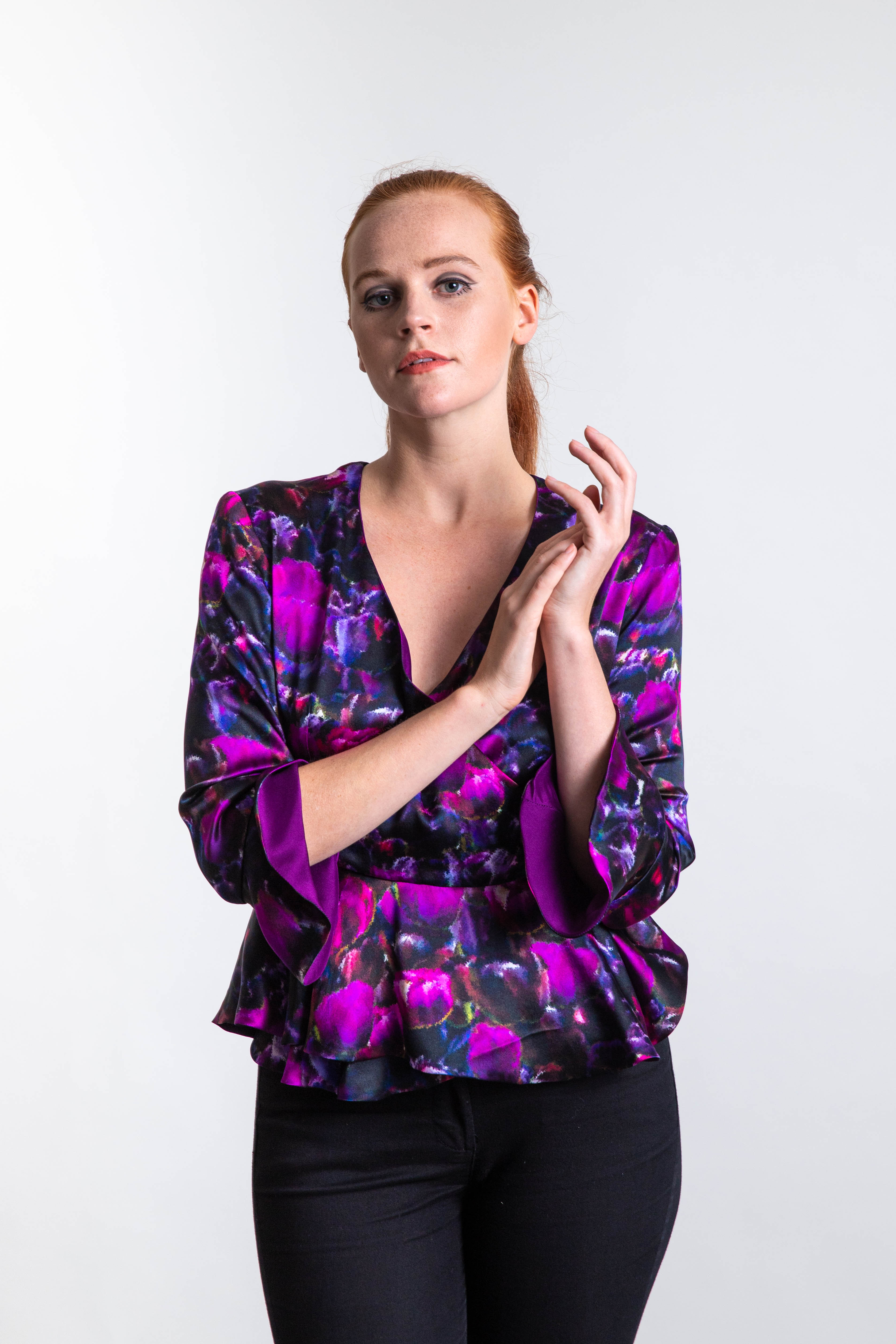 What drew you to Wolf & Badger?
Wolf & Badger have such strong ethics when choosing brands to be stocked with them, which I really admire. They also have such a good eye for emerging designers and interesting styles.
Where do you see the brand in 5 years?
Using more sustainable fabrics and methods and to be sold internationally.