Liwu Jewelry is a collection of delicate jewelry with Chinese calligraphy, inspired by the ancient meaning of these beautiful characters and the designer, Aine Breen's, time spent living in Beijing. We spent 5 minutes with her to get a closer look inside the brand. 
How did Liwu Jewelry begin?
In 2011, I moved to Beijing, China and to be honest, I felt pretty culture shocked. I decided I should take up a class at the China Cultural Centre. I decided upon calligraphy and fell in love with the beauty and in particular the meanings behind the characters. I always wore a necklace in English that said 'love' and when I learnt that the meaning behind the beautiful character for love was 'life to the heart and grace to the body'. I knew I just had to have necklace with this character and so my sketch book came out.
After school, I studied and qualified as a chartered accountant! However, I always had a creative flair and it was often noted that I wasn't a typical accountant. I was attracted to work as an accountant within retail and so until I moved to China, I worked for some of Ireland's top retailers in both fashion and jewelry. In China, I channelled my creative flair into calligraphy and then into jewelry design and making skills! Returning to Ireland I coupled my new skills with my business insight and knowledge and launched Liwu Jewelry.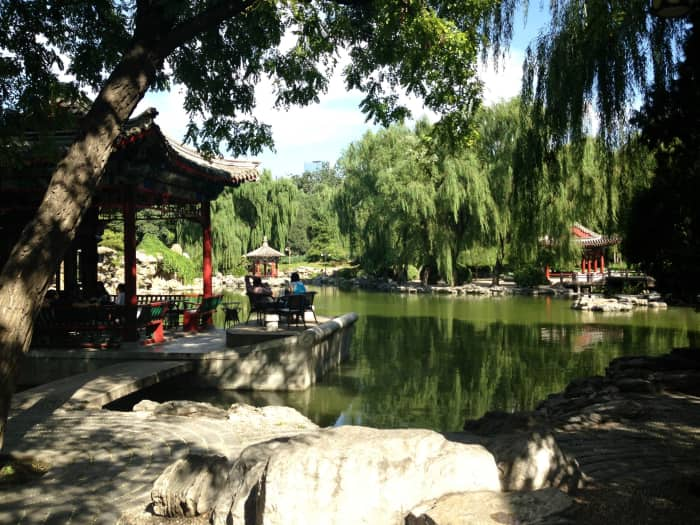 Have you always been interested in fashion?
As a six year old, I spent all my time drawing and designing clothes. And despite growing up and becoming an accountant, I always worked in the within fashion and jewelry sectors.
What have been the highest and lowest points on your journey so far?
The highest point is always the satisfaction in pleasing your customers with the perfect piece for them or the perfect gift.
The lowest point was while working on Liwu Jewelry's first ever photo shoot with our beautiful model and fantastic and renowed photographer, I was continuously running off with morning sickness! Following that struggled through many trade shows and Christmas fairs while pregnant until finally Baby Mollie arrived in March.
What was the inspiration behind your latest collection?
The current collection is inspired by the ancient meaning, of Chinese calligraphy characters, and my time spent living in Beijing. My new collection which will be available in September is inspired by my return to my native homeland Ireland and its signs and symbols and their meanings! I am so excited as it feels like my collections are becoming the story of my life so far.
Do you ever struggle to stay inspired?
No not at all. I am inspired by meaning and symbolism. I do a lot of research for my designs so there is a depth and story behind each piece. I have so many ideas its crazy. I live by the sea in Ireland, the sea air clears my mind!
Where is your go-to meeting spot?
When In London, I stay with one of my oldest and dearest friends in Shoreditch and I love the buzz of the Hoxton, so I often have meetings for business or pleasure there. In Ireland, It's usually Salt by Avoca in Dublin.
How would you describe your customer base?
As my pieces come with meaning cards, they are the ideal gift! So often men and women buy for gift giving or to express themselves with jewelry with meaning. I have heard' it's a gift for myself' many times too. Since the pieces are fine and delicate my customers are both old and young, all around the world. I ship to Austrailia and the US frequently!
Is there anyone you would love to see wearing your designs?
I would love to see my designs worn by inspirational women who are avocates for women and equality in general, such as Sheryl Sandberg or Michelle Obama. From a fashion point of view, Olivia Palmero is the ultimate fashion icon in my opinion and I would love her to wear one of my pieces too.
What are the morals you run your brand by?
All pieces must have meaning and symbolism, and all are made in Ireland.
Do you have a mentor?
I am lucky to have a good mentor and friend in my husband. He supports me and helps the brand in so many ways. He is my sounding board. I know many successful creative and business people who are either friends or former colleagues. All of them have mentored me in some shape or form. In particular from the older generations whose wisdom in a modern world is of huge benefit.
What apps keep you sane?
WhatsApp, it's how I keep in touch with everyone and Instragram is my guilty pleasure. I love beautiful photos and beautiful things.
If you could only wear one piece from your collection, what would it be and why?
The Three Lucy Stars 3 drop Necklace – its means luck, prosperity and longevity and is designed to symbolise a Chinese scroll.
What's the biggest style mistake you've ever made?
I've made lots of mistakes but the ultimate is UGG boots. In China, the weather was so cold and dry, they were just too tempting not to wear. They are now banned forever from my wardrobe.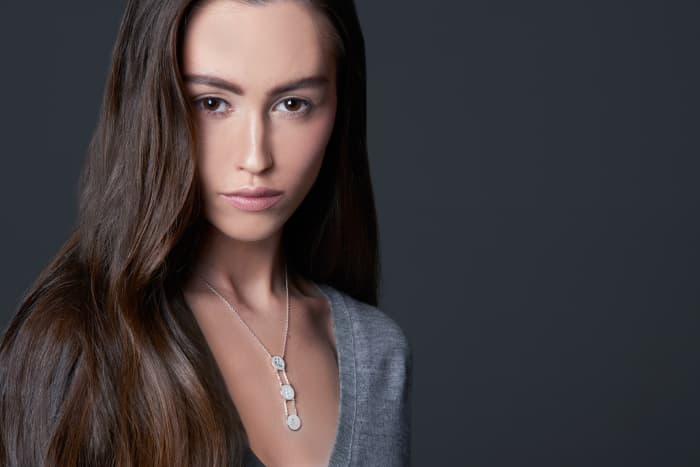 Is there another designer whose work you particularly admire?
I admire all my fellow Irish jewelry designs such as Juvi and Edge Only. It is great to see just great design, craft and skill coming out of Ireland.
What's the best piece of advice you've ever been given?
'You can be anything you want to be, but not necessarily everything you want to be at the same time'. It's all balance between work, family, friends and exercise/health for me. At any given time in your life or in a year, these all move around in order of priority. Another one I often I remind myself of is 'Don't stop trying because you are afraid of failing, as not trying is failure in itself'
What drew you to Wolf & Badger?
I really loved the concept of discovering new independent designers and felt Liwu Jewelry would fit really well amongst the other designers.
Where do you see the brand in 5 years?
My aim is create many more meaningful delicate collections and inspire people to wear and gift meaning in their jewelry and to grow the business further into stockists into Europe and the United States as well as adding a retail store with studio for more custom made pieces.