Zoi Roupakia is a machine learning engineer and a self-taught artist into conceptual minimalism and photography. Her work is defined by the simplicity of minimalism and reveals the depth of human interaction, feelings and thoughts. We spent 5 minutes with Zoi to discover how her art developed into jewelry.
How did Zoi Roupakia Gallery begin?

Zoi Roupakia Gallery was founded in 2017, initially as a way to promote my work in photography and conceptual minimalism. My artworks have been a quest to find the meaning of things; when removing the noise, just a few lines are more than enough to describe a thought or an idea. The human mind is fully capable of connecting minimal sketches to concepts and feelings. I found this fascinating and I wanted to give my artworks a more physical touchable form. Thus, I moved to 3Dprinted jewelry as a form of wearable conceptual art.
I studied electrical and computer engineering in Thessaloniki and moved to Cambridge for postgraduate studies and research in speech recognition, with a short intermitted period in London where I did a research internship at Google. So my background is entirely technical. However, since my early years in the university, I developed a love and interest in photography and subsequently the recent years I moved from photography to drawing and minimal art. That period, I founded Zoi Roupakia Gallery to promote my work. Later, I decided to move into 3D-printed wearable art, jewelry inspired by my minimal artworks.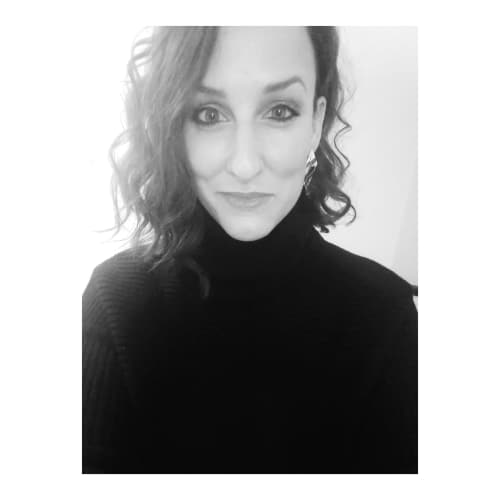 Have you always been interested in fashion?
No, not really, but I am intrigued by how fashion or style depicts cultural or identity elements. Even between members of groups which denounce fashion, you can observe a unifying sense of fashion; a style of clothing popular among them.
What have been the highest and lowest points on your journey so far?
The brand is quite new and it is just at the start of the journey, so there is not much to say about the highest or lowest points. Being accepted at Wolf & Badger so early on in the journey is certainly a high point.
What was the inspiration behind your latest collection?
My collection is inspired by my minimal art that reveals the depth of human interaction, feelings and thoughts. It is a 3D-printed Jewelry collection entitled PHAÍNŌ (Greek Transliteration, ΦΑΙΝΩ): to show, bring to light, reveal and become evident. What remains of a moment once the noise is removed? And what is needed to reconstruct it? A few simple lines and a concept tell a story, express an emotion, weaving reality. The collection includes 14k gold plated, 14k rose gold plated and rhodium plated pendants and earrings.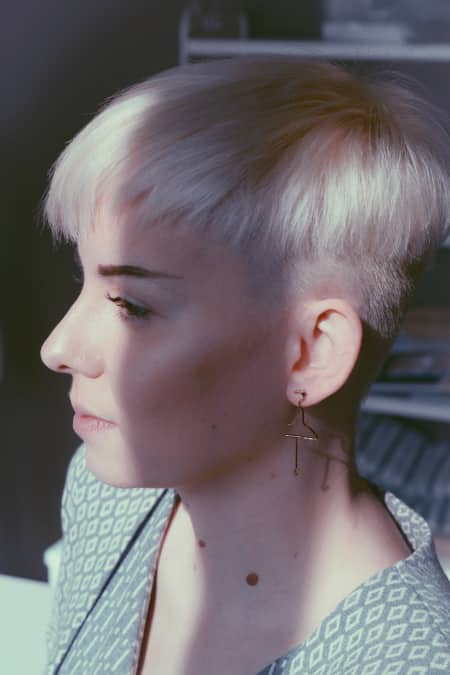 Do you ever struggle to stay inspired?
No, although inspiration is not forcible. It is triggered by everything in my life, my experiences, the things I read, and feel and think, from discussions with friends to news, cultural explorations, or social and political matters. I want to create pieces that have some meaning when people wear them, that carry meaningful symbols.
Where is your go-to meeting spot?
Espresso library, or Stir cafe in Cambridge: easily accessible, good working vibe and coffee, what else to ask?
How would you describe your customer base?
They are modern independent people with elegant aesthetics and sensitivity, and a particular interest in art. Is there anyone you would love to see wearing your designs? Zaha Hadid, but this is impossible now. Her work and style have been monumental. But personally, I love when I see my designs being worn by people who pay attention to the meaning behind the piece of jewelry they are wearing, or when the pieces are given as gifts because they convey particular messages.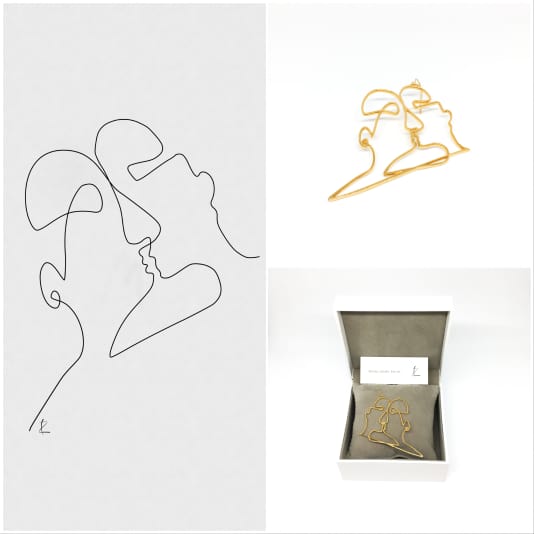 What are the morals you run your brand by?
We collaborate with ethical brands that do not exploit labour, respect and try to keep a personal approach to each customer. We actively promote new technologies and believe in the power of art as a way to express ideas, feelings, support causes or transform the way we view things.
What apps keep you sane?
I don't know if they keep me sane, that is debatable, but I am very much into technology, from design and photography apps, coding, social media apps, Instagram and Facebook. There is a controversy surrounding the use of many of these apps and technology nowadays, but for me, technology is what turns ideas into tangible possibilities, and it can drive creation.
If you could only wear one piece from your collection, what would it be and why?
"Gold wind of life" pendant. It is motivated by elements of Greek culture. The design of the pendant is inspired by the line "Gold wind of life…" of the "Little Mariner" poem by Odysseus Elytis, a Greek Nobel-awarded poet with a special tribute to Alekos Fassianos, a famous Greek painter. For me, it carries Greece in it.
What's the biggest style mistake you've ever made?
I don't particularly remember one, but my teenage years weren't my best.
Is there another designer whose work you particularly admire?
As I said earlier, I admire the design work of Zaha Hadid. Apart from her gravity-defying architectural designs, the fluid forms she propelled into jewelry and other objects were impeccably elegant.
What's the best piece of advice you've ever been given?
My father's advice is that there are many paths to reach the peak of a mountain; if the one you follow is blocked, go back and take another one.
What drew you to Wolf & Badger?
I like this sense of community, being part of a group consisting of different independent brands from everywhere in the world. It is a place very well curated that provides you exposure to a more prominent market.
Where do you see the brand in 5 years?
It is difficult to predict. I would like the gallery to have its space, invest in new ways of combining art and technology and to be established in the art and 3D printed jewelry market.