Sarah Kosta is a fine jewelry designer and goldsmith from Uruguay, South America. After twelve years working in finance and having since a young age a strong passion for natural crystals, she finally decided to fulfill her longtime dream of opening her own fine jewelry namesake brand. We spent five minutes getting to know Sarah and her brand...
How did Sarah Kosta begin?
I worked in finance before fulfilling my long-time dream of becoming a goldsmith and jewelry designer. When I turned 40, I decided to start studying and I opened my namesake brand in 2010. It was not easy to choose a new way of life at that age, but I decided I couldn´t wait any longer to do it. I have an entrepreneurial spirit and I made my dream come true. I learned all the aspects of jewelry making with the best fine jewelry masters. Fascinated with natural stones all my life, I started sourcing for the most beautiful and unique crystals I could find. To create an exclusive product of high quality is sometimes hard in this world where fast fashion is so big. One has always to reinvent itself to create great quality pieces with an edge.
The beginning was hard, taking the plunge and deciding to quit my job was definitely scary and since then I have faced many challenges. For example, I am now trying to grow my brand internationally which is not easy coming from such a small country as Uruguay. I always say that I won´t sacrifice the quality of my product and that creating everlasting pieces to be shared for generations is the centre of my philosophy.
I beleive that jewelry found me, not the other way round. I started creating pieces for myself and people started asking me where I had bought them. When I told them that I had crafted them, they couldn't believe it. I had a life changing experience with jewelry, I was sat in front of the desk in my teacher's studio surrounded by metals and stones and I just felt complete, it was love at first sight. Being a jewelry designer and goldsmith gave a different meaning to my life. I could start working with a metal to create a beautiful piece of jewelry using my hands and imagination. I had a wonderful mentor and I found out that I had a natural ability to make jewelry, especially in terms of technical skills. Being in the studio with my teacher letting my imagination fly, I felt that I had found my place in the world.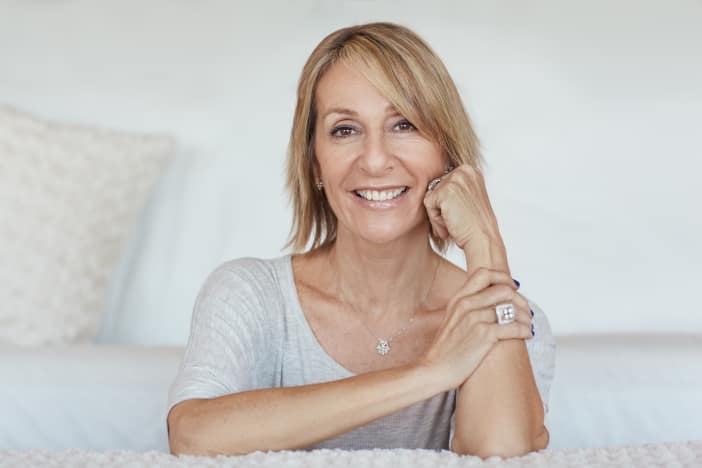 Have you always been interested in fashion?
Yes, I love fashion and I have always been interested in it. I like to mix different styles in a very harmonic way in which I feel comfortable. I take time every day to find the right clothes and match them in the way that I like the most. I consider myself a stylish women.
What have been the highest and lowest points on your journey so far?
The highest point was when I was invited to Thailand to close the 46th Bangkok Jewelry Fair with a lecture about jewelry design in Latin America. It was a very special moment for me. I was invited by the Thai Embassy in Uruguay. It was a unique experience and a very fulfilling one. I had to speak in front of an Asian audience that knew a lot about jewelry and it was a challenge for me. During that trip they took me to meet the royal goldsmith who was crafting an exquisite bracelet for over a year. For me, it was amazing to see this artist creating this magical piece of jewelry. The whole trip was a once in a lifetime experience.
The lowest point is every time you see that the efforts are bigger than the results you get. That equation is hard. Sometimes you give the best of you but the results are not the ones you expected.
What was the inspiration behind your latest collection?
I describe my latest collection, Aphrodite, as organic minimalist. It is a line of contemporary aesthetic inspired by architecture. It features sculptural pieces that can be worn day or night. Geometric figures and organic lines perfectly combine to create a jewelry collection of an exquisite harmony. Sophisticated but yet with a very avant-garde feel, Aphrodite was designed to empower the women that wear it. 
All the pieces are crafted by hand in 950 silver and I use 18kt yellow or rose gold plating. Aphrodite is a powerful and seductive collection which combines high metals and natural gemstones with minimalist inspired designs. 
Do you ever struggle to stay inspired?
I have my moments, just like everybody does. It depends on my emotions. I get my inspiration from many sources but I would say that my creative process is more visceral. I get inspired while working with the metals and the gems, in the process of creating the piece. Of course for every new collection there is a period of investigation were we seek for references, but much of my inspirations comes from being at my studio in front of all my materials. For my collections, inspiration comes from either the summer sunsets or organic architecture as my last line called Aphrodite
Where is your go-to meeting spot?
My atelier. It is a warm and comfortable place with a very special energy. It is a place that gives you harmony and calm, and it stimulates nice conversations. I always invite my guests with a nice tea and I put nice music.
How would you describe your customer base?
Elegant and stylish women between 30 and 70 years old. They recognize the value of a jewel with a unique design that's crafted by hand. They are confident and independent women. Many buy jewelry for themselves instead of asking their husbands to come and buy for them.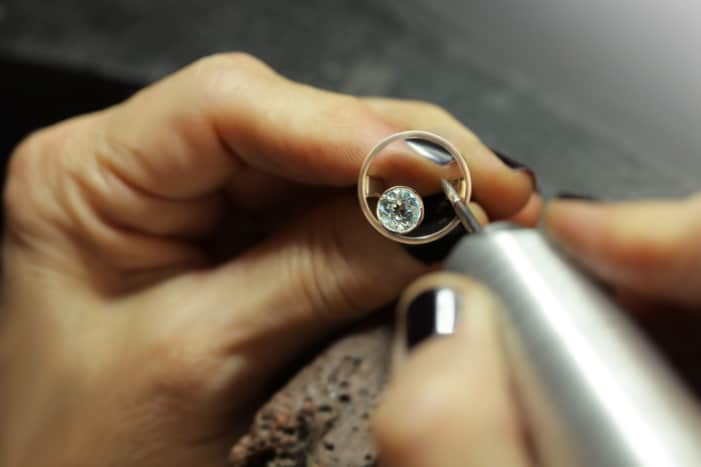 Is there anyone you would love to see wearing your designs?
Yes, I would love to see all the women that I admire wearing my jewelry. Among them: Diane Von Furstenberg, Charlize Theron, Michelle Obama, the Duchess of Cambridge and Queen Maxima of the Netherlands.
What are the morals you run your brand by?
I always give to my customers what I would like to receive myself. I am honest with my customers and they know that I work only with the best metals and natural gems. For me jewelry is about trust, your customer has to know that you will give him the best. I am very committed and a perfectionis which shows in my pieces. For me it is not just about selling a piece, I love when I see the happiness in my customers eyes, you know that you gave them what they wanted. I want my jewels to be inherited from one generation to the next so I make timeless pieces that last. I love when the jewel has an emotional value, when it evokes memories. It is a transcendental approach which means so much to me. To create a genuine jewel that one day can be worn by a mother and tomorrow by her daughter. This of course happens more with customized pieces, but I try to create with all my pieces with love.
Do you have a mentor?
I had a mentor that was really special to me. He has passed away now, but he would give me classes when he was 80 years old. He was my gemstone lapidary mentor. He loved gems and taught me everything I know about raw crystals; how to look at them and how to "understand" them. He was very passionate and he passed that onto me. He worked with stones all his life and would tell you so many things about a crystal just by looking at it. We developed an amazing bond and I will always remember him as my best mentor.
What apps keep you sane?
Spotify, because I love music. I study jazz and music is part of my life. The other one is Garmin Connect because I am a sports person, I do some kind of sport every day and I check all my results there. I also love Trip Advisor and I frequently write reviews.
If you could only wear one piece from your collection, what would it be and why?
I would chose the serpent choker in 950 silver with green gold topazes from my Aphrodite collection. It is a great piece because although it has a minimalist aesthetic, it features everything a good jewel should have: nice movement, precious gemstone and design.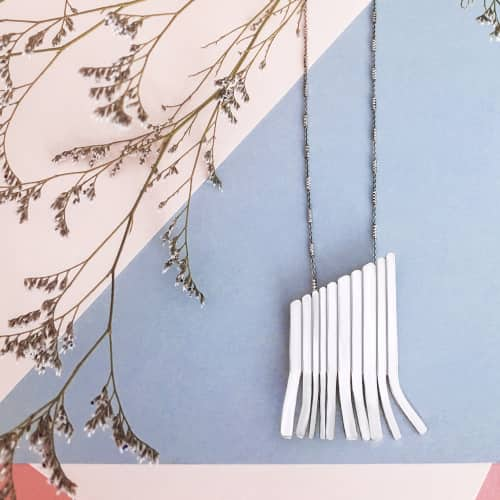 What's the biggest style mistake you've ever made?
Once I decided to perm my hair and when I looked at myself in the mirror I didn't recognise myself. I looked like a lion! I just laugh when I think about it now. 
Is there another designer whose work you particularly admire?
Yes, I love Harry Winston because I love diamonds and they create amazing things. I also really like Lorraine Schwartz.
What's the best piece of advice you've ever been given?
Always dream big. My parents are the ones that made me become the person that I am today. They taught me to always follow my dreams and never give up. They motivated me and told me that everything is possible if you work hard. Never stop, never quit.
What drew you to Wolf & Badger?
That you have a unique style that shows on your website and on the stores you have. I felt that my pieces would be appreciated and taken care of in the best way. It was a great place to be for the first time in Soho.
Where do you see the brand in 5 years?
I feel that I still have many things to achieve. Each day is a challenge and a new opportunity. My brand has grown a lot, but now we are in a moment of international expansion. I feel Sarah Kosta is in the right time to grow beyond Latin America. My team and I have worked very hard to make this possible. I have an entrepreneurial spirit and I want my pieces to be an object of desire internationally. We offer a great mix between quality and design and I am proud of what we have achieved but also hope that Sarah Kosta can be known worldwide.