Skin Alchemists Apothecary believe in skincare as a daily ritual, using only the freshest, nutrient-rich ingredients. Handcrafted in small batches, ingredients are sourced and harvested with utmost respect to mother nature. We caught up with Theresa from Skin Alchemists Apothecary to hear more about her forward-thinking approach to skincare.
How did Skin Alchemists Apothecary begin?
My first job was actually in the tourism and travel sector when I was 16! I had a passion for working with people and transitioned to a career in Human Resources. This lead me to work with an international skincare brand. From there I was inspired to create my own skincare line because of my own needs and also from seeing what was being sold as 'clean' and 'natural' with the role marketing and being profit-driven played in that narrative. I had the worst case of dry, flaky skin which became extremely sensitive and my doctor suggested using steroids, but I wanted a more holistic approach to treating my skin. Having first-hand knowledge of what truly goes into mass-produced  so called natural skincare, I wanted something more authentic and effective for my skin, so I began formulating my own products.
Have you always been interested in the beauty industry?
Absolutely! Like most little girls I got it from my mom. Caring for her skin was a daily ritual and to this day at 66, she has amazing skin.
How did you begin to develop your products?
Drawing inspiration from the nourishing, healing foods which I was feeding my body, and the positive changes I experienced. I eat wholesome, fresh, organic produce, and ancient grains which are unchanged from its original source. I thought 'if I'm putting such goodness into my body, why should what I use on my skin, the body's largest organ, be any different?' As Hippocrates said' "let the food be thy medicine and thy medicine be thy food". With that in mind, I'm also a busy mom of 3 and a small entrepreneur who functions in every role within the business. Therefore, when I enter my self-care ritual at the end of my day, it may be the only 5 minutes I have to myself and I want the products I use to transform those precious minutes into a sensorial feast.
What have been the highest and lowest points on your journey so far?
The amount of time it took to bring my dream to market was the lowest point. 18 months! I nearly gave up. I wanted to formulate the best quality, most efficacious products and finding a lab which would succumb to my demands yet not convince me to try cheaper alternatives, shortcuts or chemical preservatives was like finding a unicorn. It was very difficult and time consuming. My highlight has been forming my first two retail partnerships and making my first online sale within 1 month of opening, and of course the glowing reviews from our customers.
How would you describe your customer base?
Customers who practice self-care rituals, pay attention to ingredient lists and are very particular about what goes into their body and onto their skin. They demand the freshest, most potent ingredients and understand the value and benefit of artisanal products but do not want to sacrifice on luxury.
What do you do when you are feeling uninspired?
Exercise! I'd go for a long run through Epping forrest and end with a self-care ritual which involves romancing my skin.
What is your evening skincare routine?
It's the simplest routine and if you use the right products you don't need 6 steps. I take the day off with The Humble Warrior cleansing oil, deeply breathing in that relaxing scent and exhaling the days disappointments. Then I wipe it all off with a warm cloth- the best feeling ever! I seal in some hydration with a tiny bit of the Oasis hyaluronic serum, mixed with a few drops of the Time Traveller facial oil or The Lady Helen, depending on how dry my skin is. Bliss!
What's different about your products?
It's all about the Ingredients. Result-driven ingredients. Raw, unrefined plant extracts of the highest quality, procured from the most nutritious sources, hand blended in generous percentages. Full stop.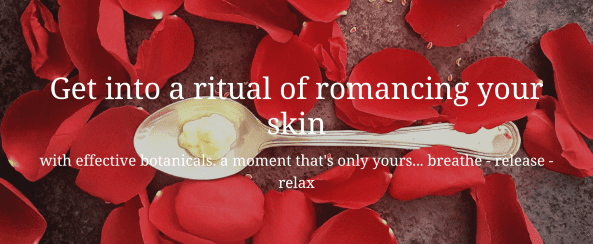 Why is using natural/organic ingredients in your products so important to you?
Plant medicines have been historically used throughout ancient cultures to treat, nourish and heal the body and I wish to make a contribution to the revival of these practices.
What is your go-to product from your range?
Oh The Gorgeous Soldier for sure! That chocolate scent is so seductive I feel like I'm in a trance moving to the cacao dance!
Do you have a mentor?
Mentoring is so important and I strongly believe in passing on your knowledge and experiences, however I don't have one as yet. What I do have however, is three people with different skill sets that I go to for advice and to bounce ideas off. One is a financial advisor, one is a national sales manager within a skincare brand and the other is packaging designer.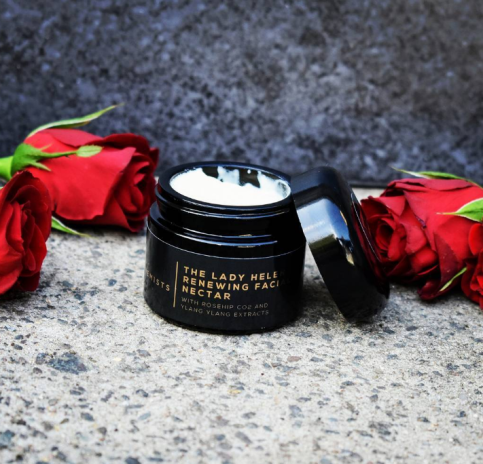 Is there another brand whose work you particularly admire? Maybe not a brand but a person and it is outside the skincare industry. Richard Branson. I'm in love with his mind.
What drew you to Wolf & Badger? It felt like a collaboration of small entrepreneurs offering something unique through an intimate experience and that's Skin Alchemists Apothecary: Artisan, Intimate, Luxurious.
What's next for your brand? We're so small. I launched with 2 products only and a 3rd to be added very soon. The future is exciting as I perfect formulations for new releases and build collaborations with small partners whose ethos resonates with ours.