Established in 2016 The King's Mother is a contemporary women's blazer brand merging the classic and modern worlds together to create sophisticated everlasting pieces. We spent 5 minutes with Farida Naguib, the founder of the brand to get a closer look inside the brand.
How did The King's Mother begin?
After receiving my foundation diploma in Art and Design and my bachelors degree in Fashion Management, I went on to get work experiences with several brands in London, New York and finally in Egypt where I settled. I gained as much experience as I could in the design, production, and marketing teams before I decided to start my own brand. After a trip away to clear my mind and figure out what I want to do, I came up with the idea of creating a women's contemporary blazer brand. I wanted to build something, where I can combine my passion in art and design with my drive to manage and create a brand that would be internationally recognized. The King's Mother is a brand with a unique selling point, creative blazers are extremely important to me as I beleive they play a significant role in every woman's wardrobe.
Have you always been interested in fashion?
Yes and no, I have always been interested in art and creating art. My grandmother used to make clothes so I was always surrounded by sewing machines and fabrics while she would teach me basic skills. But I was always working towards being a fine artist, one day I just switched and I found myself creating art but in the form of fashion.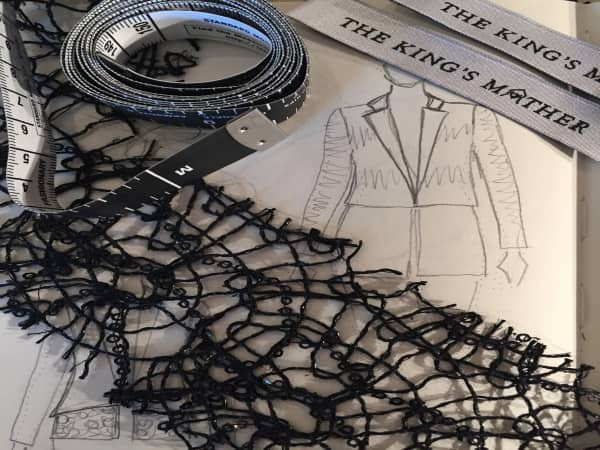 What have been the highest and lowest points on your journey so far?
The highest points are always when the collection is done and ready to be showcased. It feels great knowing you have achieved something by developing sketches into pieces you can touch, feel and wear. My lowest points are having to fight and push through in order to keep doing what you believe in. Things don't always go as planned in your head so it can be easy to get disheartened.
What was the inspiration behind your latest collection?
For the FW16 collection the inspiration came from animal skeletons; the structure and detail of the animal anatomy and skeletal structure. My fascination and love for animals was the root of this theme.
The SS17 collection is inspired by the philosophy of Sufism, so I took elements and motifs found in the Sufi philosophy and developed them into embroidery motifs in a neutral color palette
For the FW17 it is inspired by the masculine vs feminine, how women used to dress in the 1900s and how that evolved when men started going to war and women took on more prominent roles in society, this role is shifting until today becoming more of a blurred line between the masculine vs feminine.
Do you ever struggle to stay inspired?
Yes of course. Sometimes when I have a deadline to meet inspiration doesn't come naturally to me and an inspiration block can happen.
Where is your go-to meeting spot?
I don't have a preference, but in London I usually go to Poaline off Sloane Square.
How would you describe your customer base?
Women who are looking for unique, innovative blazers for every occasion. It's an investment piece that will last a lifetime, and is giving customers something new that they can't find anywhere else.
Is there anyone you would love to see wearing your designs?
Yes there are many, but I would especially love to see Sia in one of our blazers.
What are the morals you run your brand by?
To be patient, persistent and do things from your heart, also to be genuine and kind with everyone I meet along the way.
Do you have a mentor?
I don't have one specific mentor, but I have many people I go to for advice in different fields of the business. I feel that you continuously meet people who become your mentors in different ways.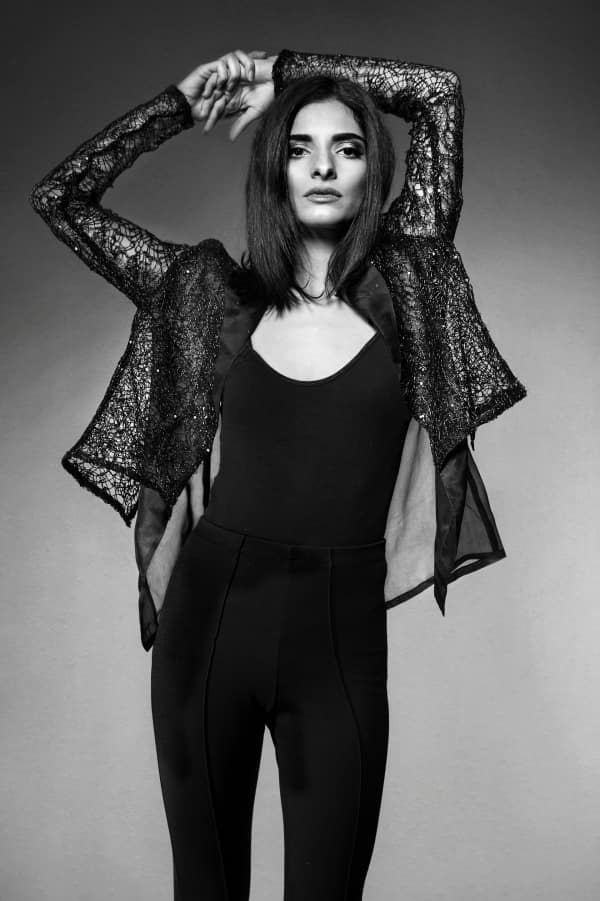 What apps keep you sane?
Pinterest for inspiration and research.
If you could only wear one piece from your collection, what would it be and why?
This is a hard question; I love them all because I put my heart and soul into each piece. From the FW16 I would say the Hippocamups Kuda because it is perfect to dress up with heels for a night out and also with jeans and sneakers. The boyfriend cut is my favourite style.
What's the biggest style mistake you've ever made?
When I was in high school for sure! The neon trend was really happening and I actually gave into it unfortunately.
Is there another designer whose work you particularly admire?
Yes so many! I love Alexander McQueen, Zac Posen and Giambattista Valli.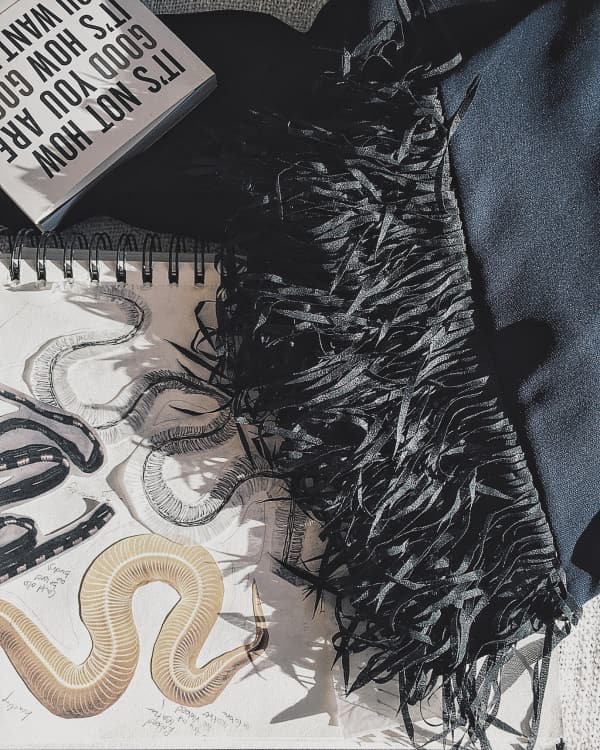 What's the best piece of advice you've ever been given?
"What is meant for you will reach you even if it's between two mountains. What isn't meant for you wont reach you even if it is between your two lips" - That you must work your hardest and put your heart, soul and energy into what you want to achieve. If you want something, you must go out and get it.
What drew you to Wolf & Badger?
I like the opportunity they create for independent designers, by giving them a platform to showcase their work, to get feedback on their designs and be in the heart of London at the same time.
Where do you see the brand in 5 years?
I see the brand being internationally recognised in different markets in Europe, North America and GCC. I see the brand developing in design and continuing to create contemporary designs to offer something new to our clients, and I'd like to take part in design collaborations. I also really hope to take part in awareness campaigns related to subjects that I find important.