The designer of UNDRESS, Ana Savicka, believes that the dress is not only proof of femininity, but also an object that gives great aesthetic pleasure. We caught up with Ana to find out more about her ready-to-wear brand. 
How did UNDRESS begin?
I had my first idea for UNDRESS last July, and soon after this I had a relatively defined aesthetic vision of the brand, starting with the logo and finishing with the first garments. Then a very intensive studying period followed where I learnt how to sew, model and construct; in a nutshell everything that brought the UNDRESS vision into reality. After my studies, the 'fun' part began, where the idea became something tangible. I designed the collection, sourced the fabrics and searched for the dressmakers and business partners that I needed. I had to rely on my intuition, as the fashion industry and some of the problems I faced at first were all new to me.
Only a year and a half has passed since the start of UNDRESS, but it already feels like so much longer. It was the biggest and most important step of my life so far. 3 years ago I was working as a journalist in a role that was unrelated to what I do now because I realised that it was not the career path I wanted to take.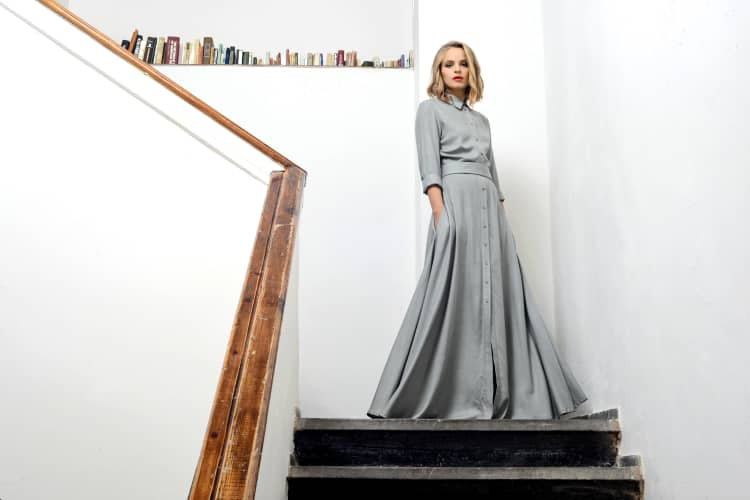 Have you always been interested in fashion?
I have never been that interested in fashion to be honest. I am not the kind of person who has a list of favourite designers and fashion houses, nor do I follow fashion trends. I believe fashion is totally based on the combinations of colors, shapes and vibrancy of the full image.
I consider fashion as an object of interest that changes slightly from different perspectives. It's an intuitive thing based on insights and emotions and influenced by visual things. 'What to wear' is a daily female issue, because in this way women express their personality, spread a message, show their self-identity and their aesthetic approach to life. At the same time, I always underline that UNDRESS is not about undressing, it's more about the ritual of casual dressing and searching for an item that is truly reflective of yourself.
What have been the highest and lowest points on your journey so far?
I would describe my lowest point as the 3 year period just before founding UNDRESS, where I was searching for myself and the field that I could give a valuable contribution to. At that time I also had to ask myself whether I was even capable of running my own brand. The highest point of my life, undoubtedly, was climbing up the Agung mountain (over 3031 metres) in Bali. It took more than 6 hours and when I reached the top of it, I realised that it had been exactly one year to the day since I had the idea for the UNDRESS concept.
Do you ever struggle to stay inspired?
I actually do sometimes. As soon as I started the label I realised that creativity is not the only focus. Every day, work consists of a number of elements and a lot of them are business and calculations related. I'm sure that every designer would admit that the fabric sourcing process is extremely time consuming and full of unexpected outcomes. That's why often isn't much time left for creation, so when you do eventually find time for it, the ideas don't always come to you straight away. I am trying to stick to a plan of always designing and creating at a specific time to try and combat this.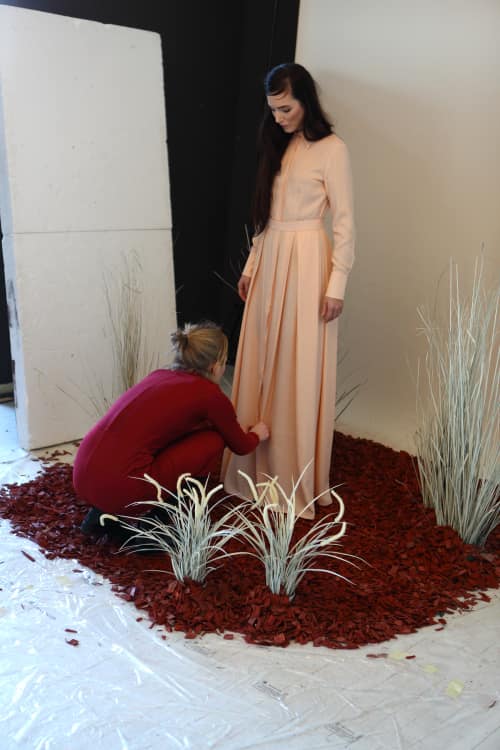 Where is your go-to meeting spot?
Our studio in Vilnius old town. We have been working here for over a year and it has become not only our working studio, but also a place where my friends come over for a chat, to advise or just simply chill and have a cup of coffee. Our studio is also famous for saving a lot of women who are searching for last minute dresses for big events.
How would you describe your customer base?
Dresses by UNDRESS spread the subtle flirty vibe, so I believe the customer base is closely connected to this idea and knows exactly what role the dress needs to play.
Is there anyone you would love to see wearing your designs?
Natalie Portman.
What are the morals you run your brand by?
One thing that we strive for is staying true to where we started. We also want to empower women through our designs and exceed their expectations.
What apps keep you sane?
Staying away from apps keeps me sane.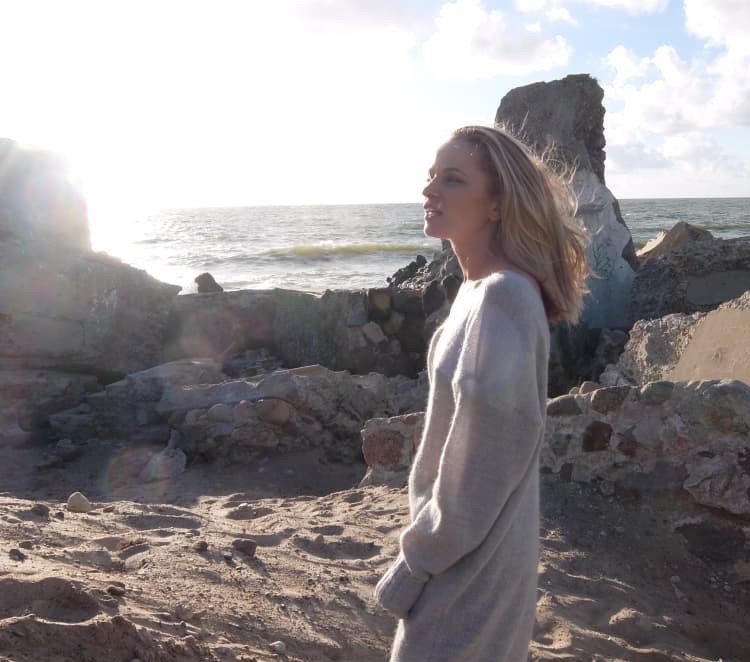 If you could only wear one piece from your collection, what would it be and why?
I would probably pick our Vespertine or Eonian classic jersey dress as it's perfect for any occasion, is comfortable and reflects the main UNDRESS aesthetic.
What's the biggest style mistake you've ever made?
My fishnet tights that I wore in one very serious business newspaper editorial office. Never again.
Is there another designer whose work you particularly admire?
Delpozo, Valentino, Marni, Narcizo Rodriguez, Jil Sander and a bunch of others whose separate creative elements are close to my own conception.
What's the best piece of advice you've ever been given?
The problems that may look unsolvable at that very moment may be tiny the next day, so instead of crying and feeling sorry for yourself, just try to solve them.
What drew you to Wolf & Badger?
Fellow designer recommendations and it was definitely the right move for UNDRESS.