Catherine Zadeh is a global citizen of the world: born in Iran and raised in Paris, she found her voice and strength as a wife, mother and designer in her adopted New York city. Her fortuitous entrance into jewelry design was entirely unconventional. We spent five minutes with Catherine to find out more...
How did ZADEH begin?
21 years year ago, with no formal training or business experience but with sheer guts and just 10 pairs of cufflinks that someone had commissioned, I started cold calling the Bergdorf Goodman buyer. What was I thinking? I called her for 3 months straight, drove her crazy and at our scheduled appointment she stood me up. But instead of her, I ended up meeting her boss, the Global Merchandising Manager, instead. When he saw the pieces he said, 'Welcome to the Bergdorf family… I have been looking for these kind of cufflinks for so long!'
So with 3 young girls aged 2, 5 and 7, I set up my little business designing jewelry and accessories exclusively for men, at first from home, then from a studio and recently to my Fifth Avenue address… what a journey! My women's line was conceived when my daughter Sophie briefly joined the company 3 years ago. She started wearing the men's jewelry and said it was the coolest thing. My 2 other daughters followed suit, and so did my husband… They have never taken their jewelry off and the majority of my customers never take theirs off either. I should be proud!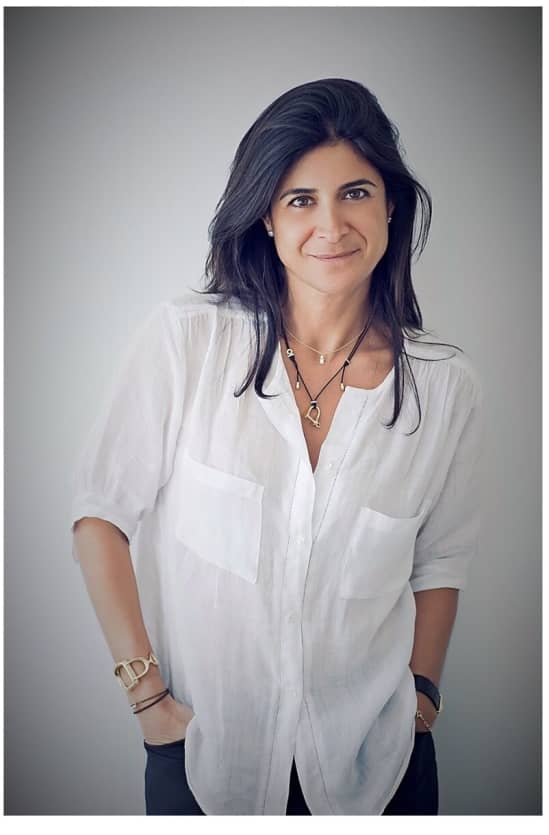 Have you always been interested in fashion?
I have, I think the way a person dresses or wears their jewelry and accessories says a lot about who they are. I spent a lot of time studying women and men in Iran, Paris and America and realised that fashion can be a common bond between cultures. This helped develop my vision of what my jewelry should be like and what it should stand for.
What have been the highest and lowest points on your journey so far?
The highest point was when I was inducted as a new member of the CFDA last year… It was the HUGE cherry on top of my journey, but made me also realize that we have an exciting journey ahead!
The lowest was when a buyer from Neiman Marcus told me that I am 'too aggressive and scare people'. They did not understand or realize it was just my passion. Also very early on in my career, a buyer at a trade show couldn't visualize my aesthetic and mockingly said 'Catherine, men don't wear cufflinks with jeans! No American man will understand the look you are proposing!' 5 years later, when men were donning cufflinks in a casual and effortless way, he saw me and apologised saying that I was ahead of my time. This was when my low point turned into a high point!
What was the inspiration behind your latest collection?
I don't design a collection every month or every year, instead I design when I have bursts of inspiration; after a trip to a new country, after a delicious meal, after looking at my children, or after meeting my customers. My pieces are intended to be timeless and are designed individually. Each piece designed even 20 years ago is still very relevant today. My customers have the freedom to wear my pieces the way they want, mixing and matching them to style them in new ways.
Do you ever struggle to stay inspired?
Yes everybody struggles, but I am grateful to get inspired often when I put my mind into it. If it doesn't come when I need it to, I try to relax and not force it. I also believe people are inspired when they like themselves and who they are as a person. You have to challenge yourself and let your life journey inspire you. My jewelry reflects who I am at a certain stage in my life. What I did 15 years ago was so different than what I am doing today and knowing that new adventures lie ahead means I can sit back and let the inspiration flow.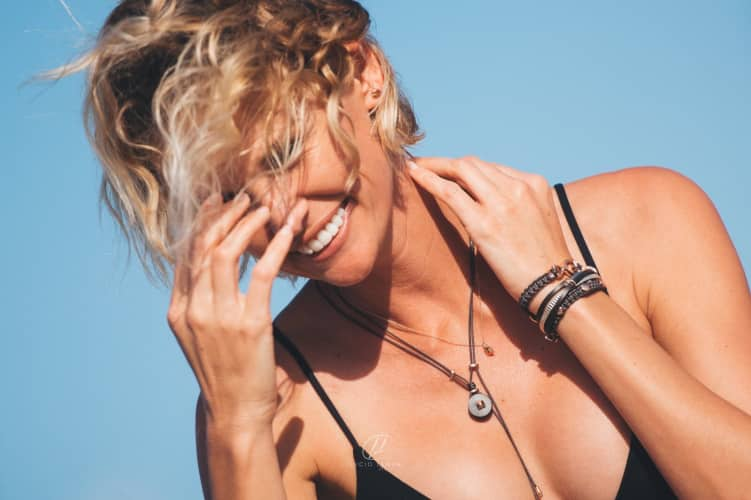 How would you describe your customer base?
For the vast majority of Zadeh's existence, I focused exclusively and meticulously on men's jewelry. Over time, I sensed there was a craving among women for this masculine or androgynous aesthetic that no designer was fulfilling. Fine jewelry is lavishly ornate, "precious" pieces that can only be worn on special occasions. I think jewelry should be worn and enjoyed every day: precious jewelry that isn't precious.
I am a boutique jewelry design company. One of the luxuries this affords me is the ability to cultivate a relationship with my customers, making each one an ambassador of my brand. Over the years I have refined a sixth sense about those who enter my realm, and can immediately sense who will connect with my jewelry. There is an implicit alignment between their values and my own. The minute I lay eyes on them, I instinctively know who is a ZADEH man or woman.
I've heard countless stories of my ambassadors who have met serendipitously in the most far flung destinations. When they meet they quickly recognize their common link: ZADEH. Me! Their jewelry is the signal, their "mot de passe," or password. They notice each other's bracelets or pendant and with a smile say, "Do you know Catherine?" Then I receive a photo of my newly introduced ambassadors, showing off their ZADEH pieces. It warms my heart.
Each of these people are connected to me, separated by a degree or two, rarely more. Whether we meet on vacation, at a restaurant, sunbathing on a fabulous beach on a far away island, it's usually my stack of bracelets that first catches their eye. From there, our bond quickly sets aflame.
The relationship between my ambassadors and I is symbiotic. They inspire me to better myself as a designer. They nourish me with their spirit and support my vision. They place their trust in me and I couldn't do this without them. They are smart, accomplished, sophisticated, effortlessly stylish and beautiful inside and out. 
Is there anyone you would love to see wearing your designs?
Andre Balazs and Robin Wright or, as a couple, Nacho Figueras and his wife Defina Blaquier.
What are the morals you run your brand by?
I have 13 core values:
Like yourself. 
Dare to Dream - Dream big.
Believe, passionately.
Live NOW, Now!
Inspiration is contagious, spread it.
Humility is sexy. 
Stand up for yourself - Don't take shit. 
Listen but ignore noisy noise.
Be true.
Forgive, they don't know any better.
Make people smile. 
Think, speak and act in harmony.
Live & Let Live.
Do you have a mentor?
When I started my brand, Arthur Cook, the GMM of Bergdorf Goodman guided me, mentored and believed in me. Unfortunately soon after I started stocking there he retired, and I haven't had a mentor since then which can be lonely.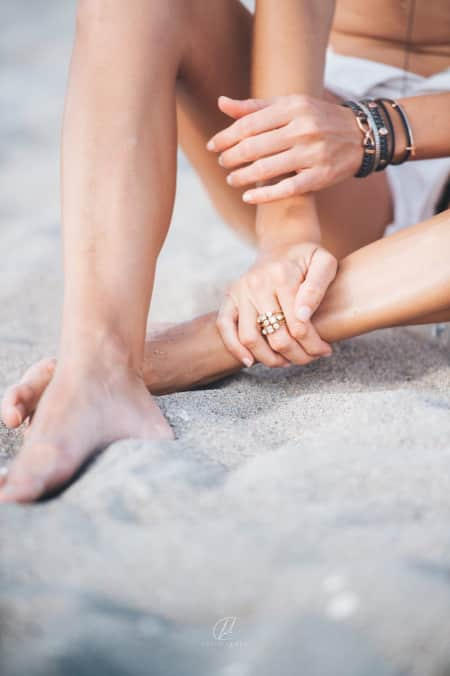 What apps keep you sane?
I don't like apps. Even though they are meant to simplify one's life, I feel that they make my life more complicated…
If you could only wear one piece from your collection, what would it be and why?
The Coco, because it is a pendant and because it defines how I live my life: carefree simplicity. Less is more. I can shower with it, swim with it, wear it with jeans or a J. Mendel dress… It adapts to the situation and the state of mind of the wearer.
What's the biggest style mistake you've ever made?
15 years ago, I was asked to design a line of women's jewelry by Bergdorf Goodman after being featured on a 3 page spread in Departures magazine. I did not know who I was at the time and designed something that I thought they would like rather than for myself. It didn't have integrity and was not authentic. It was a failure in my opinion, even though it sold relatively well.
Is there another designer whose work you particularly admire?
Hermes' Menswear Designer, Veronique Nichanian. I use Hermes as a blueprint to keep my work focused. Style and elegance are hallmarks of equestrian sports: the attire is beautiful and functional; exquisite hand-craftsmanship is cherished. It's a serendipitous fit with my aesthetic and mission. And the proof is in the pudding - I've spent two years now doing pop-up galleries at luxury equestrian events, and the horse community has embraced me with open arms.
What's the best piece of advice you've ever been given?
At a horse show in Wellington, a South American man came by and after meticulously studying my collection, came toward me and said, 'This is the most amazing jewelry collection I have ever seen… You have the foundations to make it a lifestyle brand. Cultivate the equestrian world and with a smart marketing strategy, let it organically grow until you find the right partner whose vision will align with yours. Luck happens to the well prepared'.
What drew you to Wolf & Badger?
My daughter lives in London in Notting Hill and told me it was a cool store.
Where do you see the brand in 5 years?
I hope to have a high end, luxurious ZADEH mail catalog which will express and depict the world I envision, with jewelry, fashion, accessories and the world according to me! (I know, so delusional.) I will have 10 ZADEH stores peppered around the world, in 10 ultimate destination resorts like St Barts, Aspen and Capri, where my patrons travel to.