In 1992, the British Medical Journal put out an advertisement for a doctor needed on a small private island for one year. We had recently arrived back in London from working in a missionary hospital in Zululand and Mustique sounded like an ideal place to spend the first year with our brand new baby.  My husband, Michael, had been a doctor in the British army for 7 years before our travels in Africa, so his combined previous experience suited the job well as a solo doctor on a remote island.
My career was going to be in stained glass. I had studied at Chelsea Art School as a stained glass artist, but thought I'd put it on hold while we spent a year in the Caribbean, so I took some silk and silk paints to keep me occupied.  
I soon started painting silk sarongs, hand hemming them and selling them at local craft events we would put on as an island community. After a little while Michael and I decided to stay on Mustique to raise our family and it was around the same time that I started to make kaftans out of my hand painted sarongs.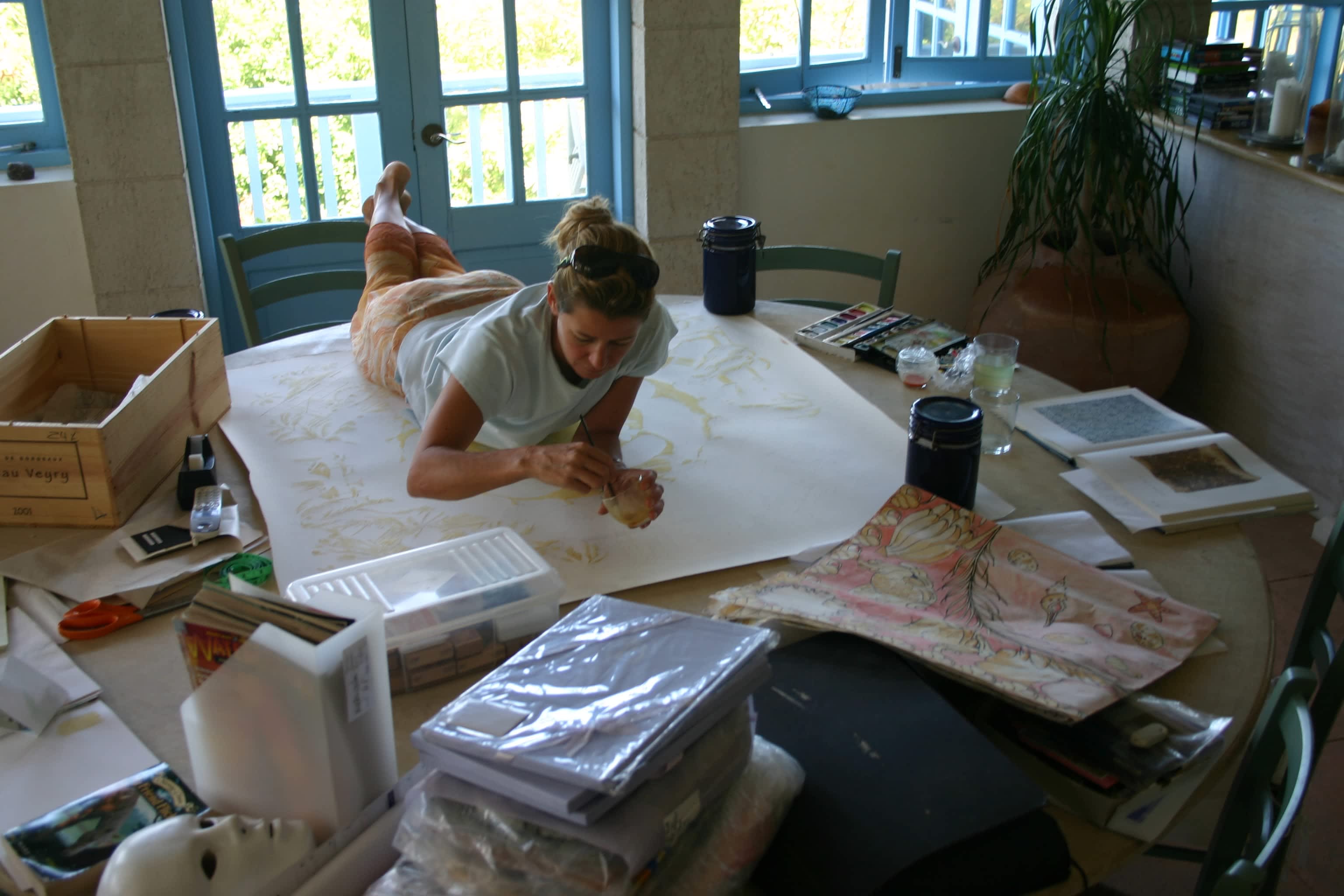 Raising a family on the island was idyllic. 30 years ago Mustique would be buzzing for Christmas and Easter but no one visited during the summer months, so from April to November we had a Robinson Crusoe island lifestyle for the children to grow up in. They could swim before they could walk; climbing coconut trees was second nature and adventuring through the bushes to find tarantula nests and scorpions was a great pastime. Neither tarantulas nor scopions are poisonous here on Mustique, so life was pretty stress-free as a parent and we could let them run free!  The island school taught them up until the age of 11 and classes were mornings only, which suited us all perfectly as we could spend the afternoons at the beach, riding or playing tennis.
The summer months have now become very popular for visitors and life here is pretty busy all year round so our timing was perfect as far as bringing up a family.  At the age of 11, each of our four children went to boarding school in England and got to know their grandparents, uncles and aunts and cousins. Life was pretty good and I don't think they missed us too much, although we, of course, missed them!  They always came back home for Christmas, Easter and summer holidays.
Mustique is my muse and nearly everything I draw and design is inspired by this little island. I walk most days, usually off the beaten track along the coastal pathways and I am continually fascinated and enthused by the stunning combination of colors or the shape of a leaf or an insect. I often bring a plant home that has captured my interest and I sketch it, then paint it and sometimes I take it to the next stage, which is to simplify it and make a repeat pattern suitable for my clothing collections. 
Originally all the garment designs were mine. I always loved stitching and I was very good and neat from an early age. My love of sewing and making clothes grew as I got older and I became more proficient. Since I have been designing for my collections, family and friends have given me tips, for example to try a longer style or a different sleeve, or they've shown me a piece that they particularly like and of course I take inspiration from these suggestions.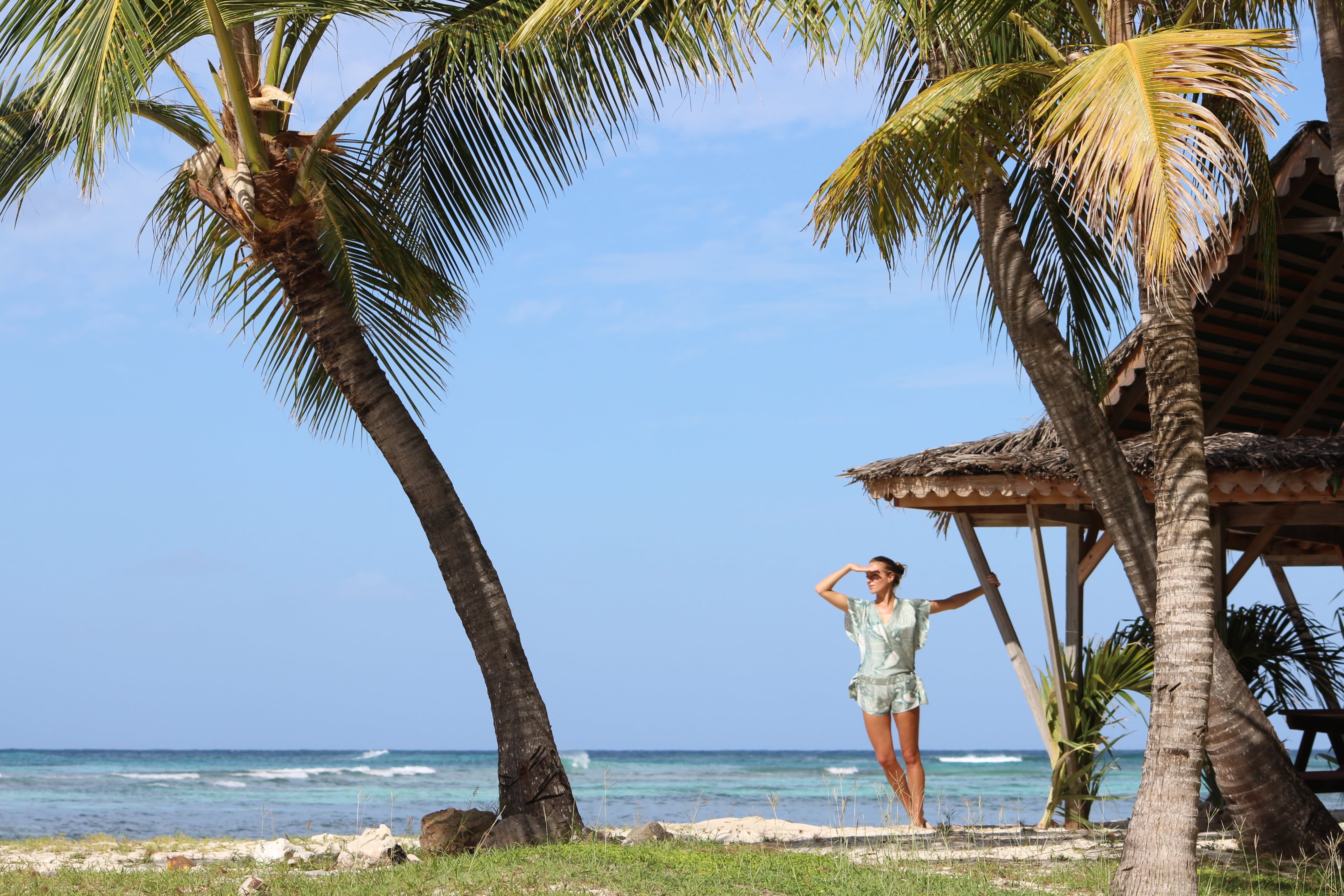 I have also really enjoyed working with students who may like to go into the fashion industry and it is so rewarding to be able to give an opportunity to someone to design their first piece. My favourite of these was the Eleanor Playsuit, one of our first Limited Edition pieces, designed entirely by Eleanor who was an intern with me at the time
Of course the fabulous island backdrops and great natural lighting are a huge advantage for my photography and I am very lucky to have a pool of family and friends who are very used to me taking the odd hour or two of their holiday to photograph them modelling our latest creations!  Everyone is welcome to join in and we have tremendous fun at our shoots - nothing is taken too seriously.  Some people help with the photography, others are on wardrobe and everyone is encouraged to get in the picture.