Kahina Giving Beauty's mission is to provide the highest quality, effective natural and organic skin and body care products while preserving, protecting and enhancing the resources (natural, human and cultural) behind the Kahina brand. They do this by selecting region-specific, effective ingredients and elevating the people who grow, harvest and produce them. Drawing from ancestral traditions and knowledge, they apply the best of modern green technology and design to create exceptional products and experiences using highest quality ingredients ethically sourced from around the world, and produced with the utmost care in the US. Kahina are proud that they have never taken shortcuts in sourcing ingredients or made unsupported claims. They take the extra and expensive step to have their products certified Natural and Organic by Ecocert. We sat down with the founder Katherine to learn more about the brand.
How did Kahina Giving Beauty begin?
I began my career in1985 working as an Editorial Assistant at Doubleday & Company in NYC.  I then moved on to working in Public Relations, eventually founding my own PR firm in my hometown of San Francisco, California.  My firm represented luxury brands in the food and beauty sectors.  After moving to New York City in 1996 and the birth of my third child, I started Kahina Giving Beauty, an all-natural and organic skincare line based on the rejuvenating properties of highest quality Argan Oil from Morocco.
It started with a vacation in Morocco in 2007 and a personal interest in organic skincare.  I was searching for organic skincare that felt and performed like the luxury skincare I was accustomed to using.  On that first trip I discovered Argan Oil.  Impressed with its results on my own skin and intrigued by the unique story of its production, I decided to start importing and bottling the oil and giving back to the Berber women of Morocco who do the work of harvesting and cracking the nuts for the oil.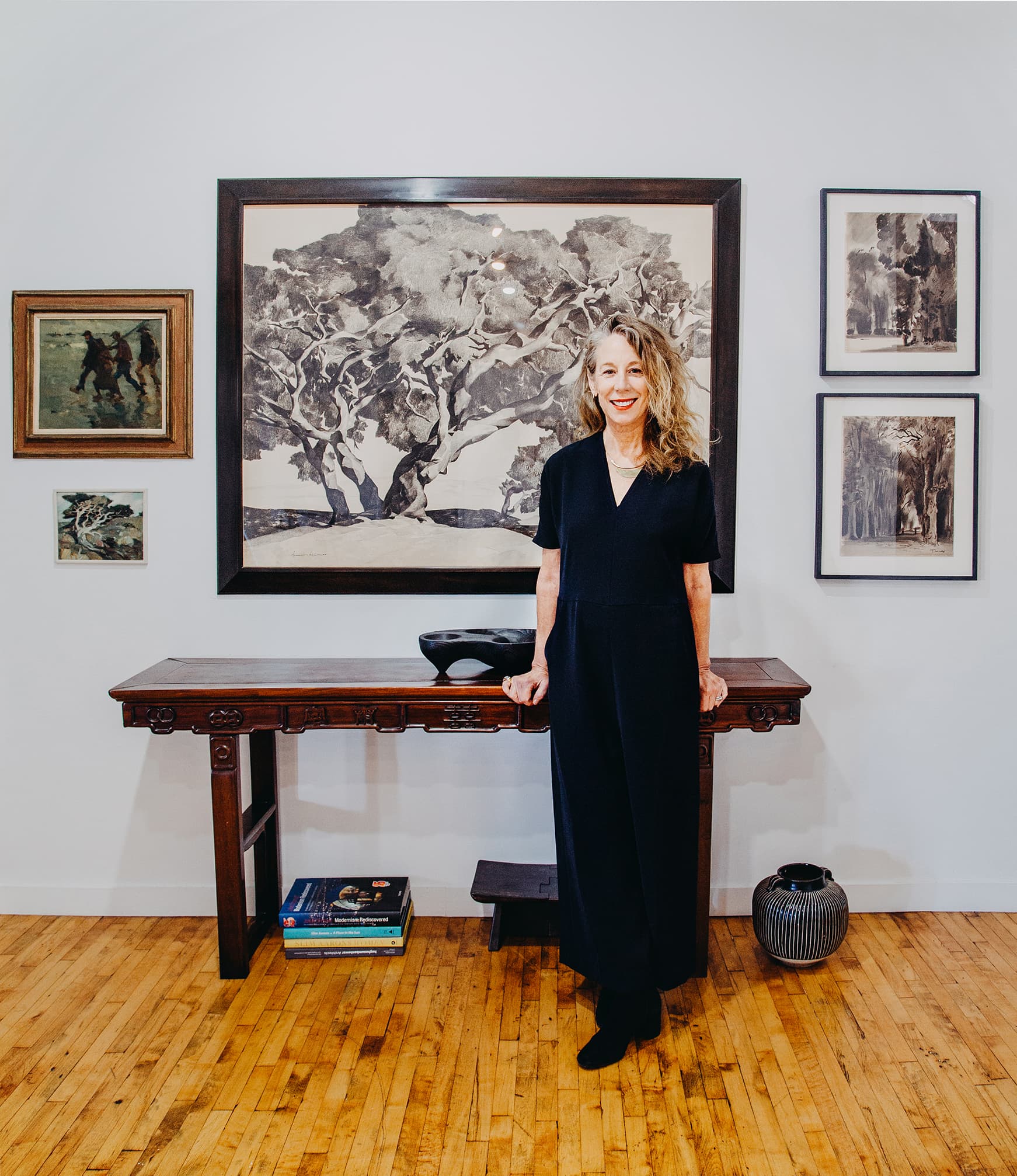 Have you always been interested in the beauty industry?
I have always been a fan of skincare, but never really thought about being in the industry before starting Kahina.
How did you begin to develop your products?
After discovering Argan Oil on my first trip to Morocco, I set out to discover the highest quality oil being produced, taking multiple trips to Morocco to visit cooperatives where the Berber women crack the nuts for the oil.  I started bottling and selling Argan Oil in its pure form before eventually deciding to create a full line of natural and organic skincare based on this precious oil.  I located a chemist in the US who was formulating certified organic products.  We work together to develop products that meet our strict criteria of environmental and social sustainability, while also meeting performance objectives.  Our products are inspired by Morocco, using the highest quality ingredients from there including Argan Oil, Prickly Pear Seed Oil, Neroli, Damask Rose and Blue Tansy.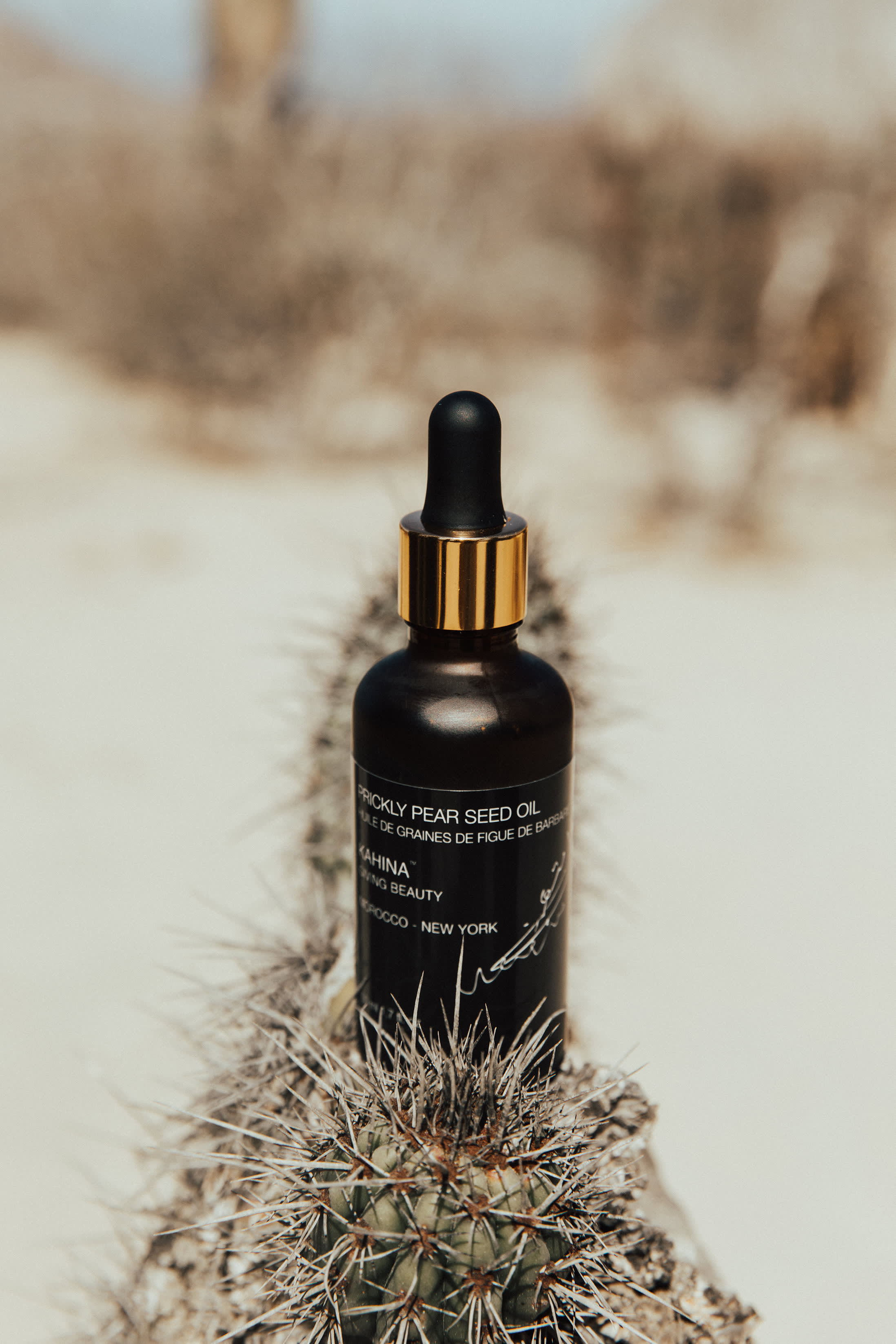 What have been the highest and lowest points on your journey so far?
Starting and funding a skincare brand is challenging, particularly as the field of green and clean cosmetics becomes more crowded. However, seeing the impact that our work is having on the lives of the Berber women of Morocco is always so rewarding.  We pay a fair wage for their labor in addition to donating money to support programs the help them and their children.
How would you describe your customer base?
Our customers are educated, care about the environment and their health and want simple skincare that delivers on its promises. 
What do you do when you are feeling uninspired?
Travel always inspires me. I love learning about traditional organic remedies and beauty treatments from around the world. 
What is your evening skincare routine?
Most nights, I cleanse with the Kahina Oil Cleanser to remove makeup and sunscreen.  If it is after a day that I am wearing more makeup or I feel I need a more thorough cleanse I follow with the Kahina Facial Cleanser to remove any lingering residue.  I spritz the Kahina Toning Mist onto cleansed skin and then massage a few drops of one of our oils, Argan Oil, Prickly Pear Seed Oil or Restorative Serum into my skin and neck.  Around my eyes, I'll dab a little bit of the Eye Serum, followed by the Eye Cream if I feel the need for more moisture.  Finally, I'll massage a pea sized serving of the Face Cream on to my face and decollete.  When its really dry, I'll layer a dollop of the Moisture Mask onto my face before hitting the pillow.
What's different about your products?
We never cut corners to make our products. First, we source the highest quality natural and organic ingredients from women's cooperatives and small family farms around the world, paying a premium to obtain the best ethically sourced ingredients.  We formulate according to natural and organic standards and are certified by Ecocert/Cosmos, an internationally recognised organic certification body. We package our products in recyclable violet glass from Holland which protects the precious ingredients within.  Our boxes are made from recycled cardboard.  In addition to environmental stewardship, we believe in cultural sustainability, preserving the dignity and humanity of the people who do the work of providing our ingredients.  We pay a fair wage for our ingredients and donate an additional percent of our revenue to programs that improve the lives of the Berber women of Morocco and their families.
Why is using natural/organic ingredients in your products so important to you?
Using natural and organic ingredients in our products is important for so many reasons.  First, natural ingredients are more effective than their synthetic counterparts.  Plants have the power to protect and heal themselves in nature.  Using the latest science we are able to harness this plant wisdom and put it to work for our skin.  Natural ingredients are healthy alternatives to toxic chemicals in traditional skincare that can cause cancer and disrupt hormones. Also, they are healthiest choice for the planet and the people who work to grow and process them.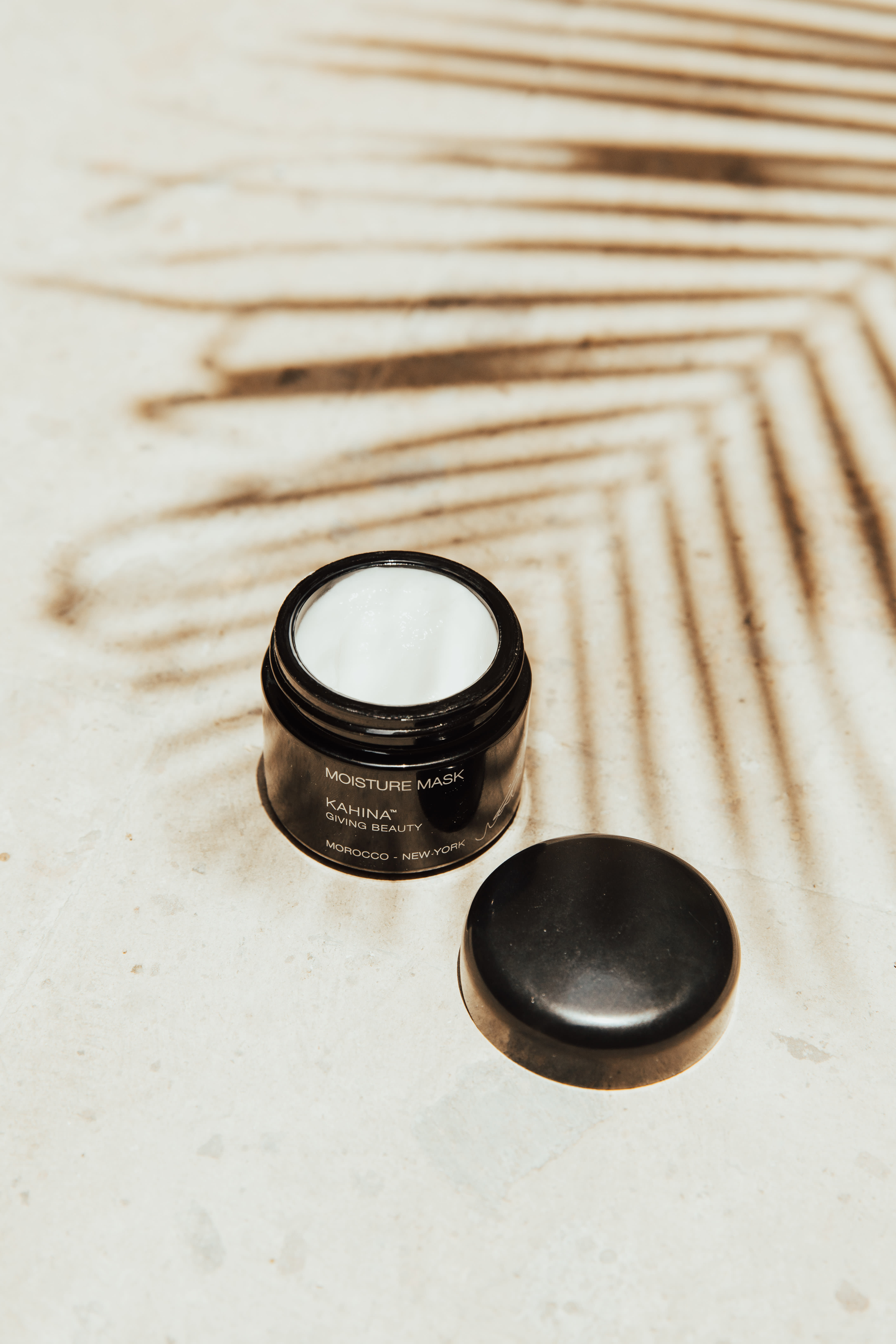 What is your go to product from your range?
Our products are meant to be used together in a complimentary routine, but if I am traveling and need to choose, the product I must have is our Argan Oil.  This 100% organic and fair trade oil is a multi-purpose product that works on face, body and hair.  It is super moisturising yet not greasy, absorbing easily into the skin.  It is rich in vitamin E, linoleic acid and antioxidants to heal, restore and protect skin against cellular damage. 
Do you have a mentor?
My chemist is a mentor of mine.  Her in-depth knowledge of the science of skincare gleaned from more than 25 years working to produce natural skincare formulations is inspiring.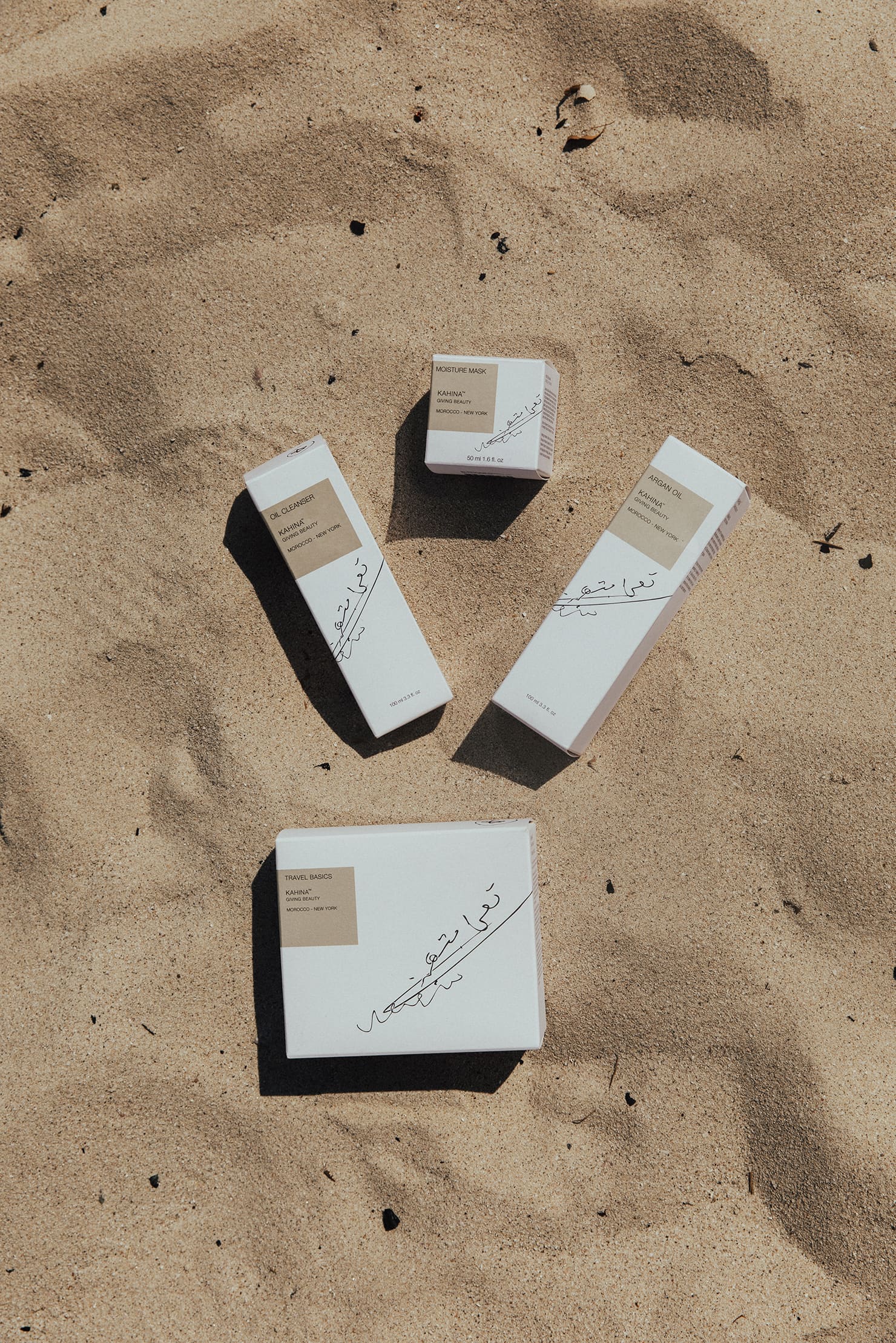 Is there another brand whose work you particularly admire?
The I.O.U Project, a clothing brand founded by Kavita Parmer, creates beautiful clothing while connecting the dots between the farmers, weavers and ultimately the consumers, raising awareness of the impact our choices as consumers have on the lives of people around the world.
What drew you to Wolf & Badger?
Wolf & Badger is my go-to for discovering independent brands and items you won't find anywhere else.  We are thrilled to be included in their selection.
What's next for your brand?
We plan to continue producing amazing products while helping to improve the lives of the Berber women of Morocco.  We are experiencing tremendous growth internationally, which is very exciting and allows us to pursue our mission to give back.